Review: Kwikset Obsidian Lock Delivers Style and Safety
Combining contemporary style with smart home capabilities, the Kwikset Obsidian lock installs easily and looks great.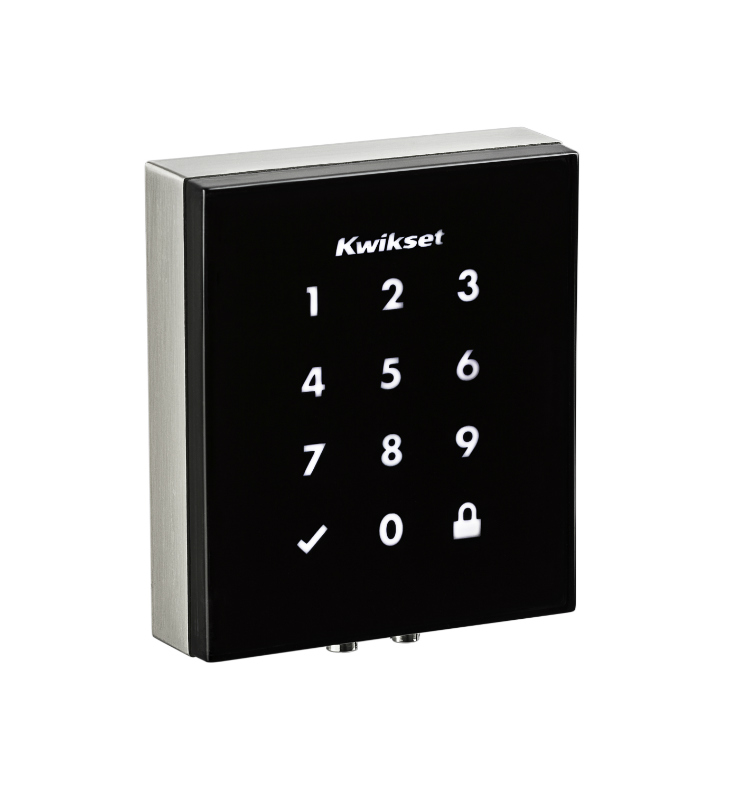 More about Kwikset
Kwikset is the leading provider of innovative security solutions that deliver superior quality, convenience and aesthetic appeal. Whether it's solely for security or as...

Kwikset Company Info
Robert Archer
·
April 11, 2018
It's easy to overlook the value of a good door lock...except when it's too late and a home has been either robbed or vandalized. The new Kwikset Obsidian deadbolt lock is designed to provide integrators and their clients with a smart lock solution that doesn't sacrifice looks for functionality.
The Obsidian is the company's latest smart lock solution, and it is targetted towards integrators looking for a competitively priced deadbolt lock capable of complimenting interior design, while also providing an easy-to-use interface.
Kwikset Obsidian Features and Installation
Kwikset describes the lock as a slim, modern, key-free solution that incorporates a capacitive touchscreen. The lock is able to be integrated into existing control systems, while also providing homeowners with app-based control capabilities.
According to Kwikset, the Obsidian model with Home Connect will be one of the first smart locks to incorporate Z-Wave Plus. Powered by the Z-Wave 500 chipset, the lock will offer integrators increased wireless range and upgraded security and encryption.
The lock's Z-Wave capabilities allow it to work with smart hubs such as Samsung SmartThings, Vera, and Amazon Alexa.
The Obsidian's capacitive touch screen immediately illuminates in white when touched, allowing homeowners to see the screen in all lighting conditions.
The touchscreen also employs the company's SecureScreen technology, which helps protect against unwanted entry by having users press two random numbers before keying in their security codes.
Features
The Kwikset Obsidian incorporates 128-bit AES communications

Lock that meets BHMA Grade 2 deadbolt operational and security standards

Lock features contemporary industrial design that includes the ability to assign individual custom lock codes for family members.
Available in a choice of finishes
Standard and Z-Wave smart home versions are available
In addition, the lock features a backup 9-volt power option at the bottom of the deadbolt, allowing the lock to power up for code entry even if the power is out.
While unboxing the lock, I was impressed with the level of security and care it was packed with, as well as the lock's modern design.
Seeing the lock requires four AA batteries, I grabbed some Duracells and laid out the parts on a nearby table. After looking at the directions, I felt the instructions were a bit confusing, since it refers to the parts by letters, yet the prepackaged bags of parts are labeled with numbers.
Related: CE Pro 100 Names Top Smart Door Locks/Dead Bolt Brands
Outside of this oversight, the Obsidian did assembly fairly easily. However, it became apparent during the installation process that you need to be mindful of the lock's touchscreen, as it becomes active the minute the batteries are loaded into the lock.
Otherwise, the lock installs quickly, and allows users to start programming codes.
Programming codes is simple. After pressing the "program" button, you press the check mark on the touchpanel. Finally, key in the custom numeric code or codes, and press the lock symbol on the touchscreen.
Kwikset Obsidian Final Thoughts and Conclusions
Installed during the onset of winter, I was curious on how the lock would hold up on the French door to my deck. I looked at things like how easily the mechanical parts operated, how quickly it locked and unlocked, and whether the elements affected its performance.
I also wanted to assess how my family interacted with it, and the initial reports were good, with none of us having any issues.
Before I really got familiar with the lock, I was not only impressed with how sleek it looked, but I was also pleased with the quality of its fit and finish.
Small details like gaskets help to seal the lock to the door, which minimizes any potential drafts. This showed me that Kwikset paid attention to the small details that can be important in the grand scheme of things. It's worth noting that the inclusion of the gaskets also helps protect the lock's internal components from dust, dirt, and moisture, potentially helping it last longer than other locks on the market.
While I used the lock over the course of the winter, I first tested it on a day where the temperature was a balmy 23 degrees, and it performed admirably, unlocking smoothly and quickly.
This level of performance continued as we got deeper into the winter months with conditions like rain, snow, and gusty winds.
One of my biggest observations during the wicked cold winter we had up in Boston this year was how often I completely forgot about the SecureScreen technology. I would have to take a second to remember what the lock was doing when it flashed the random numbers before the keycode can be typed in.
I also like the fact that Kwikset is championing Z-Wave and its capabilities, allowing integrators to incorporate the lock into systems from top automation companies such as Control4, Crestron and Savant.
Aesthetically, the only small quibble I have is that the lock handle doesn't align with "noon." It's just slightly off, but otherwise it looks great.
Considering its competitive price, build quality, industrial design, and smart home options, it's hard not to like the Obsidian. Plus, from an installation perspective, it installs easily, its puzzling instructions notwithstanding.
This all adds up to a modern lock that doesn't skimp on features or build quality, and is worthy of consideration for installation in any home.
CE Pro Verdict:

Pros:

Installs quickly and easily
Stylish looks complements a range of home aesthetics
Easy to use, stands up to a variety of environmental conditions

Cons:

Installation directions vague, and could be hard to follow
The lock handle doesn't align with "noon."
---
Save $100 When You Enter the CEPro BEST Product Awards Before May 24
Every year our editors recognize the most advanced products in the professional installation market. Wouldn't you like to tell your customers that your products are among this exclusive group? Enter the CEPro BEST Product Awards and give your sales team something to shout about. Early bird pricing ends May 24.
---
About the Author
---
Bob is an audio enthusiast who has written about consumer electronics for various publications within Massachusetts before joining the staff of CE Pro in 2000. Bob is THX Level I certified, and he's also taken classes from the Imaging Science Foundation (ISF) and Home Acoustics Alliance (HAA). Bob also serves as the technology editor for CE Pro's sister publication Commercial Integrator. In addition, he's studied guitar and music theory at Sarrin Music Studios in Wakefield, Mass., and he also studies Kyokushin karate at 5 Dragons in Haverhill, Mass. Have a suggestion or a topic you want to read more about? Email Robert at robert.archer@emeraldexpo.com
Follow Robert on social media:
Twitter
Robert also participates in these groups:
LinkedIn · Google+
Control & Automation
Nortek Security & Control President Mike O'Neal Departs; NSC Begins Search
Savant Shows HomeKit-Compatible Smart Circuit Breakers, Circadian Lighting
Product Briefs: Doorbird, Snom; Guardian Protection Services Changes Name; AudioResearch
Sonnen ecoLinx to Anchor New Illinois Sustainable Community
Control4 Unveils New Smart Home OS 3 Platform
View more on Control & Automation
Take Our Latest Quiz
How Well Do You Understand Ethernet Cables and Connectors?
Bose