Resideo Offers Sneak Peek of New Honeywell Home Ecosystem at CES 2019
Honeywell Home ecosystem from Resideo will roll out over the next 2 years with Z-Wave/Wi-Fi/cellular-communicating touchpanels, motion sensors, video capture, flood detection, and combination smoke/CO detector.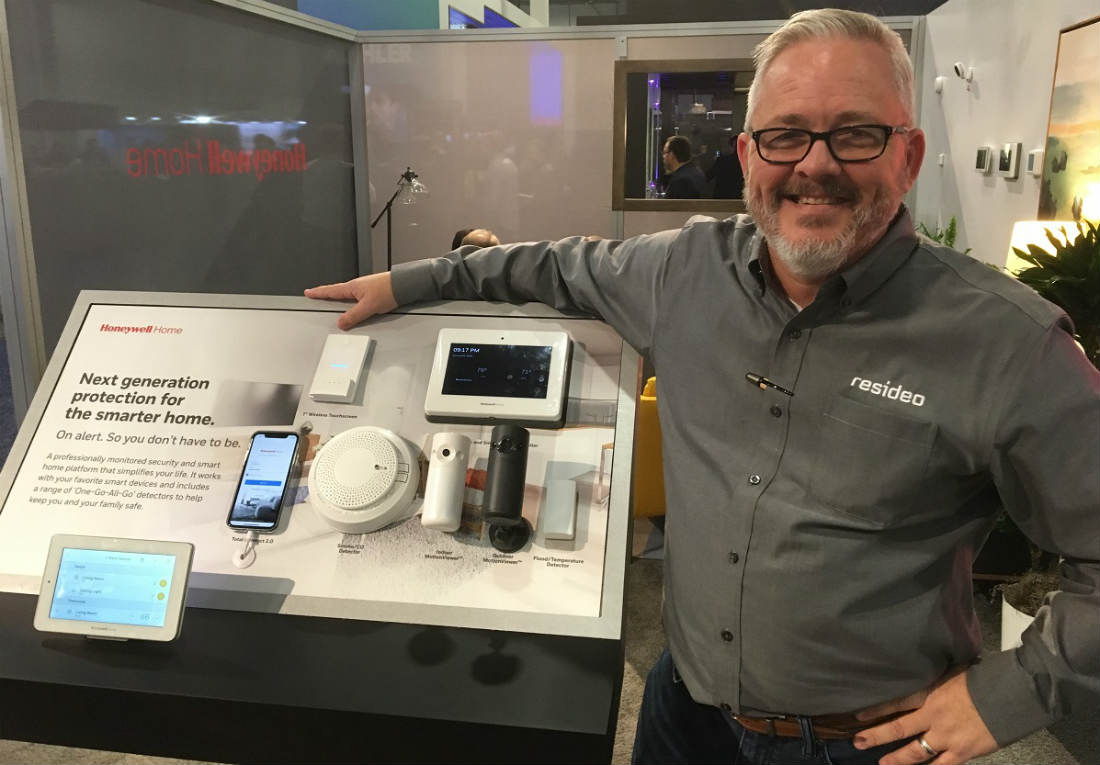 Jason Knott
·
January 11, 2019
Resideo (NYSE: REZI) used CES 2019 to give integrators a glimpse of its entire new ecosystem of Honeywell Home control products, from touchpanels to sensors to smoke detectors.
"Over the next 24 months, we will roll out an entire new ecosystem of Honeywell Home products. Everything will have a consistent look and feel," says Jason Lutz, strategic national account manager at Resideo. Resideo spun off from parent company Honeywell in 2018 and has a long-term licensing agreement to continue to use the recognizable Honeywell brand name.
At CES 2019, dealers got a sneak peak at several of the planned products, including the company's new 7-inch all-in-one Z-Wave-based touchpanel. The Z-Wave wireless protocol is used for all outbound device-level communication from the panel to lights, door locks, thermostats, etc.
The all-in-one panel also supports the company's SIX Two-Way wireless devices.
"More and more of our integrators are using Wi-Fi as the primary mode of alarm transmission, with cellular as the backup," says Lutz.
Related: The Very First Z-Wave 700 Series Home-Automation Product
For cellular communication, the panel has a snap-in card for LTE, but can be easily upgraded with a 5G card when that cellular technology is ready.
The panel also has Videofied built-in, which captures motion-activated still images for transmission directly to the central station as an alarm verification tool. In cities like Dallas and Chatanooga, the panel will transmit the still images directly to a police vehicle.
Lyric Lock Keeps Other Alarm Co.'s Out
The system also has the company's patented Lyric Lock technology that prevents the system from being taken over by another alarm company after installation.
"The residential security market penetration level has been stuck at around 20 percent for a long time. Because of that, many integrators thrive on take-over jobs, where instead of finding a new homeowner as a prospect to install an alarm system, they seek out their competitors' existing accounts and try to take them over. It is a really problem in some areas," comments Lutz.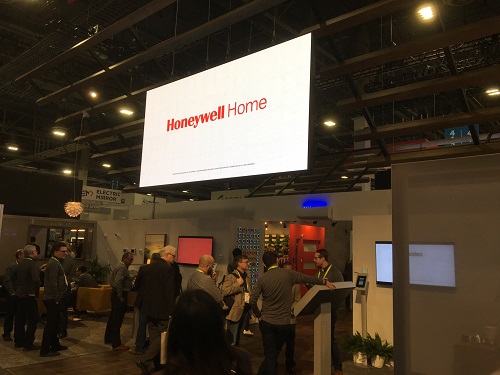 With Lyric Lock, only the integrator who installed the system can take it over.
In addition to the panel, the new Honeywell Home ecosystem will include a range of "One-Go-All-Go" detectors, meaning that when one device is triggered, the others will also trigger.
Among the devices are a 900GHz frequency outdoor MotionViewer capable of motion detection at long distances, a secondary 7-inch wireless keypad with built-in charging stations, flood/temperature sensor, indoor MotionViewer, and the new SiXCOMBO two-way wireless combination smoke/heat and CO detector.
Among the features of the SiXCOMBO are an automatic performance check that is conducted every 200 seconds by the unit, a built-in sounder as well as multi-lingual voice alerts, and a multi-color LED that provides a visual alert for the type of alarm (red for smoke/fire and blue for CO).
An infrared (IR) flame sensor measures ambient light levels and flame signatures, while thermal detection monitors temperature. Automatic drift compensation of smoke and CO sensors accommodates for dust build-up over time.
The all-in-one panel will be out in mid-2019 with the rest of the products following over the next 24 months.
---
2019 State of the Industry Special Report - CE Pro Download
The custom electronics industry saw a healthy 8 percent growth rate in 2018, down slightly from the blazing 11 percent growth in 2017 but still admiringly strong. Our 2019 State of the Industry indicates that readers expect to see even more growth in 2019. Get your copy today.
---
About the Author
---
Jason Knott is Chief Content Officer for Emerald Expositions Connected Brands. Jason has covered low-voltage electronics as an editor since 1990, serving as editor and publisher of Security Sales & Integration. He joined CE Pro in 2000 and serves as Editor-in-Chief of that brand. He served as chairman of the Security Industry Association's Education Committee from 2000-2004 and sat on the board of that association from 1998-2002. He is also a former board member of the Alarm Industry Research and Educational Foundation. He has been a member of the CEDIA Business Working Group since 2010. Jason graduated from the University of Southern California. Have a suggestion or a topic you want to read more about? Email Jason at jknott@ehpub.com
Follow Jason on social media:

Jason also participates in these groups:
LinkedIn · Google+
Control & Automation
Vivint Adds Connected Cars to Security and Smart-Home Ecosystem
Product Briefs: Fibaro, SmartThingsRutherford Audio, Goldnote; ProSource adds Dish
Analysis: ADT Pulse vs. Command and Control; 3G Sunset Doom as 'Opportunity'
Josh.ai Integrates With LG Displays for Voice-Controlled Entertainment
Bosch, Thermador Open Smart-Appliance APIs for Home Automation Integration
View more on Control & Automation
Take Our Latest Quiz
How Well Do You Understand Ethernet Cables and Connectors?
Bose