Qolsys Launches IQ Dimmer, IQ Outlet for Smart Home Security
Qolsys expands its smart home solutions with the additions of the IQ Dimmer and IQ Outlet. The IQ Dimmer controls lights and lamps while the IQ Outlet turns an appliance up to 15 amps on or off.
CE Pro Editors ·
November 18, 2015
Qolsys, a provider of residential security and smart home solutions, announced the addition of the IQ Dimmer and IQ Outlet to its expanding portfolio of connected sponsors and smart devices.
Both the IQ Dimmer and IQ Outlet are installed by plugging into any standard wall outlet to provide control of lights, appliances and more. Featuring a Generation 5 Z-Wave chip for extended range, both devices act as Z-Wave repeaters, strengthening the Z-Wave mesh network, improving the speed and reliability of all Z-Wave devices installed in the home, according to Qolsys.
The IQ Dimmer controls lamps or light. It plugs into any existing electrical outlet and pairs with the IQ Panel, providing the ability to control remotely any light up to 2.5 amps on, off or dimmed across 99 different levels. The IQ Dimmer can turn off automatically when one leaves their home, saving energy.
Additional rules like, "Turn on lamp when doorbell rings,"or, "Turn off light when security system is armed," are customizable through the user's Alarm.com portal.
Meanwhile, the IQ Outlet can turn an appliance up to 15 amps on or off, giving the user the ability to automate fans, space heaters, coffee makers and more. Like the IQ Dimmer, it pairs easily with the IQ Panel and, according to the company, improves the Z-Wave mesh network functioning as a repeater. The user can create custom on/off schedules and energy saving rules that automatically turn off their appliances when they drive away from their home or arm the system.
---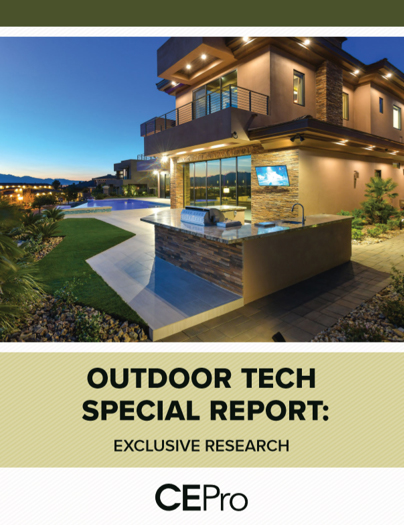 Find Out Why 63% of Integrators Expect Outdoor Business to Grow - CE Pro Download
The outdoor technology market is growing – both the demand from customers and the array of products available. According to our recent CE Pro survey, integrators are taking advantage of this opportunity to grow their businesses. Get your copy of the survey today.
---