Move over 4K, ProSource is All About RMR and Dealer Productivity in 2018
ProSource added 13 new vendors in 2017, of which eight specialize in managed services and business productivity -- a huge focus for the home-technology buying group in 2018. Here's the latest in techs-for-hire, social-media management and productivity software from Summit 2018.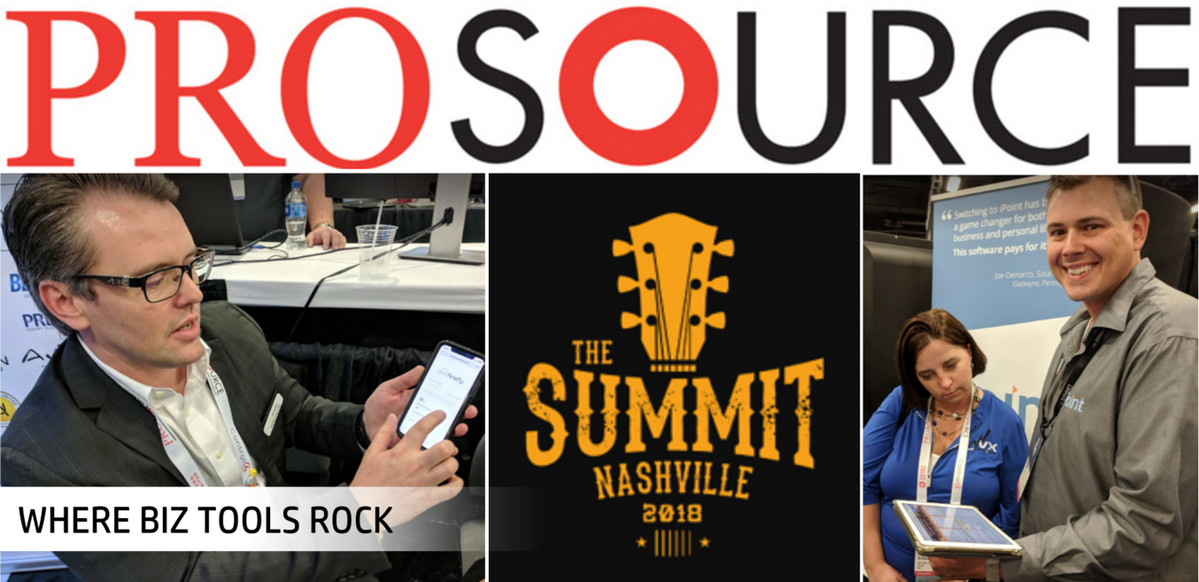 Julie Jacobson
·
March 8, 2018
At the ProSource Summit this week in Nashville, dozens of vendor partners demonstrated their wares for hundreds of dealers in the home-technology buying group. Some showcased stunning 4K video, high-performance audio, full-blown home-automation and other flashy things that make integrators go gaga.
But just as many vendors impressed integrators with software and services that were all but guaranteed to improve business processes and generate recurring revenue for ProSource dealers. Maybe not as sexy as Sony's 85-inch XBR-85X900F with Full-Array Backlight and local dimming ... but the new services will continue to stimulate profits long after the last LED fades.
In 2017, ProSource spent a huge chunk of energy on business-related programs and products related to remote systems management, recurring revenue and business productivity.
Of the group's 13 new vendors, eight fell into the software and services category – Centricity (next iteration of long-time partner Bankers Warranty), Herman Integrated Services, OneVision, iPoint, ProjX360, Portal, SnapAV (OvrC) and Parasol.
Here's a review of some of the service offerings showcased at the Summit. Developments in remote managed services – a major initiative for ProSource in 2018 – will be addressed in a later article.
---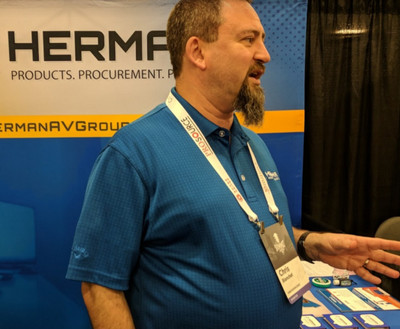 Herman Staffing Service
Herman Integration Services is a newcomer to the ProSource group. In fact, the company is new to the residential channel, after years of staffing commercial A/V companies with experienced installers for short- and long-term projects alike.
Herman recently entered the residential market, providing qualified technicians for tasks such as pulling and testing cable, installing speakers, dressing equipment racks, and mounting displays. The company also offers CAD drafting, programming and other advanced services.
Dealers at ProSource flocked to the company for immediate help on projects that otherwise could not be completed on time or within budget. Herman promises its techs are ready to work, tools in tow, with no training required. Herman president Chris Bianchet says the company has 135 W-2 employees and more than 250 independent installers who work full time under Herman's insurance and supervision.
---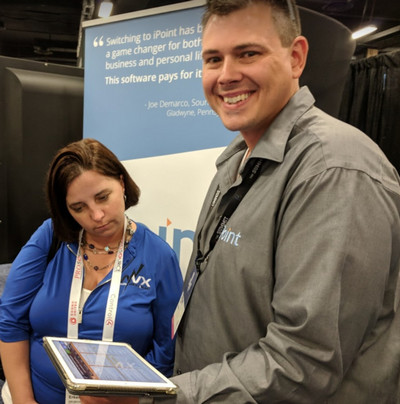 iPoint Productivity Software
iPoint is another new vendor on the ProSource roster. It's also one of the rare software platforms that promises to perform virtually any business task required of home-technology installers -- invoicing, scheduling, sales orders, purchase orders, receiving, proposals, inventory, Return Merchandise Authorizations (RMAs), service ticket creation … to name a few.
We caught ProSource dealer Jodi Erkens of Audio Video Extremes at the iPoint booth, where she expressed an urgent need for software like iPoint's.
"We're really growing right now," she said, while lamenting her company still relies on off-the-shelf software like QuickBooks and Excel to run their Minnesota business.
---
D-Tools Design & Proposal Software
A perennial favorite among top integrators, D-Tools continues to enhance its software to help dealers improve productivity and profitability. Most recently, the company released a "complete redesign" of its Mobile Quote 2.0 tool, which allows dealers to create quick-and-dirty system designs and project estimates in front of the client, without having to create a complex drawing and proposal. D-Tools' newly enhanced Mobile app now enables dealers to present good/better/best options on-the-fly.
In addition, D-Tools recently deployed a new Product Profitability Dashboard, allowing dealers to better evaluate key metrics like estimated vs. actual labor, product margins, and most profitable salespeople.
Finally, D-Tools now integrates with The Cinema Designer (TCD), a software platform for designing professional-quality home theaters and media rooms. Dealers can specify products through their D-Tools database, and export all related product specs to TCD, which then configures the components for optimal placement in the cinema space.
---
One Firefly Dealer Marketing and Support
Just before the ProSource Summit, One Firefly announced Review Champ, a new service that helps dealers solicit positive client reviews and use the feedback for marketing purposes. Company CEO Ron Callis says he always hears from dealers who insist, "We don't need online marketing. All our business comes from referrals."
But even a friend of a super-happy client wants a little online affirmation.
"People may come in from referrals, but then they go search for you online," Callis says, noting they usually find scant information about the recommended integrator, and little evidence of happy customers. Wouldn't the prospect prefer a company with lots of four- and five-star ratings and gushing reviews?
One Firefly helps integrators get there, starting with the development of good landing pages across social media and review sites. The company trains employees to secure on-the-spot reviews from clients, and then leaves the rest to the Review Champ platform, which works magic to ensure the four- and five-star reviews get top billing.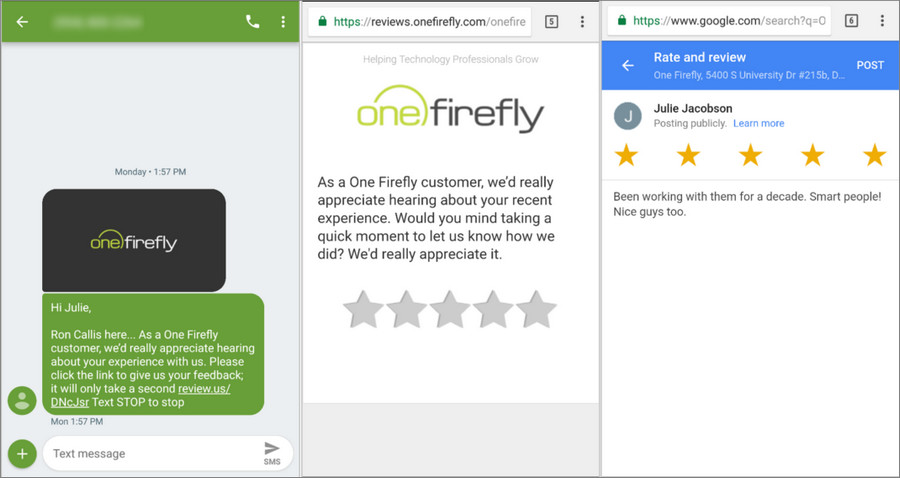 ---
ProjX360 Project Software
ProjX360 arrived at ProSource with v2.0, its biggest software update ever, according to company president Doug Greenwald. ProjX360's end-to-end solution – from CRM to proposals to purchase orders, project management and beyond -- got a brand new user interface in V2, redesigned to present the most important information at a glance, with hooks to drill into greater detail (video below).
Greenwald says the new UI helps users view and execute their daily tasks more efficiently than previous versions, which were not quite as optimized for the most immediate priorities.
ProjX360 also implemented an advanced notification tool accessible throughout the platform to help team members stay in synch on projects and share notes on clients, inventory, payments and virtually any other tab in the ProjX360 environment.
---
Portal.io Proposal and Ordering Software
Portal.io continues to sign up manufacturers for Portal Select, launched last year as the "Amazon Prime of B2B" in the home-tech channel. Participating vendors agree to provide free shipping, three-day delivery or better, and financial rewards above and beyond Portal's usual 1% rebate for any products sold through Select.
Portal Select amassed new products over the year, from vendors such as Touchstone, Severtson, VSSL, Dynaudio and Titan Networx; however, the big win for came late in 2017 when Origin Acoustics agreed to offer its buzz-worthy new Valet Amplifier exclusively through Portal to any qualified integrator who is not an authorized Origin dealer.
About the Author
---
Julie Jacobson, recipient of the 2014 CEA TechHome Leadership Award, is co-founder of EH Publishing, producer of CE Pro, Electronic House, Commercial Integrator, Security Sales and other leading technology publications. She currently spends most of her time writing for CE Pro in the areas of home automation, security, networked A/V and the business of home systems integration. Julie majored in Economics at the University of Michigan, spent a year abroad at Cambridge University, earned an MBA from the University of Texas at Austin, and has never taken a journalism class in her life. She's a washed-up Ultimate Frisbee player currently residing in Carlsbad, Calif. Email Julie at jjacobson@ehpub.com
Follow Julie on social media:
Twitter · LinkedIn · Google+
Julie also participates in these groups:
LinkedIn · Google+
Business
RAM 1500 Truck Is High-Tech Office on Wheels
Parasol Remote Internet Monitoring Adds 30 Dealers, Touts 70% Solve Rate
People & Places: DEG Board of Directors; Rockies by CET; Atlona Names House of Reps
D-Tools' New Cloud Offering Gives Users a Simple, Scalable, Web-Based Solution
Sonos Q3 2018 Report Shows 6.6% Decrease in Revenue
View more on Business
Take Our Latest Quizzes
How Well Do You Understand Ethernet Cables and Connectors?
Quiz: Is Your Company Performance Above or Below Average?
How Much Do You Know About Cell Phone Signal Boosters?
How Efficient Is Your Service Department? Take the Quiz
5G and the Need for Cellphone Signal Boosters—Do You Know Enough?