Portal Starts Charging 'Power Users' who Don't Buy Stuff
Portal.io didn't realize how many home-technology integrators would use its free proposal software without placing orders through its online purchasing platform. Now those dealers must pay to play.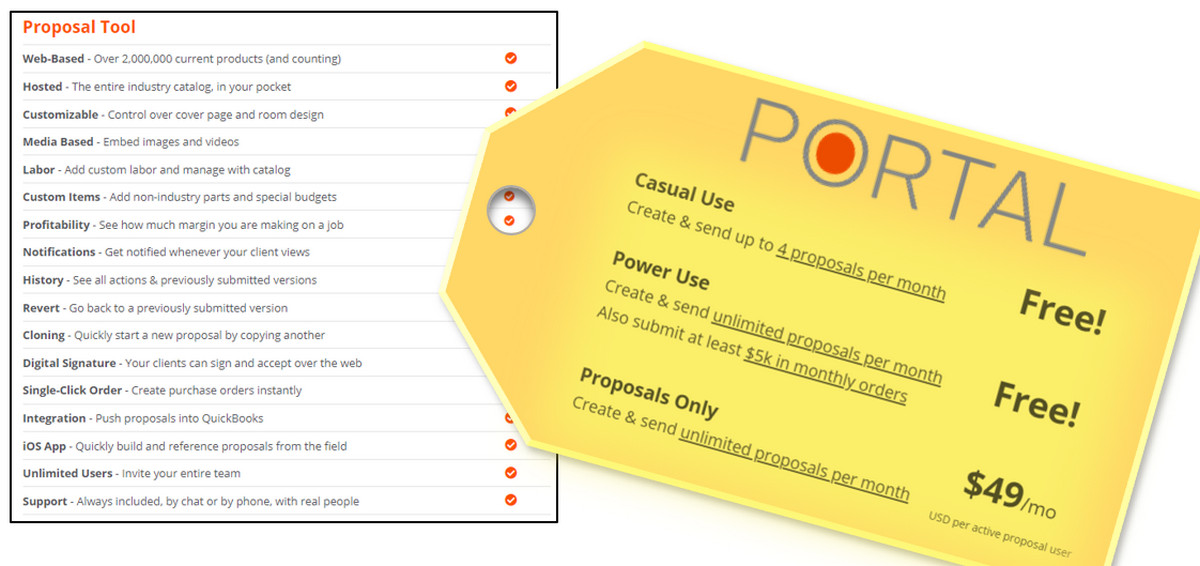 Julie Jacobson
·
July 11, 2018
Portal's home-technology proposal software apparently has become a victim of its own success. Now the product developer, formerly known as SupplyStream, has attached a fee to the formerly free service. The $49/month charge applies only to "power users" of the software tool who do not place purchase orders with Portal.
Portal makes its money through a small commission it receives from vendors who sell products through the platform. Portal originally charged dealers for use of its popular online product catalog, starting in 2014, but eliminated the dealer fees in 2016 once it shifted the financial burden to suppliers.
The thing is, Portal only makes money when dealers place purchase orders through its platform. Yet it shoulders the burden of support for all dealers, including the ones who only use the proposal tool, i.e., generate no revenue for the supplier.
In a letter to customers, Portal founder and CEO Kirk Chisholm explains the company was willing to bear the costs of the non-customers, hoping these users would eventually use the purchasing portal in addition to the free proposal tool. But the conversion rate has lagged behind the onslaught of new proposal-only users.
"We didn't anticipate the group of 'proposal only' users becoming as large as it has."
— Kirk Chisholm, Portal CEO
"We didn't anticipate the group of 'proposal only' users becoming as large as it has," Chisholm writes. "The problem we are faced with now is that we have a significant number of proposal-only users, whom we want to continue to support, but we have no way to cover our costs for this support."
He goes on to explain how much Portal invests in customer support, with 24/7 live service from real humans who support non-paying users just as generously as the biggest revenue generators.
Although Chisholm failed to mention it, Portal consistently wins praise from dealers on the customer-support front, winning top honors every year in CE Pro's Quest for Quality awards. In 2018, the company earned Platinum recognition (top honors) for dealer programs and Website, and Gold for customer service,
So here we are.
Casual proposal-only users can enjoy up to four freebies per month, but after that, Portal expects these dealers to pony up $49 if they don't purchase at least $5,000 through Portal each month (or $15,000 in the three trailing months).
Not surprisingly, many proposal-only users are incensed, with one of them saying Chisholm's announcement "reeked of disrespect and almost desperation."
It didn't help that the announcement came shortly after Portal's latest software update, which came with a few bugs. But it was a necessary platform overhaul and Portal points out many of the useful new features here.
Below is Chisholm's original announcement, followed by his response to the unhappy campers at RemoteCentral.com.
We've Updated Our Proposal Pricing Model

Billing Changes and Explanation

Summary:
Proposals will remain free for 75% of our users, but the rest of our users will be charged a monthly fee.

Who does this affect:
Users that are using the Proposal tool, but not the PO tool. Read on for more info.

How we got here:
When we started Portal six years ago, we were a SaaS (software as a service) business. We built a sophisticated data engine that ingested all the product data and pricing for the entire industry and organized it in a single catalog. The catalog was accompanied by a purchase order tool (there were no proposals back then) and dealers paid us monthly for the service. It's very expensive to maintain a live catalog of 2M+ items with custom pricing, so of course we had to charge - free wasn't even a thought back then. Then something cool happened… As manufacturers started receiving more and more purchase orders, they came to us and said, "We're desperately trying to figure out how to better serve dealers on the web and you guys have built an incredible site, why don't we pay you instead, whenever you send us orders?" This was a dream scenario, a win-win-win. Manufacturers win because they get a world-class website overnight without any upfront investment, we win because we still get paid and dealers win because, well, manufacturers are now picking up the tab! Then... Dealers requested that we build a proposal tool, and things changed.

Today we have two primary groups of users; Those who 'create proposals and send orders' and those who 'just create proposals'. We didn't anticipate the group of 'proposal only' users becoming as large as it has. The problem we are faced with now is that we have a significant number of proposal-only users, whom we want to continue to support, but we have no way to cover our costs for this support. So, we have decided to charge those proposal-only users each month. In fact, we've had many dealers say to us, "I know you guys get paid on orders, but we aren't supporting you in that way yet, so just charge me for the proposal tool, I don't want you to go away."

How it will work:

There will never be a charge to use our catalog or purchase order tool. This change only affects our proposal tool.

If you are a new or Casual Proposal User your company can use Portal to work on up to four proposals per month for Free.

If your company is a Power User (you work on more than four proposals each month and you submit $5k* or more in purchase orders) your proposal tool will remain Free.

If your company works on Proposals Only (and doesn't send more than $5k* in monthly orders) then you will be charged $49 per month per active proposal user

Later this month you will notice an update to our site where we will show you the status of your proposal plan. You will be asked to enter a credit card which we will store for monthly billing. On the 1st of August (and each subsequent month) we will run a report, calculate your order volume and proposal usage for the previous month, and email you a statement. If your company has submitted more than $5k* in orders, you will see a cost of $0. If your company has not submitted more than $5k* and you have worked on more than four proposals, you will be billed $49 per proposal user (users who don't edit proposals are not charged).

**We realize that some months are slow and you may not be able to submit $5k in orders, so if you have a slow month we will look at your last 3 months and if you have placed $15k or more in orders you wan't pay for proposals. This helps smaller dealers whose ordering patterns are more sporadic.

With this new model, every dealer has a "path to Free" and those who don't order from us still have a competitively priced industry proposal tool. We appreciate your understanding and are looking forward to supporting you for many years to come!
Hi ... Kirk here with Portal (founder and CEO for those I haven't met), thanks for getting a conversation going. It a bummer to read, I hate when any of our loyal users are unhappy, but perhaps I can shed some light on our decision and answer any questions directly.

We really didn't want to start charging, but it's something we've been wrestling with for the past year and decided we had to do in order to remain sustainable. Many of you remember that we were never a proposal tool. We started out as a catalog and purchase order tool and then we added on the proposal tool because you all asked for it. We started seeing growth in our "proposal only" users and we've been tracking it closely because, as stated here, those users are a cost center for us. Our primary business model is the same as Expedia, we get paid a small commission % when we deliver orders to certain suppliers. We were fine subsidizing the cost of proposal-only users because we expected that many of them would start ordering from us. That did happen, in fact close to 80% of you DO place more than $5k in orders every month. So you might say, why not just continue to subsidize the small 20% group then? The answer to that has been, "absolutely", for the past 5 years, but now that small 20% represents over 500 companies!!! That's a problem because we refuse to lower our quality of service and running this company requires way more people than you might think. We have over 25 full-time staff to make it all work properly. We are a data aggregation company (think BlueDog or other services) we are a proposal company and we are running a marketplace. Many companies claim that they care about their customers but it rarely feels that way. I know that if I ask any of you who have interacted with us over the years, you will tell me that you have had a great experience with our staff. "Care" is something we've built our entire culture around. How many other software companies can you say that about? Go ahead, send a message to one this afternoon and ask a random question, then try the same with us. You can get a human on the phone anytime at Portal. We care deeply about our users, which is THE reason we are charging. We want to keep it going and we refuse to lower our standard of service. This new $49 fee is merely a subsidy, it doesn't generate any profit for us.

One other update from today... Many of you running smaller companies brought up the concern around sporadic ordering. Some months you place lots of orders and other months maybe none. We listened to that and updated our program earlier today. If you don't hit the $5k PO threshold in a month, we will look back over your last three months and see if you exceeded $15k in aggregate. If so you'll get proposals for free. Believe it or not, we don't want you to have to pay!

-Kirk
Founder & CEO
Portal.io
---
We're Looking for Your BEST Projects
Don't miss your chance to enter to win a 2019 BEST Projects Award. We'll be announcing winners at a special Gala event at CEDIA EXPO. We can't wait to see what you've been up to this year! Enter your projects now.
---
About the Author
---
Julie Jacobson is founding editor of CE Pro, the leading media brand for the home-technology channel. She has covered the smart-home industry since 1994, long before there was much of an Internet, let alone an Internet of things. Currently she studies, speaks, writes and rabble-rouses in the areas of home automation, security, networked A/V, wellness-related technology, biophilic design, and the business of home technology. Julie majored in Economics at the University of Michigan, spent a year abroad at Cambridge University, and earned an MBA from the University of Texas at Austin. She is a recipient of the annual CTA TechHome Leadership Award, and a CEDIA Fellows honoree. A washed-up Ultimate Frisbee player, Julie currently resides in San Antonio, Texas and sometimes St. Paul, Minn. Follow on Twitter: @juliejacobson Email Julie at julie.jacobson@emeraldexpo.com
Follow Julie on social media:
Twitter · LinkedIn · Google+
Julie also participates in these groups:
LinkedIn · Google+