Peerless-AV PeerAir Wireless HD Multimedia System Streams Full HD and 3D
PeerAir can connect up to two HDMI devices, such as a Blu-ray player, set-top box, or gaming console.
CE Pro Editors ·
August 15, 2014
Peerless-AV (Booth #1341) is excited to showcase the PeerAir Wireless HD Multimedia System at the CEDIA EXPO 2014.
With the PeerAir, wireless content streaming and gaming has never been easier. The PeerAir features a plug-and-play setup, zero latency, and the ability to stream Full HD 1080p as well as all 3D content formats.
With a wired HDMI pass-through feature that sends content to a nearby HDTV, and a wireless receiver able to receive wirelessly streamed content up to 100ft (30m) away, it is simple to watch TV or play video games in different rooms – all without the clutter and cost of running cables. Plus, the transmitter and receiver can be placed on a tabletop or mounted to a wall. IR functionality also allows for remote control of the AV devices, even if they are stored out of sight.
The PeerAir is able to connect up to two HDMI devices such as a Blu-ray player, set-top box, or gaming console. In addition, the PeerAir is the only system that provides the ability to expand wireless connectivity with the ability to add additional HDMI sources wirelessly to one HDTV with an available Transmitter accessory.
The PeerAir is currently available through Peerless-AV direct sales representatives and authorized distribution network.
---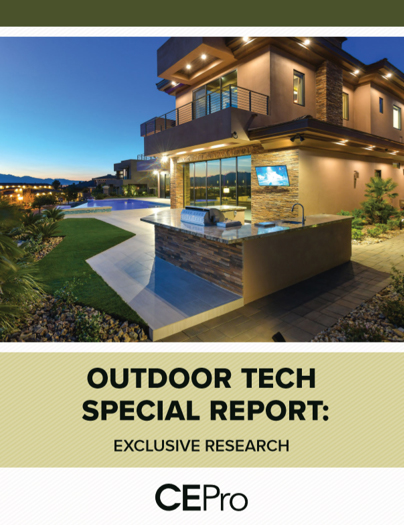 Find Out Why 63% of Integrators Expect Outdoor Business to Grow - CE Pro Download
The outdoor technology market is growing – both the demand from customers and the array of products available. According to our recent CE Pro survey, integrators are taking advantage of this opportunity to grow their businesses. Get your copy of the survey today.
---
HDMI
Power vs. Data Rate: Is There a Compromise?
Interview: Vanco President Discusses A/V-over-IP Adoption, HDMI 2.1, More
Metra Gigabit Accelerator Helps Upgrade HDMI Cables to Support 8K
Why Distributors Are Digging Deeper Into HDMI Education
4 'Bohemian Rhapsody' Scenes Perfect For Dolby Atmos Demos
View more on HDMI
Take Our Latest Quiz
How Well Do You Understand Ethernet Cables and Connectors?
Bose