SupplyStream Launches Catalog, Purchasing Platform, Proposal Tool; Azione Named Partner
Launch follows two years of development and a year of Beta testing for SupplyStream.
December 9, 2014
After nearly two years of development and a year of Beta testing, SupplyStream has launched the paid version of its dealer purchasing platform.
The launch follows the acquisition of Invenshare.com, an inventory sharing platform, and the additions of Lawrence Davis as V.P. Business Development and Joe Piccirilli as a member of their Board of Directors.
"Three years of development seems like a long time, but it was critically important for us to bring a platform to market that delivers everything we promised," says SupplyStream founder and CEO Kirk Chisholm. "We are extremely thankful for the thousands of dealers who have signed up during our Beta, and the suppliers who have embraced our platform and agreed to provide data feeds."
HOW SUPPLYSTREAM WORKS: VIEW SCREENSHOTS HERE
SupplyStream offers a single place for dealers to research, propose, and order all of their products online.
It offers a platform for dealers to build and view a product catalog from a database of industry suppliers. Real time product information, pricing, and availability from existing suppliers are included in the catalog. Dealers can generate proposals and send purchase orders to their vendors from one place.
Furthermore, a system for keeping product data up-to-date through a simple data feed, taking the burden off the vendors.
Along with the launch of the full version of SupplyStream, the company has announced that it is joining the buying group Azione Unlimited. Through the special dealer program, Azione dealers will receive a discount on their MySupplyStream subscription, as well as full access to Invenshare.com.

SupplyStream launched its proposal tool at CEDIA 2014
---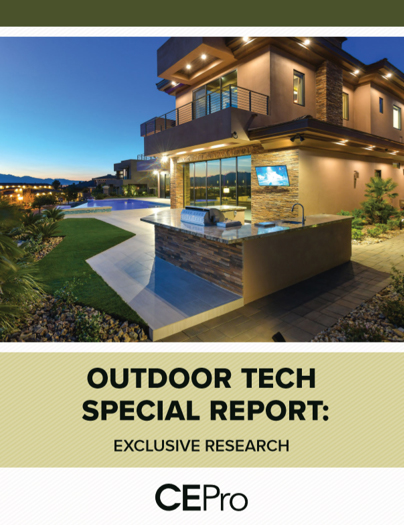 Find Out Why 63% of Integrators Expect Outdoor Business to Grow - CE Pro Download
The outdoor technology market is growing – both the demand from customers and the array of products available. According to our recent CE Pro survey, integrators are taking advantage of this opportunity to grow their businesses. Get your copy of the survey today.
---