On LIFX and $1.3M: Will Crowdsourcing Implode?
After raking in $1.3 million in one week on Kickstarter, smart bulb "maker" LIFX, appearing at CES 2014, still isn't shipping product after 14 months. Now the category is stale.
Julie Jacobson
·
December 23, 2013
Note: see update below from LIFX on shipping status. Also, I should have noted crowdsourcing as we know it. There is certainly a good future for crowdsourcing but it will have to change. ...
The email from the PR agency read: "One of the most successful campaigns in Kickstarter history, LIFX raised $1.3 million in less than a week and is now graduating from an initial idea to a leader in the connected home industry."
And did I want to set up an appointment with the company at CES 2014?
So I emailed to find out what new features LIFX was adding to its smart bulb, given that the market for the once-novel category is now pretty much saturated (and, I have maintained, silly to begin with).
The response: "They will be showcasing the LIFX bulbs and new apps. The bulbs have been written about but haven't shipped to the public just yet. New functionality is continuing to roll out via free app update."
Here was my reply: "Thanks, ######. This is troubling. Now there are two dozen smart bulb makers. LIFX has $1.3m from "customers" and one year later still isn't shipping? Sorry, trying to think of a positive angle here."
No response to that.
Crowdsourcing is going to implode if this keeps happening. Currently on Kickstarter, pretty much anyone can rake in all the cash they want and never ship a product.
I'm not saying LIFX is a bunch of liars and thieves—building products always takes longer and requires more money than expected—but how long can this scheme go on before the whole crowdfunding thing crashes?
There are simply no shareholders to answer to.
By the way, as to LIFX's claim of "graduating from an initial idea to a leader in the connected home industry" ... how does that happen? While they were still raising money, there were already more than a dozen products on the market or on the radar. And a company that has yet to ship products will have a tough claim to the distinction of "leader."
RELATED: 13 Smart LED Bulbs: The Future of Lighting Control?
UPDATE: We heard from LIFX that indeed there was a miscommunication by the spokesperson. LIFX says, "LIFX has indeed been shipping and fulfilling Kickstarter orders. The LIFX team had encountered some initial production issues, but kept fans in the loop with regular updates on Facebook and Kickstarter as they continued to develop and ship their light bulbs to backers."
LIFX: $1.3 million buys nicely produced promotional video on "The Lightbulb Reinvented."
---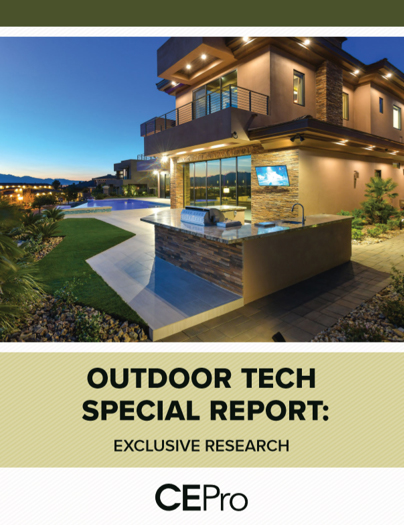 Find Out Why 63% of Integrators Expect Outdoor Business to Grow - CE Pro Download
The outdoor technology market is growing – both the demand from customers and the array of products available. According to our recent CE Pro survey, integrators are taking advantage of this opportunity to grow their businesses. Get your copy of the survey today.
---
About the Author
---
Julie Jacobson is founding editor of CE Pro, the leading media brand for the home-technology channel. She has covered the smart-home industry since 1994, long before there was much of an Internet, let alone an Internet of things. Currently she studies, speaks, writes and rabble-rouses in the areas of home automation, security, networked A/V, wellness-related technology, biophilic design, and the business of home technology. Julie majored in Economics at the University of Michigan, spent a year abroad at Cambridge University, and earned an MBA from the University of Texas at Austin. She is a recipient of the annual CTA TechHome Leadership Award, and a CEDIA Fellows honoree. A washed-up Ultimate Frisbee player, Julie currently resides in San Antonio, Texas and sometimes St. Paul, Minn. Follow on Twitter: @juliejacobson Email Julie at julie.jacobson@emeraldexpo.com
Follow Julie on social media:
Twitter · LinkedIn · Google+
Julie also participates in these groups:
LinkedIn · Google+