Oceanfront Home Opens Up with Motorized Shades
This 6,500-square-foot home features 46 motorized shades and 80 lighting loads are tied to a Lutron system.
Lisa Montgomery
·
March 8, 2013
Tucked into its natural surrounding on the ocean's edge in Maine, this 6,500-square-foot home takes advantage of the view via huge floor-to-ceiling windows throughout. Its minimalist interior design allows the exterior to be the main eye-candy, but there are times when the owners feel more comfortable covering the glass, especially in the main space where 12-foot-tall windows make the room feel as if it's part of the outdoors.
The pros at System 7, Winchester, Mass., were able to turn this space into a private, enclosed, cozy space by installing 18 Lutron roller shades - one for each window. The hardware was carefully tucked into the wooden plank ceiling to remain completely undetectable. When the owners touch a button on a Lutron keypad or an icon on their iPad, the shades quietly lower to cover the windows. The owners can stop them at any point or let them travel all the way down. They were all programmed by System 7 to move at the same speed, in perfect alignment. The rollers were so that there's a 1-1/2 inch gap between each shade.
As important as the movement of the shades was the opacity of the fabric, says System 7 president Gerard Lynch. Lutron offers a huge assortment of fabrics in a variety of colors and weaves. For this project, System 7 hung sample swatches over the windows so that the owners could compare the opacity of each.
"We brought a weaves of 3, 5 and 10 percent and compared them at different times of the day, from both the inside and the outside of the house," Lynch explains. The owners chose the 5 percent weave, which is open enough so that the owners are provided a hazy view of the landscape through the fabric. "It's a transformative experience," says Lynch. "When the shades are down you feel like you're in a completely different space. We used technology as a tool to produce a new feeling for the room."
The lights in this space are also controlled via the keypad and iPad, as is a Sonos whole-house music system that delivers audio to Sonance architectural speakers that sit flush with the wooden ceiling. System 7 tweaked the speaker bezels so that they'd resemble pegs that are commonly used to hold planks of wood together.
Although this family room exemplifies the high-level of craftsmanship and planning involved in integrating technology pleasingly into a space, there are many other areas in this house where technology lends a hand. In total, 46 motorized shades and 80 lighting loads are tied to the Lutron system.
---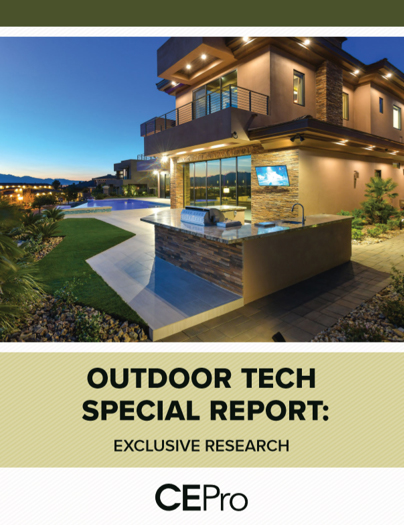 Find Out Why 63% of Integrators Expect Outdoor Business to Grow - CE Pro Download
The outdoor technology market is growing – both the demand from customers and the array of products available. According to our recent CE Pro survey, integrators are taking advantage of this opportunity to grow their businesses. Get your copy of the survey today.
---
About the Author
---
Lisa Montgomery has been a member of the CE Pro and Electronic House editorial teams for nearly 20 years; most of that time as the Editor of Electronic House. With a knack for explaining complex high-tech topics in terms that average consumers can understand, her style of writing resonates with people who are interested in adding electronic systems to their homes, but are unsure of the steps involved and the solutions available. From basic lighting control systems to full-blown automation systems, Lisa understands the home electronics market well, and is able to point consumers in the right direction on their quest for a smarter, more convenient, efficient and enjoyable home. Over the years, she has developed close relationships with key manufacturers and seasoned custom electronics professionals, giving her a keen sense of what home technologies are hot now and what is on the horizon. She shares this wisdom regularly through feature stories, product roundups, case studies technology spotlights and comprehensive guides and books. Have a suggestion or a topic you want to read more about? Email Lisa at lisa.montgomery@emeraldexpo.com
Follow Lisa on social media:

Lisa also participates in these groups:
LinkedIn · Google+
Control & Automation
Product Briefs: AudioResearch, Kwikset; Play-Fi, AirPlay2; Lenbrook Joins D-Tools i3
Control4, SnapAV CEO Interviews: Analyzing the Home Automation Merger
10 #SoCustom Solutions to Inspire Your BEST Project Awards Entries
Amazon Alexa Guard Sound-Detection Turns Echo into Smart Security System
Intuitive Interface Is Key to Lighting, Energy Storage/Management Systems
View more on Control & Automation
Take Our Latest Quiz
How Well Do You Understand Ethernet Cables and Connectors?
Bose