LA Production Builder Standardizes on Elan Home Automation and Prewiring in 27 New Homes
Each of the 27 properties in three new RC Homes communities will include a standard Elan home-automation package with a video doorbell, smart thermostat, smart light switches, and prewiring for data and entertainment.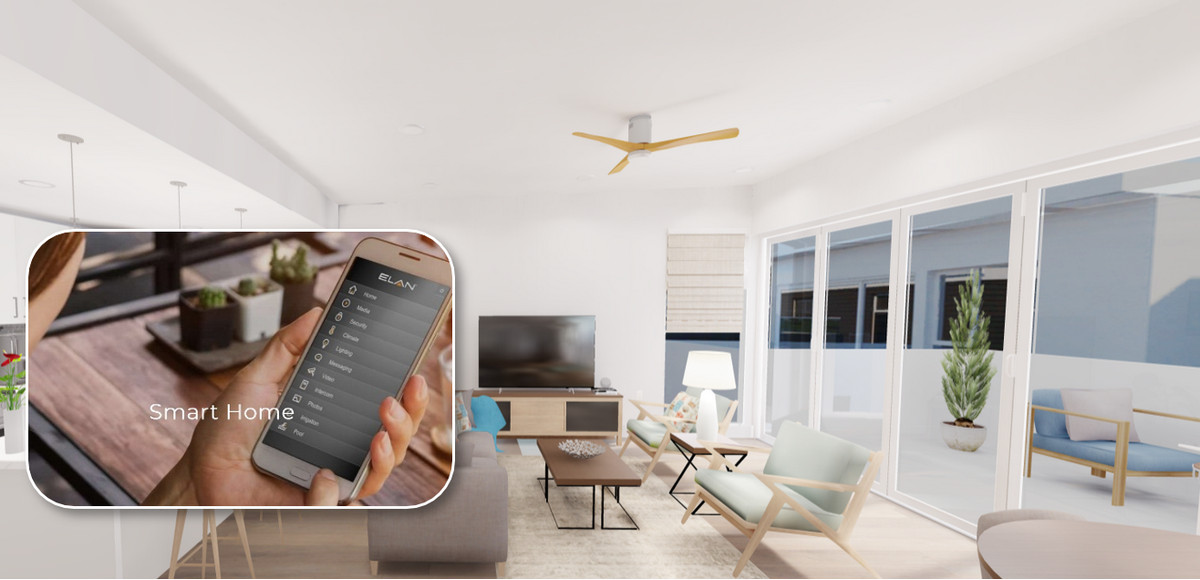 CE Pro Editors ·
November 7, 2018
With so many production builders embracing all-wireless DIY home-automation systems (Amazon Alexa, Samsung SmartThings, Google Home) installed by mass-market installers like Amazon Smart Home Services, it's refreshing to find a builder that appreciates custom-centric A/V and smart-home systems -- and even structured wiring (shocker) -- installed by established home-tech pros.
Southern California Home Builder RC Homes, Inc. is pre-installing Elan home automation and entertainment packages, with optional 2GIG alarm systems, in 27 homes across three new Los Angeles communities.
The products, part of the Nortek Security & Control LLC (NSC) family, are being installed by Irvine, Calif.-based integrator Smart Systems Technologies, Inc. (SST). Each home receives as standard:
Elan controller

Intercom video doorbell

Smart thermostat

Smart lighting
Cat x cable to select rooms
Prewiring for "a variety of other technology and entertainment options"
"In this area, home automation is definitely something buyers are looking for," says Randy Montgomery, project and marketing manager at RC Homes. "We love that the Elan standard package gets to the heart of home automation with lighting, climate and front door security, while house-wide pre-wiring gives each buyer a multitude of personalization options. It was also important to us that it be ultra-easy to use.
In addition to the core Elan package, RC Homes offers three home-tech options for home buyers:
The Peace of Mind package adds an app-controlled smart door lock, smart garage door opener and a surveillance camera for the garage so that the homeowner can talk to a front door visitor and let them in the door or garage remotely from the app.
The Safe & Sound package includes a 2GIG security system that can be armed and disarmed via any Elan interface, including mobile devices. 2Gig is fully integrated into the Elan system, so the entire home can react to specific safety and security events.
The Media Room package option adds wiring for in-ceiling speakers, a subwoofer, and an AV receiver in the main living/entertaining space.
Smart Home Communities Open in 2019
In addition to the Elan automation system and personalization packages, RC Homes, Inc. has designed each home with in-wall USB outlets in various rooms and in-wall tubing to hide HDMI and other cables for the main TV area.
All three communities -- Hyperion Silver Lake, The Griffith and Fairfax at Sunset -- will be open in 2019, with Hyperion expected to begin sales in Fall 2018 and open its fully outfitted model home in December 2018.
"By leveraging personalized packages on top of a base package that will be the first true automation experience for many homebuyers, we will create repeat customers and grow the community of home automation advocates."​
— Jimmy Salloum, Smart Systems Technologies Inc.
The alignment between Elan, RC Homes and SST was facilitated by the Elan New Home Program, launched in 2017 to promote smart-home technology to home builders and pair them with local integration experts.
According to Jimmy Salloum, VP of sales and marketing for SST, the Elan New Home Program is presenting new installation opportunities and starting more conversations between builders and integrators.

"Nortek's Elan is always working to help us land more jobs and spread the gospel of home automation to the industries we interact with, such as builders and designers," Salloum says.
"By leveraging personalized packages on top of a base package that will be the first true automation experience for many homebuyers, we will create repeat customers and grow the community of home automation advocates."

ELAN is working with RC Homes' marketing and sales teams to maximize the messaging to prospective buyers and will have representatives on hand at the December open house at Hyperion Silver Lake.
Related: Elan + 2Gig + Integrated NVR Makes Unique Security, Surveillance, Home Automation Combo
"With the Elan base package offering instant front door video communication from anywhere in the world, mobile lighting control and energy-saving climate automation, every buyer gets a simple and powerful home automation experience," says Bret Jacob, Nortek Security & Control director of builder services. "RC Homes' decision to pre-wire the whole home is a brilliant addition that opens the door for system personalization at any point in the future."
---
We're Looking for Your BEST Projects
Don't miss your chance to enter to win a 2019 BEST Projects Award. We'll be announcing winners at a special Gala event at CEDIA EXPO. We can't wait to see what you've been up to this year! Enter your projects now.
---