#TBT: Next Big Thing at ISE 2010: Light + Speaker Combos
In this edition of Throwback Thursday, look at 5 awesome light/speaker combos from ISE 2010, featuring beautiful designs, excellent audio, and very bright lights -- a far cry from their predecessors
Julie Jacobson
·
February 5, 2015
ISE 2015 is starting next week. For this edition of Throwback Thursday, CE Pro goes back to 2010 and looks at a trend that caught our editor's attention at the show.
It's a light! It's a speaker! It's a light speaker!
Although "LightSpeaker" is the registered trademark of Klipsch, several other vendors fit the bill.
During the recent Integrated Systems Europe (ISE) in Amsterdam, a few European companies and at least one American manufacturer demonstrated high-quality speakers that double as light fixtures.
Those products, as well as the European version of LightSpeaker, are described in the slide show.
Speaker Lights: That was Then
The concept isn't new.
One of the best "real" implementations so far has been Soundolier's Duo wireless speaker lamp, introduced in early 2007. It's still on the market for $300 plus a $100 wireless transmitter.
Yamaha demonstrated in 2008 the handsome YST001 floor-standing home theater light speakers, but the lamps were just for mood lighting and it appears the $1,250 speakers never made it to market.
Other than that, the light-speaker movement has mostly been taken up by low-quality outdoor products, desktop gadgets and concept pieces. And they're not meant to be a serious source of light.
For example, Audiovox introduced at CES 2010 the Acoustic Research Outdoor Living collection – $100ish lanterns with wireless speakers and a lamp socket.
Mercato's had a clever design with its MS00003 Solar Light Speakers—they fit on your fence posts—but the $70/pair devices are discontinued.
Lifestyle Entertainment Group offers LiteSounds wireless speakers ($309 for two speaker lights and two matching lights) with low-voltage pathway lighting built in. And others make similar products, as well as pedestal light speakers.
There are countless cheesy light speakers, some powered via USB, that double as desk lamps or funky mood lights – like the colorful $55 Diamond Tower light speaker, the $26 Light Tube Speaker (discontinued) and the $15 "exquisite" LED lamp light speaker.
Finally, we found a wonderful concept called SoundBulb, designed for a competition by brothers Anh and Hoang Nguyen (but not completed in time to actually compete, Anh Nguyen tells CE Pro).
The screw-in bulb – which contains LED lighting and a wireless 8-Ohm speaker – gets its audio from any Bluetooth source and is controllable via any Bluetooth device such as an iPhone.
The concept first came to "light" in early 2009, but it has not been productized. So we wondered: Why is there an Onkyo logo on the products in Anh Nguyen's portfolio?
"The brand Onkyo was thrown on to give the product a more realistic feeling," Anh tells us. "There are no connections."
Today's Light Speakers
Thanks to the proliferation of low-cost, low-heat LED lights, manufacturers can design products that put light and sound into a compact enclosure.
At ISE last month, we saw several products that combined lighting and audio in elegant form factors that we have not seen previously.
CE Pro believes that speaker lights will be a strong trend in the coming years, and ISE 2010 will be known as the event that kicked it off.
Check out the slideshow of 5 awesome light/speakers from ISE 2010
---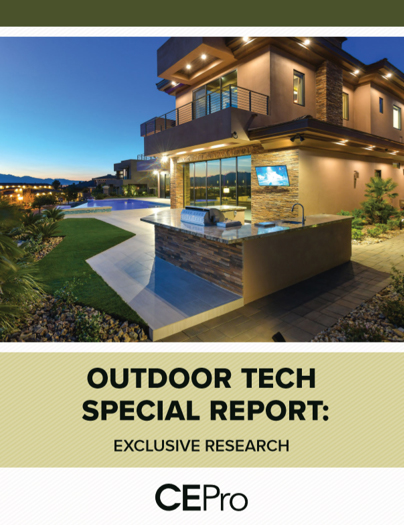 Find Out Why 63% of Integrators Expect Outdoor Business to Grow - CE Pro Download
The outdoor technology market is growing – both the demand from customers and the array of products available. According to our recent CE Pro survey, integrators are taking advantage of this opportunity to grow their businesses. Get your copy of the survey today.
---
About the Author
---
Julie Jacobson is founding editor of CE Pro, the leading media brand for the home-technology channel. She has covered the smart-home industry since 1994, long before there was much of an Internet, let alone an Internet of things. Currently she studies, speaks, writes and rabble-rouses in the areas of home automation, security, networked A/V, wellness-related technology, biophilic design, and the business of home technology. Julie majored in Economics at the University of Michigan, spent a year abroad at Cambridge University, and earned an MBA from the University of Texas at Austin. She is a recipient of the annual CTA TechHome Leadership Award, and a CEDIA Fellows honoree. A washed-up Ultimate Frisbee player, Julie currently resides in San Antonio, Texas and sometimes St. Paul, Minn. Follow on Twitter: @juliejacobson Email Julie at julie.jacobson@emeraldexpo.com
Follow Julie on social media:
Twitter · LinkedIn · Google+
Julie also participates in these groups:
LinkedIn · Google+
Control & Automation
Product Briefs: AudioResearch, Kwikset; Play-Fi, AirPlay2; Lenbrook Joins D-Tools i3
Control4, SnapAV CEO Interviews: Analyzing the Home Automation Merger
10 #SoCustom Solutions to Inspire Your BEST Project Awards Entries
Amazon Alexa Guard Sound-Detection Turns Echo into Smart Security System
Intuitive Interface Is Key to Lighting, Energy Storage/Management Systems
View more on Control & Automation
Take Our Latest Quiz
How Well Do You Understand Ethernet Cables and Connectors?
Bose