New OS from Control4 Lets Users Add Music, Create Scenes; Minimizes Dealer Distractions
Relieving some of the programming burden from time-strapped integrators, Control4 lets users pick their own streaming services and create their own smart home scenes.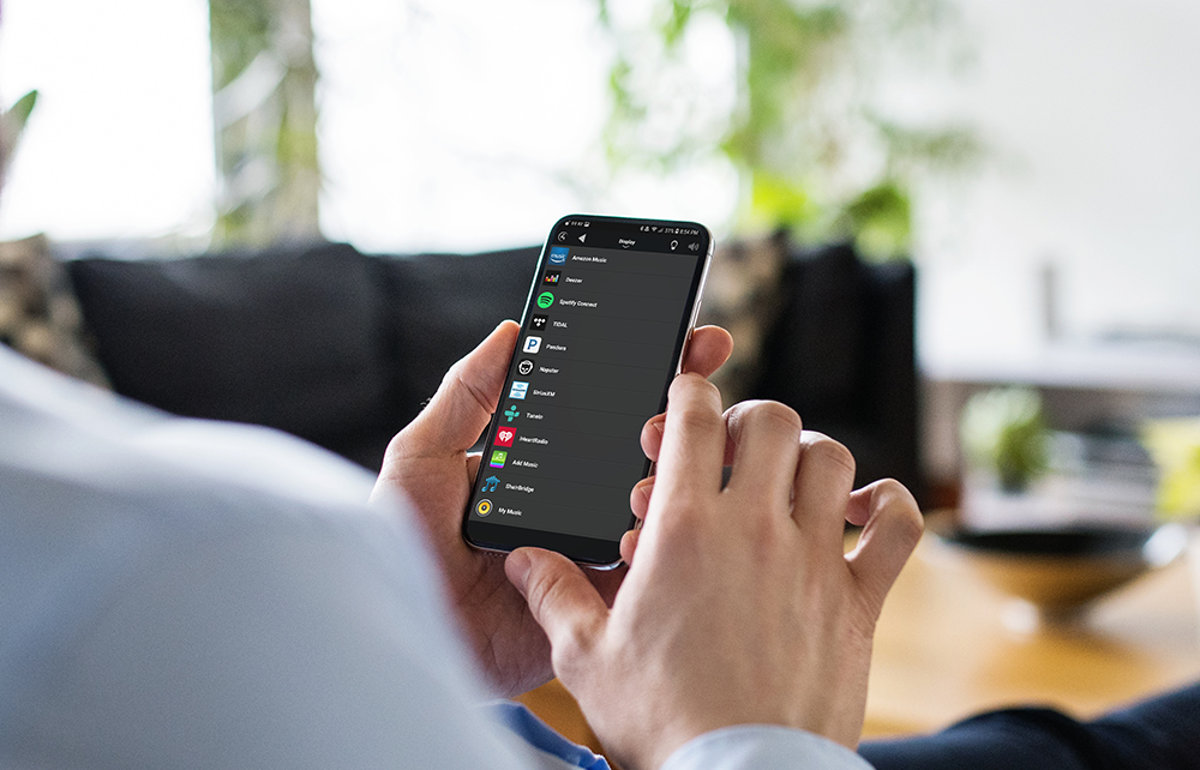 Lisa Montgomery
·
October 9, 2018
Customization is king at Control4, and the company proved it once again at CEDIA Expo 2018 with the announcement of two key new features to its home control platform. While the integrator is free to tap into the new customization features, Control4 designed them primarily for use by end-users. It's another step toward minimizing an integrator's need to make house calls for simple system adjustments and empowering customers with easy programming tools.
One way dealers can encourage their Control4 customers to become more involved in the setup of their systems is through music.
Control4's latest OS version, which it showcased at the CEDIA Expo, expands the company's comprehensive lineup of music streaming services including Napster, SiriusXM, Spotify, Tidal and others, to now also include Amazon Music and Deezer HiFi.
These, as well as another other music services, can be added to a customer's music library through a new feature called "Add Music." Integrators can do this for their customers, but adding music is so easy homeowners can do it themselves directly from a Control4 touchscreen or the mobile app.
The ability to add music streaming services on the fly is just one way homeowners can personalize their smart home experience. The new Control4 OS also lets users create and edit their own smart home scenes through the system's "When, Then" feature.
Related: Control4's new Intercom Anywhere 'Elevates the Smart Doorbell'
Again, it puts the homeowner in charge and lets integrators focus on bigger, more complex programming challenges. With the new OS, customers can create and edit voice scenes for Amazon Alexa, create custom buttons and programming for Control4's new Intercom Anywhere, and modify schedules for lighting scenes.
"We're empowering homeowners to fine-tune their Control4 experience in ways that matter most to them—how they listen to music, design lighting scenes, initiate voice control, and secure their homes," says Martin Plaehn, Control4 chairman and chief executive officer.
---
Secure Your Free Pass to CEDIA EXPO 2019
Register before Sept. 2 to gain free access to the opening keynote, product training & education series as well as the show floor including Innovation Alley and much more. Don't miss your chance. Sign up today.
---
About the Author
---
Lisa Montgomery has been a member of the CE Pro and Electronic House editorial teams for nearly 20 years; most of that time as the Editor of Electronic House. With a knack for explaining complex high-tech topics in terms that average consumers can understand, her style of writing resonates with people who are interested in adding electronic systems to their homes, but are unsure of the steps involved and the solutions available. From basic lighting control systems to full-blown automation systems, Lisa understands the home electronics market well, and is able to point consumers in the right direction on their quest for a smarter, more convenient, efficient and enjoyable home. Over the years, she has developed close relationships with key manufacturers and seasoned custom electronics professionals, giving her a keen sense of what home technologies are hot now and what is on the horizon. She shares this wisdom regularly through feature stories, product roundups, case studies technology spotlights and comprehensive guides and books. Have a suggestion or a topic you want to read more about? Email Lisa at lisa.montgomery@emeraldexpo.com
Follow Lisa on social media:

Lisa also participates in these groups:
LinkedIn · Google+