New Control4 Data-set included in Salez Toolz APEX Release
Abacus Prime LLC is now releasing the Salez Toolz APEX Workstation and receiving great responses to its new functionality
CE Pro Editors ·
December 17, 2014
Abacus Prime LLC is now releasing the Salez Toolz APEX Workstation and receiving great responses to its new functionality. Included in the software's download is the new Control4 Audio and Lighting Data-set, which comes ready to use in a prepopulated Salez Toolz Data-set. Data-sets are much more than a price list with a picture of the SKU, Salez Toolz Data-sets represent a company's technology solution and includes a lifestyle image that communicates the benefits not the specifications. This information makes it easy for Salespeople to present technology in a way that Home Owners can understand, compare and ultimately make a purchase decision.
Susan Jones Sipe, Abacus Prime's CEO recently asked Jim Arnold, Senior VP of Sales at Control4, why Control4 has continued its participation in the Salez Toolz manufacturer program. Jim responded with, "Salez Toolz has proven to be a great product for Control4 Dealers. Deployment in real time discussions with prospective customers can move the process from the theoretical to a specific application in a fraction of the time and with an exponentially higher close rate."
Control4 has been a longtime supporter of Salez Toolz who is always looking for ways to help their dealers achieve greater success states Susan. Jim recognized right away the tremendous advantages that a salesperson gains with a tool that professionally presents technology options, engages the customer in creating a budget and facilitates the close of the sale in the first meeting.
If you want to know how the award winning APEX app can save you time previously spent creating multiple proposals, avoid negotiating your margins away, and winning more sales, then please join us for a live presentation every Monday at 11:00 am EDT.
Register for our live presentation: Salez Toolz Webinar
SALEZ TOOLZ PRODUCT INFO: info@SalezToolz.com
PRO-Services Group info: PRO-Services@SalezToolz.com
WEBSITE: http://www.SalezToolz.com
CONTACT BY PHONE: (800) 978-6650
About Salez Toolz Manufacturer Program Salez Toolz PRO-Services Group creates ready-to-use Data-sets specific to your product line. This turn-key service focusses your dealers on the important benefits of your products while they are in the live presentation with their customer. Unlike a price list, this helps your dealers sell your product. For more information please contact;
PRO-Services Group info: PRO-Services@SalezToolz.com
About Salez Toolz Salez Toolz was created by Abacus Prime LLC in 2004. Its team is comprised of experts in software, sales, custom design and business consulting. We focus on the creation of software technology that helps businesses achieve great success.
---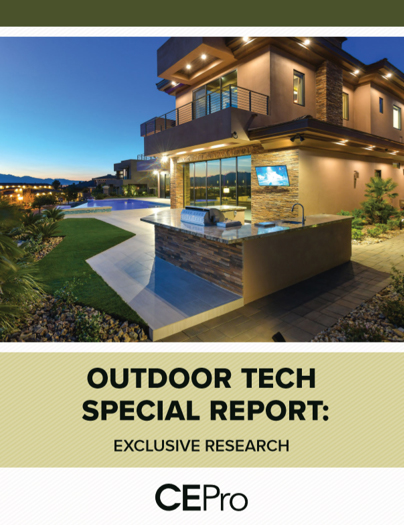 Find Out Why 63% of Integrators Expect Outdoor Business to Grow - CE Pro Download
The outdoor technology market is growing – both the demand from customers and the array of products available. According to our recent CE Pro survey, integrators are taking advantage of this opportunity to grow their businesses. Get your copy of the survey today.
---
News
How LG Aims to Broaden Integrators' World
RTI Touchpanel Remotes Mount in Walls, Reside on Tables
CEDIA Global HQ Opens: Take a Video Tour
Budget-Friendly Pro-Ject T1 Turntable Includes Bluetooth Streaming
People & Places: NSC Promotes Lynch; ProSource Member News; CEDIA Group, DLN Partner
View more News
Take Our Latest Quiz
How Well Do You Understand Ethernet Cables and Connectors?
Bose