Nest Acquires Revolv DIY Smart Hub, Shuts It Down
Revolv is now a Nest company and the home automation hub will not be available for sale. Service and support will be available to existing Revolv clients but will not be available to new customers.
Grant Clauser
·
October 24, 2014
Oh, Revolv, it was nice knowing you. According to a short notice on Revolv's website, the company was acquired by Nest, the darling of the Internet of Things world and owned by Google.
Revolv, one of the first smart home automation hubs to get a lot of popular press attention, will be assimilated into the Nest Borg hive. As such, it will cease being it's own entity. In other words, Revolv will stop evolving. Officially, the company says the acquisition will not affect current users of Revolv systems, but that the product will no longer be offered for sale.
Yep, Revolv is gone. Long live Revolv.
In an interview with the site Re/code, Nest co-founder Matt Rogers said, "We are not fans of yet another hub that people should have to worry about. It's a great team, an unbelievable team. There's a certain amount of expertise in home wireless communications that doesn't exist outside of these 10 people in the world."
This acquisition was more about Nest getting its hands on intellectual property rather than getting into the DIY smart hub business. Earlier this year, Nest acquired DIY security camera company Dropcam but has not killed that product, the way it's killed Revolv.

Statement on Revolv website regarding support and user data.
Where does this leave the small, but growing DIY smart home hub world?
SmartThings was purchased by Samsung this year, but that company is continuing in a business as usual manner. Crestron recently launched the Pyng hub, which while not a DIY product, seems to work very much like them. There's the Lowe's Iris system, but is held back a bit by the monthly fee requirement. The recently launched Wink is another mostly Z-Wave system. Lutron also this year launched a smart home hub in DIY and professional versions for wireless light and shade control. Even Logitech jumped in this year with the Harmony Living Home system.
Nest and a small group of other internet-of-things product makers, including Big ### Fan, developed a new wireless communication protocol called Thread, which is meant to tie many different devices together. And then there's Apple's HomeKit, which is still little more than a logo, but a logo with big promise.
We expect that easy-to-set up home automation systems will continue to proliferate, and hopefully will begin wider adoption in the home.
---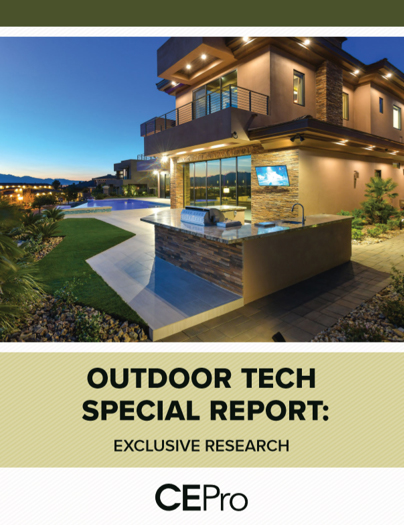 Find Out Why 63% of Integrators Expect Outdoor Business to Grow - CE Pro Download
The outdoor technology market is growing – both the demand from customers and the array of products available. According to our recent CE Pro survey, integrators are taking advantage of this opportunity to grow their businesses. Get your copy of the survey today.
---
About the Author
---
Grant Clauser is a technology editor, covering home electronics for more than 10 years for such publications as Electronic House and Dealerscope. He's done ISF-level damage to hundreds of reviewed products and has had audio training from Home Acoustics Alliance and Sencore. Have a suggestion or a topic you want to read more about? Email at gsclauser@verizon.net
Follow on social media:

also participates in these groups:
LinkedIn · Google+