Neat-O: Hiding the Projector in a Second-Floor TV Room
One homeowner decided, mid-install, he didn't care for the way the projector stuck out from the archway.
Geoffrey Oldmixon ·
June 4, 2009
David Huse of Frisco, Texas-based Theater Advice shares with us this media room he calls a "full transformation of a white game room."
"It was really interesting," Huse says of the project. "I knew he wanted something elaborate. I actually bid really high."
This second-floor "TV room" opened to the staircase via two large archways with railings. In order to transform this room into the full-out media room the homeowner wanted, Huse knew those archways would have to be filled.
One of the archways houses the Sony VPLVW60 SXRD projector Huse spec'd for the job. But that led to a different challenge — a sales challenge.
"At one point, I'd already purchased the projector, but [the homeowner] was mentioning the word 'lawyer,'" Huse recalls.
The homeowner, mid-install, decided he didn't care for the way the Sony projector stuck out from the now-enclosed archway. "We just had to build a frame," Huse says. "But it prompted him to look for something else online."
Neat-O! Tips

David Huse, principal or Theater Advice, offers these tips:
Be Honest and Upfront. When it comes to media room projects, he recommends telling the client, "There will be glitches, and you will fix them."
Be a Coach. Be less of a salesman, Huse advises, and more of a tipster. "Guide your customer."
Make Your Jobs Unique. "Set yourself apart," he says. "Anyone can hang a TV, but not everyone can design a custom solution that will make that TV look like part of the home."
The homeowner felt a $5,000 projector that stuck out from the wall would be a bad choice, especially since he was finding $2,000 projectors online that would fit flush. "I think he thought I was trying to gouge him on the projector," Huse speculates.
"I stood my ground. The man spent $2,000 on door handles and hardware for the room," Huse says. "I didn't want a $2,000 projector in a $130,000 room."
Huse says he and the customer went "around and around for week" before Huse finally sent the customer to the showroom of a distributor in town. "I wanted him to get a second opinion," says Huse. "The guy I sent him to has been in the business 50 years."
The customer spent a couple hours being shown the various performance features of projectors in a "good, better, best" presentation. "He texted me an apology from the showroom, and we went with my choice," Huse says.
Bill Beemer, which provides Theater Advice with all its woodworking, built a frame for the projector. The client is now content with the projector's place.
"There's always a way to fix something or hide something," Huse says. "If you have a good woodworker on hand, you can come up with a solution."
Congratulations to David Huse and Bill Beemer for a Neat-O! installation. We're looking for over-the-top projects. Cool, unique, tidy or meticulous, share your best work with our readers. E-mail submissions, with high-resolution images, to Geoffrey Oldmixon at goldmixon@yahoo.com.
Related: Theater Advice: Capitalizing on Tweeter's Lost Opportunity
---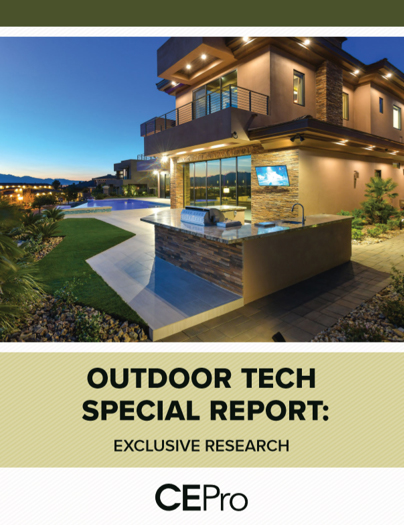 Find Out Why 63% of Integrators Expect Outdoor Business to Grow - CE Pro Download
The outdoor technology market is growing – both the demand from customers and the array of products available. According to our recent CE Pro survey, integrators are taking advantage of this opportunity to grow their businesses. Get your copy of the survey today.
---