Mitsubishi Exits LCD Market
Company announces it will focus on larger DLP HDTVs and close two offices and reduce staff at a factory in Mexico.
Jason Knott
·
March 22, 2011
Mitsubishi has announced it is dropping its manufacture of LCD HDTVs to focus on 73-inch-and-above-sized displays. It is also closing two offices and limiting production at one of its Mexican factories.
The announcement came from Cayce Blanchard, senior vice president of corporate communications. It leaves Mitsubishi with its lamp-based LaserVue, microdisplays, DLP 3D rear-projection and Unisen LEDs.
Here is the complete announcement:
Mitsubishi Digital Electronics America, Inc. is restructuring the company and refocusing its business strategy to offer a wide range of visual solutions for large-screen devices.

The goal is to reclaim our position as the "large screen" company. To that end, on the Audio Visual (AV) side of our business, we will manufacture and sell micro-display projection televisions (MDPTVs) and LaserVue televisions in sizes 73 inches and above. On the Professional Visual Systems (PVS) side, the company will concentrate on projector sales, display wall, printers and large public display screens. It also plans to expand its PVS business to Central and South America.

MDEA plans to exit the LCD-TV market entirely. Mitsubishi Digital Electronics America will reduce its workforce accordingly. Its offices in Ontario (Calif.) and Braselton (Ga.) will close. All services will relocate to Irvine, Calif. Its factory in Mexicali, Mexico, will reduce its workforce as well. The factory will continue to manufacture and assemble large-screen televisions.

The company is evaluating its dealer network to match its new product offerings to appropriate distribution channels.
---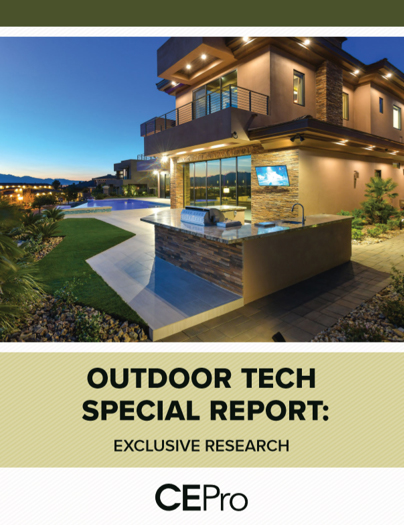 Find Out Why 63% of Integrators Expect Outdoor Business to Grow - CE Pro Download
The outdoor technology market is growing – both the demand from customers and the array of products available. According to our recent CE Pro survey, integrators are taking advantage of this opportunity to grow their businesses. Get your copy of the survey today.
---
About the Author
---
Jason Knott is Chief Content Officer for Emerald Expositions Connected Brands. Jason has covered low-voltage electronics as an editor since 1990, serving as editor and publisher of Security Sales & Integration. He joined CE Pro in 2000 and serves as Editor-in-Chief of that brand. He served as chairman of the Security Industry Association's Education Committee from 2000-2004 and sat on the board of that association from 1998-2002. He is also a former board member of the Alarm Industry Research and Educational Foundation. He has been a member of the CEDIA Business Working Group since 2010. Jason graduated from the University of Southern California. Have a suggestion or a topic you want to read more about? Email Jason at jason.knott@emeraldexpo.com
Follow Jason on social media:

Jason also participates in these groups:
LinkedIn · Google+