Microsoft Hohm Still Silly Even with Actual Product
Despite Blue Line's new PowerCost Monitor and WiFi Gateway, Microsoft Hohm is still mostly a me-too Web site with energy saving tips.
Julie Jacobson
·
July 27, 2010
Since it was announced last year, I've always thought the Microsoft Hohm energy management "platform" was silly. It still is, even though there's actually a product associated with it.
In my first story about Hohm, I inferred from the press release that the service was "little more than a Web site with ideas on how to save energy."
You enter a ton of information like the square footage of your home, the types of appliances you own, and your blood type (OK, not that), and Microsoft basically tells you how much money you could save by installing more energy efficient windows.
After an interview with Troy Batterberry, product unit manager for Microsoft Hohm, I still found little value with the service, not the least because there were no real products to personalize your energy profile.
Now there is: the PowerCost Monitor and WiFi Gateway from Blue Line Innovations ($249).
And still, Microsoft Hohm is a silly offering.
According to the Microsoft press release:
The Blue Line PowerCost Monitor attaches to a household power utility meter; no wiring is required, and no need to call in an electrician. The WiFi Gateway device wirelessly transmits energy use data to the consumer's Microsoft Hohm account and can provide personalized energy recommendations.
And exactly what kind of valuable information might you glean from this solution?
In Microsoft's example, you might see that "power consumption spiked when the user turned on the air conditioner at various times of the day."
You don't say!
"With this type of insight into energy usage, consumers are empowered to make immediate choices about how to manage their household power consumption," Microsoft explains.
Below the chart, a tip might suggest, "Sit in a cold tub. Right now, tubs are on sale at Home Depot. Click here to save!"
RELATED:
Microsoft Hohm Off to Rocky Start
Energy management tool was weak to begin with, and the beta site that launched today is buggy. Get energy info, but only if you agree to receive ads.
Microsoft Seeks Ad Revenue with Hohm Energy Management App
Product Manager: 'If a consumer receives a recommendation to replace windows, he or she could find the system offers up local window vendors in the area ...."
Troy Batterberry on Microsoft Hohm Energy Platform
Is there any meat behind Microsoft's new Hohm application for energy management? Product manager Troy Batterberry answers questions from CE Pro
Microsoft Hohm Helps Consumers Save Money and Energy (press release)
---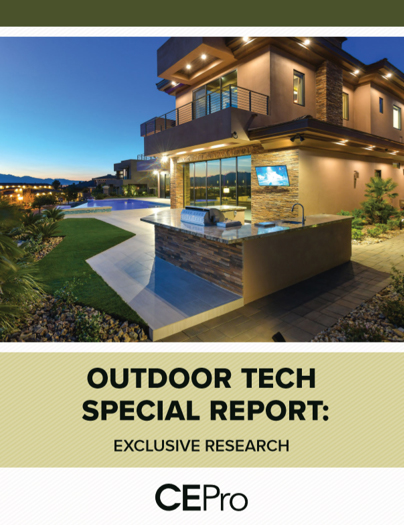 Find Out Why 63% of Integrators Expect Outdoor Business to Grow - CE Pro Download
The outdoor technology market is growing – both the demand from customers and the array of products available. According to our recent CE Pro survey, integrators are taking advantage of this opportunity to grow their businesses. Get your copy of the survey today.
---
About the Author
---
Julie Jacobson is founding editor of CE Pro, the leading media brand for the home-technology channel. She has covered the smart-home industry since 1994, long before there was much of an Internet, let alone an Internet of things. Currently she studies, speaks, writes and rabble-rouses in the areas of home automation, security, networked A/V, wellness-related technology, biophilic design, and the business of home technology. Julie majored in Economics at the University of Michigan, spent a year abroad at Cambridge University, and earned an MBA from the University of Texas at Austin. She is a recipient of the annual CTA TechHome Leadership Award, and a CEDIA Fellows honoree. A washed-up Ultimate Frisbee player, Julie currently resides in San Antonio, Texas and sometimes St. Paul, Minn. Follow on Twitter: @juliejacobson Email Julie at julie.jacobson@emeraldexpo.com
Follow Julie on social media:
Twitter · LinkedIn · Google+
Julie also participates in these groups:
LinkedIn · Google+
News
Luxul Announces Commercial-Grade AV Over IP Networking Lineup
What Integrators Can Learn From Best Buy
McIntosh Unveils $5,000 Digital-Ready, Future-Proof Preamplifier
Hands On: CasaTunes Deftly Integrates Sonos
Marantz, Denon Each Roll Out Pair of New A/V Receivers
View more News
Take Our Latest Quiz
How Well Do You Understand Ethernet Cables and Connectors?
Bose