MerchantCircle Offers SMB Marketing, Networking Tools
MerchantCircle.com provides small integration business with networking and communication tools.
Geoffrey Oldmixon ·
February 19, 2009
Nick Vecchioli of Canandaigua, N.Y.-based Image Audio, Electronics and Home Theater says his company has enjoyed a significant amount of marketing success these days employing various free Web-based communications.
Specifically, Image uses the no-cost services of MerchantCircle.com.
The site offers small businesses free and fee-based marketing and advertising tools "specific to your needs."
With offerings that range from a simple business listing and profile to what it calls "affordable service packages that leave phonebook ads in the dust," MerchantCircle.com is billing itself as a single-stop marketing solution for SMBs.
Simply by registering, Vecchioli entered into the MerchantCircle network.
There, he found he had access not only to the profiles of potential business partners, but also to e-mail newsletter and e-mail coupon templates—for free. (Premium advertising and marketing solutions are available for a fee.)
With his free account, Vecchioli has access to e-mail marketing templates. MerchantCircle also gives him access to the profiles of potential business partners.
"They offer an e-mail thing, where I can create coupons that I can e-mail to customers," he says.
"It's effective. The last time I sent a coupon out, I got three e-mails. They're not big projects, but we do get a response."
Vecchioli lists some of the other features of MerchantCircle.com: "You can post newsletters. You can blog. You can post images."
He describes the site as "kind of a networking thing." He says, "We invite other merchants. If someone's looking for a cabinet-maker, we may be listed on his site. It's free advertising."
He says he was skeptical at first, but now he sees 20 merchants in his small finger-lake community that use the site.
For his own purposes, Vecchioli uses the site's e-mail coupon generator. "We do get responses from it, for sure," he says.
He sends "e-mail bombs" to his client address list about once a month. "We get monthly specials from our vendors," he says.
"So, that's when we'll bomb. TV is the gig at this point."
---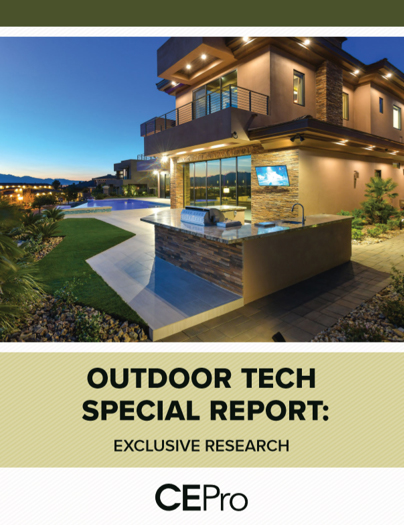 Find Out Why 63% of Integrators Expect Outdoor Business to Grow - CE Pro Download
The outdoor technology market is growing – both the demand from customers and the array of products available. According to our recent CE Pro survey, integrators are taking advantage of this opportunity to grow their businesses. Get your copy of the survey today.
---