Mark Levinson 5000 Series Amplifiers Pair Modern Features With Class A/B Amplification
The new Mark Levinson 5000 Series Integrated Amplifiers offer a choice of the No.5802 and No. 5805 products, which cost $7,000 and $8,500 each respectively.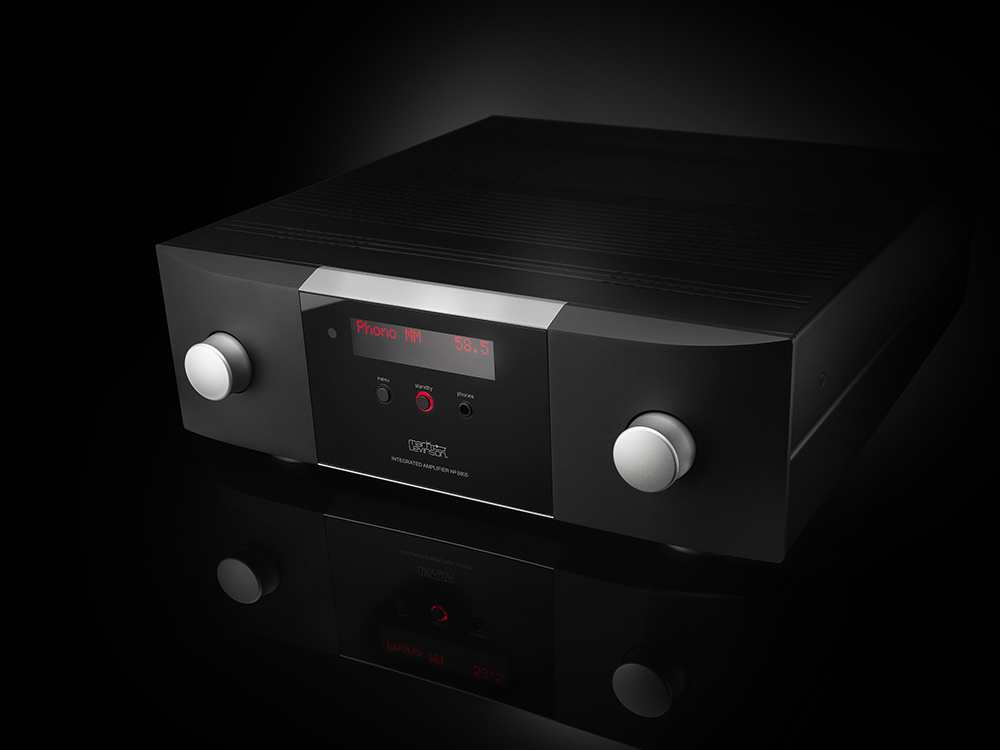 Robert Archer
·
October 8, 2018
The new Mark Levinson 5000 Series Integrated Amplifiers from Harman were developed to provide users with a wealth of features while maintaining the levels of performance expected from the legendary consumer audio brand.
Available in the first quarter of 2019, the No.5802 ($7,000) and the No.5805 ($8,500) integrated amplifiers leverage Mark Levinson's design experience to provide music enthusiasts with a choice of all-in-one solutions with modern features.
"The No.5805 and No.5802 were created to deliver all of the performance and quality expected from Mark Levinson, while implementing state-of-the-art features and efficiencies gained from decades of superlative audio engineering and technological advancements," explains Jim Garrett, senior director, product strategy and planning, Harman Luxury Audio.
"Proudly designed, engineered and precision crafted in the U.S.A., the 5000 Series looks great, sounds amazing and is redefining performance expectations."
5000 Series Integrated Amplifiers Are Headphone Friendly
The heart of the No.5805 is a fully discrete, direct-coupled, dual-monaural line-level preamp circuit.
The integrated amp's preamp circuit incorporates a single-gain stage connected to a digitally controlled resistor network for volume adjustments. The company says this helps the product maintain the highest levels of signal integrity and the widest possible bandwidth.
The No.5805's rear panel offers Mark Levinson custom balanced (XLR) and single-ended RCA connectors with their own signal-switching relays.
The Main Drive headphone output employs an output stage with enough Class A current and power to drive headphones without the aid of a separate headphone amplifier.
Supporting vinyl, the No.5805 also includes a new moving magnet (MM)/moving coil (MC) phono stage with selectable gain levels and infrasonic controls on the front panel. Capacitive and resistive load settings for the phono stage are located on the integrated amp's rear panel.
The all-digital No.5802 features the company's Precision-Link II DAC, which employs the latest-generation ESS Sabre 32-bit DAC chipset that includes jitter reduction and a fully balanced, discrete current-to-voltage converter.
Mark Levinson Announces No. 515 Turntable, First in 45-Year History
The No.5802 offers a choice of coaxial, S/PDIF and asynchronous USB input options, with the USB input supporting PCM resolutions up to 32-bit192kHz and DSD files up to 5.6MHz.
Other functions supported by the No.5802 integrated amp include MQA file playback, as well as streaming wireless Bluetooth with aptX.
Both amplifiers incorporate fully discrete, direct-coupled Class A/B amplifiers that are driven by 500+ VA toroidal transformers with individual secondary windings for left and right channels.
The amplifiers also include a voltage-gain stage derived from the company's No.534 amplifier, as well as an output stage that comprises two high-speed transistors that operate in Class A and six 260-volt, 15A output transistors.
Additionally, the amplifiers employ Thermal-Trak devices aligned in a configuration that maintains stable output regardless of load or temperature.
Mark Levinson rates the amplifiers to produce 125 watts into 8-ohm loads and 250 watts into 4-ohm loads.
Integrator options include Ethernet, USB, RS-232, IR inputs, 12-volt trigger inputs and outputs, and internal web pages that are designed to facilitate setup.
---
7 Clever Ways to Hide Home Technology - CE Pro Download
Most technology products are not that visually appealing. Black boxes and tangled wires do not add to the character of a high-end smart home project. Luckily, our integrator readers have a number of clever solutions so these components don't have to be visible in your next project.
---
About the Author
---
Bob is an audio enthusiast who has written about consumer electronics for various publications within Massachusetts before joining the staff of CE Pro in 2000. Bob is THX Level I certified, and he's also taken classes from the Imaging Science Foundation (ISF) and Home Acoustics Alliance (HAA). Bob also serves as the technology editor for CE Pro's sister publication Commercial Integrator. In addition, he's studied guitar and music theory at Sarrin Music Studios in Wakefield, Mass., and he also studies Kyokushin karate at 5 Dragons in Haverhill, Mass. Have a suggestion or a topic you want to read more about? Email Robert at rarcher@ehpub.com
Follow Robert on social media:
Twitter
Robert also participates in these groups:
LinkedIn · Google+
Speakers
Alexa, Meet Bose: In-Depth Review of Bose's New Smart Speaker System
Product Briefs: Z-Wave Gecko; RTI QMotion Driver; Centralite Alexa Certified; Crestron Showroom
Sonos Delays Google Assistant Introduction to 2019, Begins Private Beta
WiSA's Big Comeback? LG Plans Big OLED Panels Meant for Wireless Atmos and DTS:X Channels
Paul Hales of Pro Audio Technology Points Out the Risks Associated with Automated EQ
View more on Speakers
Take Our Latest Quiz
How Well Do You Understand Ethernet Cables and Connectors?