Kordz One Series RJ45 Connectors Expedite Cable Termination Process
The newly announced Kordz ONE Series CAT6 RJ45 and CAT6A RJ45 field termination connectors provide integrators a choice of Cat-6 and Cat-6a connectors for use in Ethernet cable termination.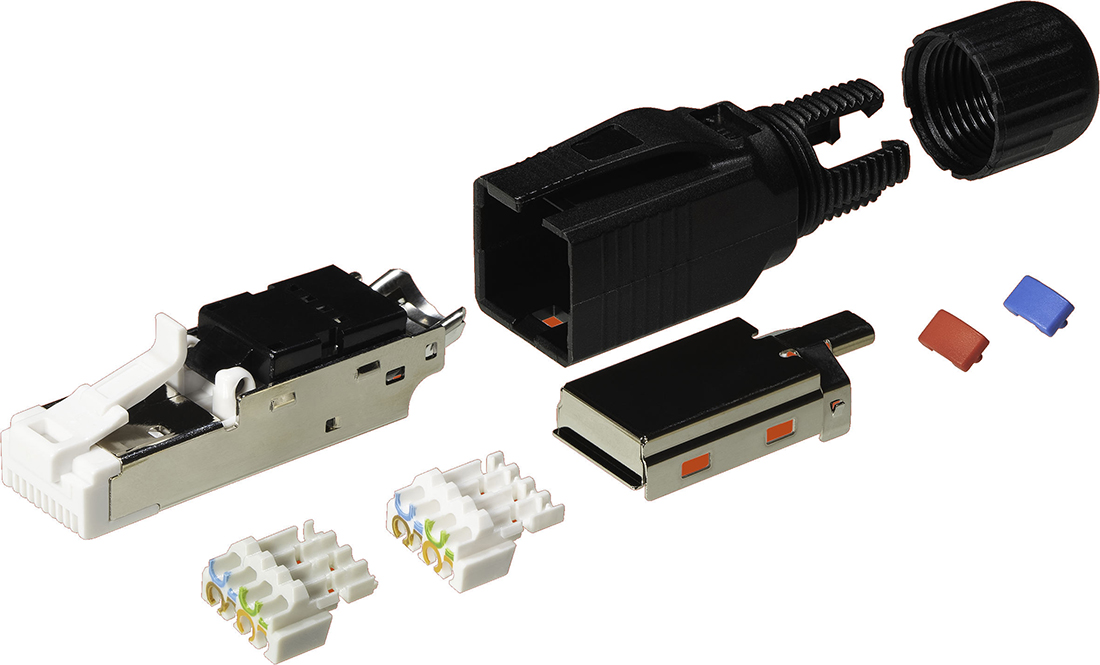 Robert Archer
·
February 6, 2019
Kordz, a cable and connectivity product manufacturer known for its selection of HDMI products has introduced new category cable termination solutions. The Kordz One Series CAT6 RJ45 and CAT6A RJ45 products are designed to help integrators easily terminate Ethernet cables in the field.
The Australian-based cabling and connectivity company says that its latest products are engineered to provide integrators with a choice of reliable, well-designed products.
"Our field termination connectors—available in both CAT 6 and CAT 6a Ethernet categories—have been precision engineered to ensure that the connection simply works," says James Chen, managing director, Kordz.
"We know what a tough job installers have, so the last thing they need is connectivity issues arising from poor cabling and connectors. Even with something as small as an RJ45 plug, it's important that these are designed and manufactured correctly, otherwise the connection will inevitably affect the signal integrity. With total reliability from Kordz, it's one thing less for installers to worry about."
Kordz One Series Cable Termination Meet Industry Standards
According to the company, the ONE-RJ45 CAT 6 push-through site termination connectors work with solid and stranded cable eight-pins (gold plated) and eight connectors.
The large cable openings are designed to reduce the distance between the wires and contacts to help optimize performance and reliability.
Moreover, the Kordz Pass Through CAT 6 is designed for easy termination. Helping to make that process fast is the ability of the conductors to easily pass through the RJ45 connector to allow integrators to verify the wire sequence, says Kordz.
Related: Kordz Kevlar Reinforced HDMI Cable to Debut at CEDIA Expo 2018
The ONE-RJ45 CAT6A version complies with ISO/IEC 11801 2.2 edition Category 6a and ANTSI/TIA-568-C.2 Category 6A standards.
Engineered for applications up to 10GBaseT Ethernet, the connectors are said to more than exceed the industry standard of 500Hz.
In addition, Kordz offers fully shielded brass nickel-plated base, bronze, nickel-plated covers, and gold-plated phosphor bronze contact pins compatible with cable diameters ranging from 6- 8.5mm, with strain relief provided by a compression nut on the back of the connector.
---
2019 State of the Industry Special Report - CE Pro Download
The custom electronics industry saw a healthy 8 percent growth rate in 2018, down slightly from the blazing 11 percent growth in 2017 but still admiringly strong. Our 2019 State of the Industry indicates that readers expect to see even more growth in 2019. Get your copy today.
---
About the Author
---
Bob is an audio enthusiast who has written about consumer electronics for various publications within Massachusetts before joining the staff of CE Pro in 2000. Bob is THX Level I certified, and he's also taken classes from the Imaging Science Foundation (ISF) and Home Acoustics Alliance (HAA). Bob also serves as the technology editor for CE Pro's sister publication Commercial Integrator. In addition, he's studied guitar and music theory at Sarrin Music Studios in Wakefield, Mass., and he also studies Kyokushin karate at 5 Dragons in Haverhill, Mass. Have a suggestion or a topic you want to read more about? Email Robert at robert.archer@emeraldexpo.com
Follow Robert on social media:
Twitter
Robert also participates in these groups:
LinkedIn · Google+
Networking & Cables
Cat5, Cat6, and Cat6a: Is it Time to Start Future-Proofing?
Product Briefs: HTA Calculator; Onkyo, Pioneer Firmware; KanexPro, DTV GameControl; Luxul Firmware
Power vs. Data Rate: Is There a Compromise?
Interview: Vanco President Discusses A/V-over-IP Adoption, HDMI 2.1, More
$70 EnGenius Smart Mesh Router Provides Budget-Friendly Wi-Fi Reliability
View more on Networking & Cables
Take Our Latest Quiz
How Well Do You Understand Ethernet Cables and Connectors?
Bose