Key Digital KD-DA2 HDBaseT Amplifiers Deliver 18Gbps for 4K Video
The newly announced Key Digital KD-DA2x4G and KD-DA2x8G HDBaseT Amplifiers incorporate two HDMI inputs and either four or eight HDBaseT outputs.

Robert Archer
·
March 21, 2019
The new Key Digital KD-DA2x4G and KD-DA2x8G HDBaseT Amplifiers are capable of transmitting audio and 4K video hundreds of feet over a single Category cable.
The manufacturer says these products, which provide two HDMI inputs and four/eight HDBaseT outputs, differ from competitors because of their front-end switching selection capabilities that enable different content to be distributed through the multiple HDBaseT outputs.
The HDBaseT outputs can transmitting 1080p HD content as far as 328 feet (100 meters) and 4K distances up to 250 feet (70 meters), according to Key Digital. The receiver units are powered over HDBaseT, eliminating the need for external power supplies.
Related: Key Digital Introduces its New KD-Pro8x8D Matrix Switcher
Key Digital builds automation features into the new products, including an auto-sensing feature that automatically switches to a newly detected source, or switches away from a disconnected source determined by Hot Plug Detection.
The distribution amplifiers also provide analog and digital audio deembedding of a selected source to enable the distributed video content to feed connected audio systems. Control pass-through enables integrators to use IR and RS-232 signals from a control system to control connected monitors. Integrators can also collect control signals from receive units within the system and they can send those signals to the main equipment rack for control of a selected source.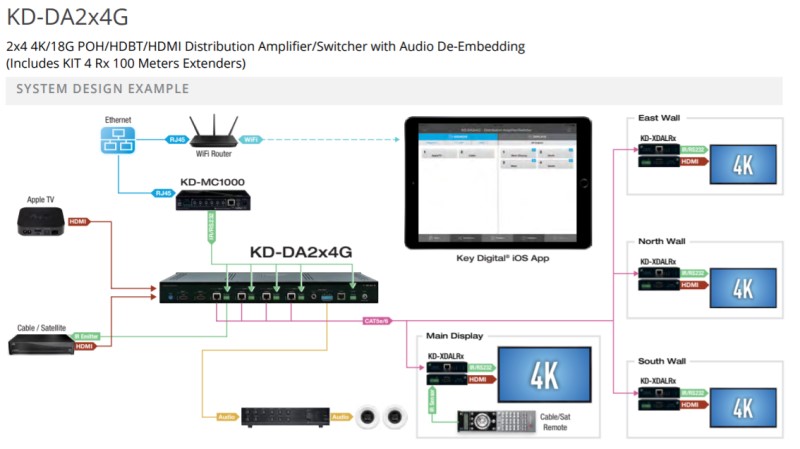 Key Digital says the KD-DA2 amps support resolutions up to 4096 x 2160 or 3840 x2160 at 24Hz, 25Hz, 30Hz, and 60Hz at chroma subsampling rates as high as 4:4:4.
Because of 18Gbps support, the distribution amplifiers are compatible with the SD, HD, VESA, VGA, SVGA, XGA, WXGA, SXGA, UXGA resolutions, and they are compliant with the HDCP 2.2 copyright encryption standards.
Moreover, the products work with the HDR10 and Dolby Vision HDR formats, and the company points out its HDR10 deliver is handled as part of its proprietary Full-Buffer Technology (FBT).
Other features built into the products include built-in libraries of 15 EDID handshakes, and the ability to copy EDID data from the display connected to output/display one.
The Key Digital products integrate with third-party control systems via IP.
The company's free app can be downloaded from the app store, and the products also support Key Digital's Management Pro Software for use with its Compass Control platform, which provides control options for IR, RS-232 and TCP/IP.
HDMI Switching & Distribution: 2 HDMI sources to 4 HDBaseT outputs
Power over HDBaseT: All included Rx units powered by the main unit
Ultra HD/4K Support: 4096x2160 or 3840x2160 24/25/30/60hz at 4:4:4 (signals up to 18Gbps bandwidth)
Signal Extension: For resolution and cable quality

4K/UHD: Up to 250 ft. (76m) using CAT5e/CAT6/CAT6A/CAT7
1080p: Up to 328 ft. (100m) maximum

18 Gbps Bandwidth: High Speed / Performance for latest HDMI standards
High Dynamic Range (HDR) Format Support: HDR10 and Dolby® Vision
HDCP 2.2: Compliancy up to HDCP 2.2 and backward compliant
Resolution Support: Supports all SD, HD, and VESA (VGA, SVGA, XGA, WXGA, SXGA, UXGA) up to 4096x2160p
Deep Color Support: Up to UHD/4K 60Hz 4:2:0/12 bits, 60Hz 4:2:2/12 bits
Auto-Sensing: Automatic selection of newly detected source and switching from newly disconnected source via hot plug detection voltage when enabled
Audio De-embedder: Audio of the selected HDMI input is de-embedded at the Coax digital (PCM) and Analog L/R balanced/unbalanced connectors
Control Pass-Thru: 4 three pin phoenix connectors for bi-directional IR or RS-232 for each HDBaseT output. 4 IR sensors and IR emitters included.
Full Buffer System™: Manages TMDS re-clocking / signal re-generation, HDCP authentication to source & display, and EDID Control handshake
EDID: Internal library with 15 internal EDID handshakes including 4K with HDR in addition to native EDID data copied from an Output/Display 1
Lossless Compressed Digital Audio: Dolby® TrueHD, Dolby® Digital Plus, DTS-HD Master Audio™, and Dolby® Atmos
CEC Disconnect: Prevents all device communication signals via CEC, ARC, and HDMI Ethernet channels
Control: Front panel buttons/LEDs, Serial IR, Optical IR, RS-232 Control, and TCP/IP Control
Control System Support: Key Digital® app ready. Key Digital Management Software™ Pro (KDMS™ Pro) ready, Compass Control® Pro ready. Fully controllable by all IR, RS-232, and TCP/IP supported control systems via open API.
Key Digital® App & KDMS® Pro Ready: Scan & detect population for pre-built GUI and TCP/IP control via Key Digital® iOS App and Key Digital Management Software™ Pro (KDMS™ Pro) PC Software
---
Secure Your Free Pass to CEDIA EXPO 2019
Register before Sept. 2 to gain free access to the opening keynote, product training & education series as well as the show floor including Innovation Alley and much more. Don't miss your chance. Sign up today.
---
About the Author
---
Bob is an audio enthusiast who has written about consumer electronics for various publications within Massachusetts before joining the staff of CE Pro in 2000. Bob is THX Level I certified, and he's also taken classes from the Imaging Science Foundation (ISF) and Home Acoustics Alliance (HAA). Bob also serves as the technology editor for CE Pro's sister publication Commercial Integrator. In addition, he's studied guitar and music theory at Sarrin Music Studios in Wakefield, Mass., and he also studies Kyokushin karate at 5 Dragons in Haverhill, Mass. Have a suggestion or a topic you want to read more about? Email Robert at robert.archer@emeraldexpo.com
Follow Robert on social media:
Twitter
Robert also participates in these groups:
LinkedIn · Google+