Kaleidescape Stay Denied, Manufacturer Vows to Fight
Kaleidescape CEO Michael Malcolm will petition to overturn injunction on movie servers in DVD CCA case, continue to 'develop exciting new products and services'
Julie Jacobson
·
March 26, 2012
The DVD CCA (Copy Control Association) racked up another win against Kaleidescape, developer of high-end servers for DVDs, Blu-rays and CDs.
The company is enjoined from selling its DVD movie servers as of April 8, 2012.
Judge William J. Monahan denied Kaleidescape's request for a stay of an injunction order issued this month. The injunction was issued after seven years of legal battles between Kaleidescape and the organization that licenses the Content Scramble System (CSS) for copy-protecting DVDs.
Kaleidescape CEO Michael Malcolm seemed confident that the judgment against the company would be deemed by the courts as a "mandatory" injunction, meaning the decision would be stayed automatically pending the conclusion of an appeal.
However, Judge Monahan ruled in a one-page notice on March 23 that the application for an automatic stay is denied.
Related: Dealers React to DVD CCA vs. Kaleidescape
Malcolm tells CE Pro, "We were not surprised by the Judge's decision on the stay, given that he previously decided 100% in favor of the DVD CCA in this case."
At least the court decided quickly, Malcolm says, allowing Kaleidescape to petition the appellate court for a writ of supersedes, a request to overturn the judge's decision on the stay.
Kaleidescape urges dealers to keep on selling.
"Even if the injunction goes into effect on April 8, it will in no way enjoin our dealers," Malcolm says. He sent a notice to dealers to this effect shortly after the initial ruling was handed down.
Malcolm tells us, "This is a sad period for all of us. Decisions like this rob Americans of their freedom, and they rob America of its ability to innovate and compete."
Not surprisingly, dealers overwhelmingly agree with the sentiment.
Mark Nettleson of Recluse AV in Melbourne, Australia, calls the latest ruling "clearly ridiculous."
He tells CE Pro, "Kaleidescape are being punished when they have done so much work to legitimize movie servers. Do the DVD CCA not realize that they are going to do more damage than good if they take down Kaleidescape?"
Kaleidescape is plowing ahead, says Malcolm: "We aren't giving up. We will appeal the entire decision, and we are continuing to develop exciting new products and services for the future."
The company's Blu-ray server products, which require discs to reside in a carousel for authentication, have never raised legal questions. The DVD CCA has denied Kaleidescape's offer of a similar solution for DVDs. The court has punished Kaleidescape with a total injunction of any DVD server products, even those that might require carousels.
In a flash survey by CE Pro, 23% of respondents said they don't care about how the courts rule in DVD-ripping cases, noting that the future is Blu-ray and Kaleidescape is perfectly legal in that regard.
An injunction also has been issued against technical support for such products, but Kaleidescape says the ruling applies only to a compartmentalized software module that relates to CSS decryption software.
Meanwhile, the studios and affiliated parties are embracing Ultraviolet, a cloud-based scheme for charging consumers $2 to $5 to digitize their DVD discs. The service is currently being offered by Walmart via its Vudu streaming service.
———————————————————————-



Follow us on Twitter!
@juliejacobson
@ce_pro
---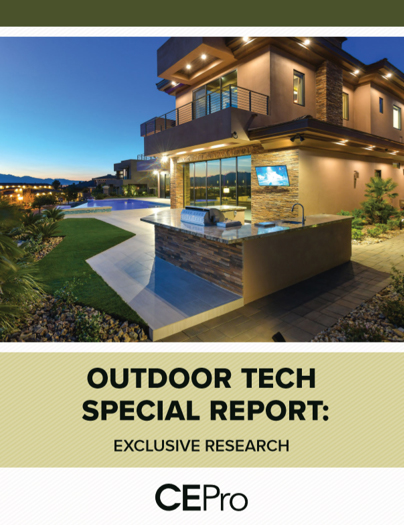 Find Out Why 63% of Integrators Expect Outdoor Business to Grow - CE Pro Download
The outdoor technology market is growing – both the demand from customers and the array of products available. According to our recent CE Pro survey, integrators are taking advantage of this opportunity to grow their businesses. Get your copy of the survey today.
---
About the Author
---
Julie Jacobson is founding editor of CE Pro, the leading media brand for the home-technology channel. She has covered the smart-home industry since 1994, long before there was much of an Internet, let alone an Internet of things. Currently she studies, speaks, writes and rabble-rouses in the areas of home automation, security, networked A/V, wellness-related technology, biophilic design, and the business of home technology. Julie majored in Economics at the University of Michigan, spent a year abroad at Cambridge University, and earned an MBA from the University of Texas at Austin. She is a recipient of the annual CTA TechHome Leadership Award, and a CEDIA Fellows honoree. A washed-up Ultimate Frisbee player, Julie currently resides in San Antonio, Texas and sometimes St. Paul, Minn. Follow on Twitter: @juliejacobson Email Julie at julie.jacobson@emeraldexpo.com
Follow Julie on social media:
Twitter · LinkedIn · Google+
Julie also participates in these groups:
LinkedIn · Google+
News
Luxul Announces Commercial-Grade AV Over IP Networking Lineup
What Integrators Can Learn From Best Buy
McIntosh Unveils $5,000 Digital-Ready, Future-Proof Preamplifier
Hands On: CasaTunes Deftly Integrates Sonos
Marantz, Denon Each Roll Out Pair of New A/V Receivers
View more News
Take Our Latest Quiz
How Well Do You Understand Ethernet Cables and Connectors?
Bose