Kaleidescape Settles with DVD CCA
10-year legal battle ends between Kaleidescape, maker of DVD servers, and the DVD CCA, which governs copyright protection of DVDs. A statement on DRM? Not really.
Julie Jacobson
·
May 20, 2014
Kaleidescape, the high-profile maker of DVD servers, apparently has ended its legal battle with the DVD CCA, which sued the manufacturer in 2004 for making DVD servers that allegedly encourage customers to rip copyrighted movies illegally.
Yesterday, the Superior Court of California, Santa Clara, noted a "voluntary dismissal" of the case. Kaleidescape CEO Cheena Srinivasan tells CE Pro that both parties have agreed not to comment at this time.
Court notices indicate that Kaleidescape requested a dismissal of the case on May 12 and that the next day a joint notice of settlement was filed. The court took three days to review the parties' stipulations and determined on May 19th, "Case complete."
The case ends a long and complicated test of the rights of both content creators and the studios who market that content … as well as the consumers who "own" copies of the content and the manufacturers who unlock it.
The studios are represented by the DVD CCA (Copy Control Association), which creates and governs the Content Scramble System (CSS) that protects DVDs. That group argues that the license that governs CSS – required of all manufacturers who make DVD players – expressly prohibits the manufacturers from allowing users to copy DVDs, even if they own those DVDs.
RELATED | DVD CCA VS. KALEIDESCAPE: A HISTORY
Kaleidescape has always maintained that the DVD CCA contracts express no such prohibitions. In any case, Kaleidescape servers make bit-for-bit copies so that the digital rights management (DRM) provisions of CSS are preserved.
Many analysts erroneously attribute Kaleidescape's legal woes to the Digital Millennium Copyright Act (DMCA), which prohibits the manufacture and distribution of products that encourage copyright infringement.
But no lawsuit under the DMCA has been brought against Kaleidescape, which has a relatively small customer base of wealthy clients including the Hollywood elite.
Also erroneously, many assume that Kaleidescape and similar DVD-copying systems are legal under the "Fair Use" doctrine, but that is not the case in the U.S.
Even so, the UK famously made it legal in March to rip protected DVDs there for personal back-up.
The legal imbroglio with the DVD CCA has forced Kaleidescape to impose burdens on its customers and its engineers … while offshore companies like AnyDVD and the U.S. manufacturers that employ their legally untouchable software proceed with impunity.
We cannot say for sure if the Kaleidescape settlement with the DVD CCA has broader implications for DRM but we assume (hopefully) that the closure allows Kaleidescape to go forward with its business.
—————————————————————



Follow us on Twitter!
@juliejacobson
@ce_pro
---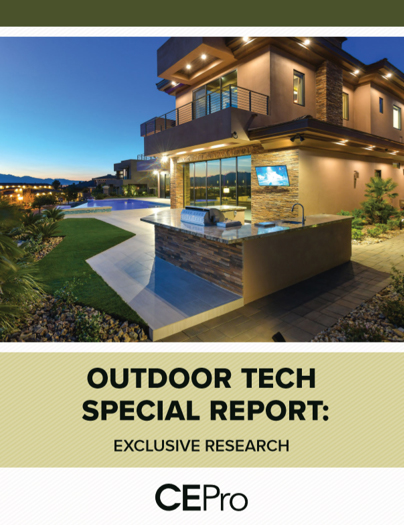 Find Out Why 63% of Integrators Expect Outdoor Business to Grow - CE Pro Download
The outdoor technology market is growing – both the demand from customers and the array of products available. According to our recent CE Pro survey, integrators are taking advantage of this opportunity to grow their businesses. Get your copy of the survey today.
---
About the Author
---
Julie Jacobson is founding editor of CE Pro, the leading media brand for the home-technology channel. She has covered the smart-home industry since 1994, long before there was much of an Internet, let alone an Internet of things. Currently she studies, speaks, writes and rabble-rouses in the areas of home automation, security, networked A/V, wellness-related technology, biophilic design, and the business of home technology. Julie majored in Economics at the University of Michigan, spent a year abroad at Cambridge University, and earned an MBA from the University of Texas at Austin. She is a recipient of the annual CTA TechHome Leadership Award, and a CEDIA Fellows honoree. A washed-up Ultimate Frisbee player, Julie currently resides in San Antonio, Texas and sometimes St. Paul, Minn. Follow on Twitter: @juliejacobson Email Julie at julie.jacobson@emeraldexpo.com
Follow Julie on social media:
Twitter · LinkedIn · Google+
Julie also participates in these groups:
LinkedIn · Google+
News
Luxul Announces Commercial-Grade AV Over IP Networking Lineup
What Integrators Can Learn From Best Buy
McIntosh Unveils $5,000 Digital-Ready, Future-Proof Preamplifier
Hands On: CasaTunes Deftly Integrates Sonos
Marantz, Denon Each Roll Out Pair of New A/V Receivers
View more News
Take Our Latest Quiz
How Well Do You Understand Ethernet Cables and Connectors?
Bose