Judge Rules J Geiger Lawsuit Against Lutron on Motorized Shades Can Proceed
Judge rules J Geiger motorized shades trade-dress design lawsuit versus Lutron can moved forward, but denies 'unjust enrichment' claim.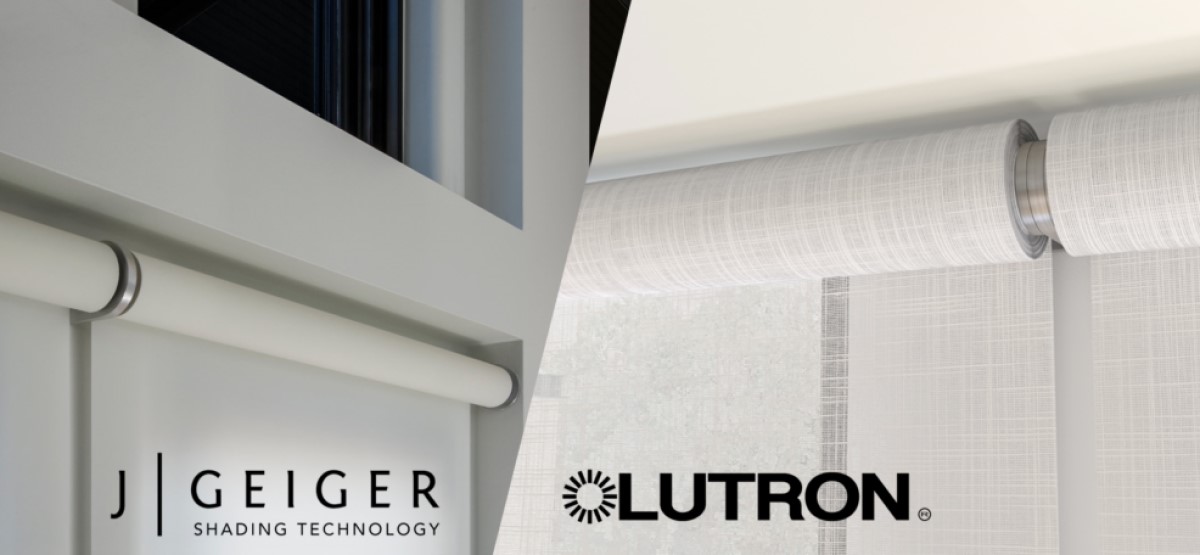 Julie Jacobson
·
January 4, 2019
A lawsuit brought by J Geiger alleging Lutron's Palladiom motorized shades infringe on patented designs is moving ahead. J Geiger makes roller shades for home-automation company Savant.
J Geiger sued Lutron Electronics last year, claiming Lutron's new Palladiom motorized shades infringe on Geiger's minimalist design, comprising a center bracket with a "clean, U-shaped element, where the U-Shaped element fits seamlessly between two shade ends that abut the same, effectively creating a 'shade sandwich' with the U-shaped element in the middle."
Geiger filed a preliminary injunction to halt Palladiom sales but a judge at the time denied the request.
GeigTech (the patent holder) "utterly failed" to demonstrate that its design had any meaning in the marketplace, a judge said when denying Geiger's injunction request.
"Defendant and other competitors would be free to design minimalist shading systems as long as those designs did not look too similar to Plaintiff's trade dress ...."
— Judge Colleen McMahonin
J Geiger vs. Lutron
Lutron filed a motion to dismiss the claim altogether, but late last year a judge denied Lutron's motion, setting the stage for Geiger's trade-dress infringement lawsuit to proceed.
RELATED: J. Geiger 'Utterly Failed' on Infringement Claims Against Lutron
Geiger's shade brackets are exposed, hiding electronics and cables within a "clean, U-shaped element" for a minimalist look that eliminates the need for valances, fascia or other disguises. Lutron's Palladiom shades (and others on the market) have a similar look, which Geiger claims to be a patentable design.
Lutron claims the shade design is functional, not just ornamental – a key distinction in trade-dress claims.
Lutron further claims that Geiger's design is generic, and that minimalist designs are in vogue.
Indulging Geiger would be granting the plaintiff a "monopoly on its vaguely alleged 'clean' and 'minimalist' design," according to Lutron, "and third-party competitors would be barred from introducing their own clean, minimalist window shading designs, thereby harming competition and reducing consumer choice."
Judge Colleen McMahon of the Southern District of New York disagreed:
Plaintiff does not seek protection over all minimalist shade designs - it seeks protection over its specific trade dress, which it describes in detail in the Complaint. Defendant and other competitors would be free to design minimalist shading systems as long as those designs did not look too similar to Plaintiff's trade dress, so that customers would be confused about their origin.
As to another Geiger claim – that Lutron has enjoyed "unjust enrichment" from allegedly plagiarizing Geiger's shading design – Judge McMahon denied that motion.
The case on trade-dress infringement can proceed.
---
We're Looking for Your BEST Projects
Don't miss your chance to enter to win a 2019 BEST Projects Award. We'll be announcing winners at a special Gala event at CEDIA EXPO. We can't wait to see what you've been up to this year! Enter your projects now.
---
About the Author
---
Julie Jacobson is founding editor of CE Pro, the leading media brand for the home-technology channel. She has covered the smart-home industry since 1994, long before there was much of an Internet, let alone an Internet of things. Currently she studies, speaks, writes and rabble-rouses in the areas of home automation, security, networked A/V, wellness-related technology, biophilic design, and the business of home technology. Julie majored in Economics at the University of Michigan, spent a year abroad at Cambridge University, and earned an MBA from the University of Texas at Austin. She is a recipient of the annual CTA TechHome Leadership Award, and a CEDIA Fellows honoree. A washed-up Ultimate Frisbee player, Julie currently resides in San Antonio, Texas and sometimes St. Paul, Minn. Follow on Twitter: @juliejacobson Email Julie at julie.jacobson@emeraldexpo.com
Follow Julie on social media:
Twitter · LinkedIn · Google+
Julie also participates in these groups:
LinkedIn · Google+