Jeremy Burkhardt's Biz Partner Builds a Better Video Doorbell Transformer
Wharton MBA, lawyer, investor, and Jeremy Burkhardt's M&A guy Brent Sonnek-Schmelz runs OhmKat, manufacturer of purpose-built power supplies for Ring, Nest, Skybell and other popular video doorbells.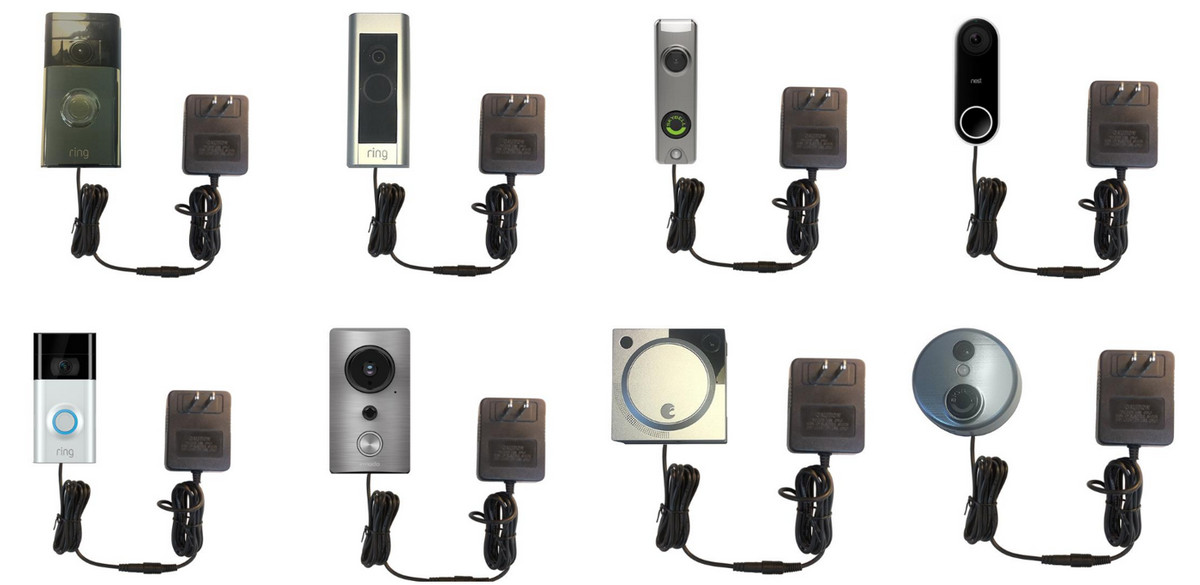 Julie Jacobson
·
June 8, 2018
If you think video doorbells are a snoozefest, then you probably count doorbell transformers as the lowest of low on the excitement charts, maybe somewhere between zip ties and banana plugs. OhmKat is out to elevate doorbell transformers to all new levels of geek chic.
OhmKat makes purpose-built power supplies. Emphasis on purpose … singular. One transformer … one job.
Don't use an OhmKat Nest Hello transformer with an August or Ring doorbell, for example. Heck, Ring alone has three doorbell flavors – plain old Doorbell, Doorbell 2 and Doorbell PRO – and each requires its own transformer model.
OhmKat principal Brent Sonnek-Schmelz is a transformer himself -- Wharton MBA, lawyer, investor, and an associate at Kinsman Capital when it led a SpeakerCraft buyout with Jeremy Burkhardt in 2000. On top of answering every pesky transformer-related question in OhmKat forums, Sonnek-Schmelz does M&A work for Burkhardt's Origin Acoustics, which offers the OhmKat alongside loudspeakers, acoustical treatments and other home-technology products.
Sonnek-Schmelz tells CE Pro that more than half of OhmKat sales are through the custom-installation channel.
OhmKat Transformers
OhmKat makes transformers for eight different video doorbells that otherwise were built to exploit a home's existing two-wire doorbell connection.
"While video doorbells are designed to work with hard wired doorbells," says Sonnek-Schmelz, "the variability in doorbell transformers in the field - whether due to age, poor installation, wire degradation, etc. - has resulted in many of our professional customers preferring our power supplies."
He adds that the OhmKat products offer "consistent, clean power and provide protection in case of power surges or short situations to sensitive electronics."
The OhmKat products all look alike, their model names sound alike, and their price tags are exactly alike ($34.99), but they each have slightly different specs. For example:
Compatible with Ring: rated 110v input, 18vAC output and 6va power output
Compatible with Ring PRO: rated 110v input, 18vAC output and 9va power output
Compatible with August Doorbell Cam: rated 110v input, 18vAC output and 9va power output
Compatible with Skybell HD: rated 110v input, 18vAC output and 6va power output
OhmKat issues stern warnings against cross-contamination.
"The Power Supplies have specific capabilities and tolerances depending on the type of video doorbell you purchased," according to the company. "We tested all our power supplies extensively across the entire operating power range and they provide a good margin of safety across all operating conditions."
The OhmKat products are complete as shipped. No additional resistors or other components are required.
---
Save $100 When You Enter the CEPro BEST Product Awards Before May 24
Every year our editors recognize the most advanced products in the professional installation market. Wouldn't you like to tell your customers that your products are among this exclusive group? Enter the CEPro BEST Product Awards and give your sales team something to shout about. Early bird pricing ends May 24.
---
About the Author
---
Julie Jacobson is founding editor of CE Pro, the leading media brand for the home-technology channel. She has covered the smart-home industry since 1994, long before there was much of an Internet, let alone an Internet of things. Currently she studies, speaks, writes and rabble-rouses in the areas of home automation, security, networked A/V, wellness-related technology, biophilic design, and the business of home technology. Julie majored in Economics at the University of Michigan, spent a year abroad at Cambridge University, and earned an MBA from the University of Texas at Austin. She is a recipient of the annual CTA TechHome Leadership Award, and a CEDIA Fellows honoree. A washed-up Ultimate Frisbee player, Julie currently resides in San Antonio, Texas and sometimes St. Paul, Minn. Follow on Twitter: @juliejacobson Email Julie at julie.jacobson@emeraldexpo.com
Follow Julie on social media:
Twitter · LinkedIn · Google+
Julie also participates in these groups:
LinkedIn · Google+
Networking & Cables
Torus Power Introduces Two Rugged Space Saving Power Conditioners
Crestron Partners with Domotz for Remote Management
Product Briefs: Guardian Protection Services Changes Name; AudioResearch, Kwikset; Play-Fi, AirPlay2
Luxul Announces Commercial-Grade AV Over IP Networking Lineup
Boccaccio: Don't Leave Test Results of Eye of the Beholder
View more on Networking & Cables
Take Our Latest Quiz
How Well Do You Understand Ethernet Cables and Connectors?
Bose