ISE 2018: 12 Commercial Technologies that Belong in the Smart Home
Motorized furniture, projection mapping, DIN rails, industrial TV mounts, retractable technology, POS kiosks and gorgeous acoustical treatments shown at ISE 2018 belong in smart-home installations, not just commercial spaces.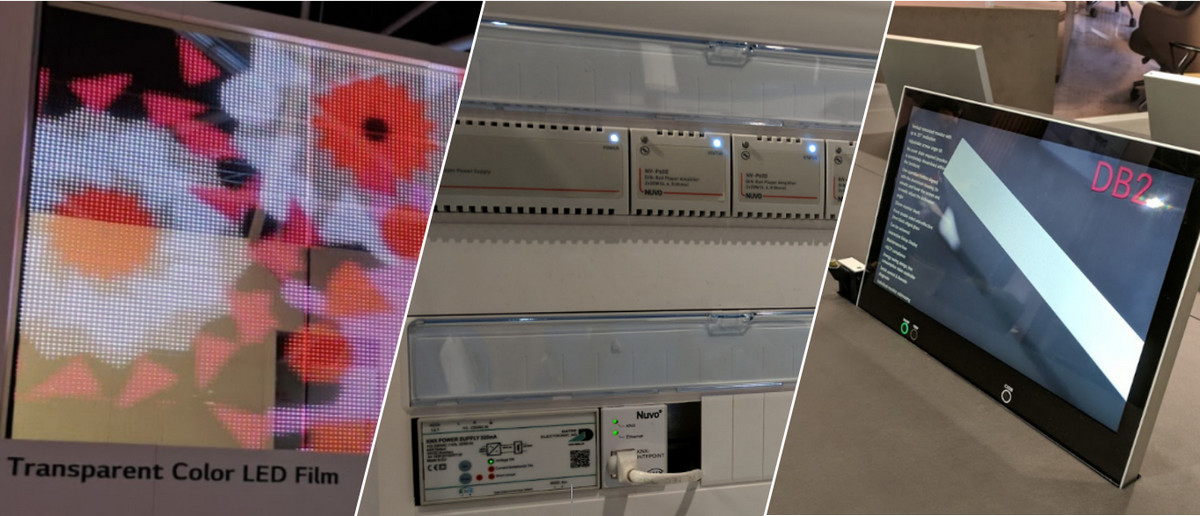 Julie Jacobson
·
February 19, 2018
Why is it that some of the most beautiful and functional audio, video and control solutions are relegated to commercial buildings? Some of these products, on display at ISE 2018, would be perfect for the smart home. Motorized furniture, architecturally interesting acoustical treatments, pop-up and drop-down microphones, and projection mapping are just a few of the gems we see at ISE and Infocomm, but rarely at consumer-oriented trade shows like CEDIA.
Home-technology integrators should take a look at what's happening in commercial, and think about applying the designs to residential installations. At the same time, manufacturers should consider how to pare down their products and pricing for the home market.
PHOTO GALLERY: Get Inspired by these Commercial Technologies
Crestron's next-gen motorized F2 Series FlipTops represent just one no-brainer for kitchen countertops, nightstands and coffee tables. In the slideshow, check out some other commercial-oriented inspirations from ISE that could easily apply to the home. Your clients, especially the upper crust, will be impressed.
About the Author
---
Julie Jacobson, recipient of the 2014 CEA TechHome Leadership Award, is co-founder of EH Publishing, producer of CE Pro, Electronic House, Commercial Integrator, Security Sales and other leading technology publications. She currently spends most of her time writing for CE Pro in the areas of home automation, security, networked A/V and the business of home systems integration. Julie majored in Economics at the University of Michigan, spent a year abroad at Cambridge University, earned an MBA from the University of Texas at Austin, and has never taken a journalism class in her life. She's a washed-up Ultimate Frisbee player currently residing in Carlsbad, Calif. Email Julie at jjacobson@ehpub.com
Follow Julie on social media:
Twitter · LinkedIn · Google+
Julie also participates in these groups:
LinkedIn · Google+
Home Theater
Product Briefs: Centralite Alexa Certified; Simpfony adds AirPlay; Legrand and Lumileds Partner
Review: Bowers & Wilkins 600 Series Offers Impressive Immersion at Affordable Price Point
For High-Performance Audio, Don't Skimp on Power Cords, Conditioners
Tech Opportunities in Senior Living: Tech Spaces, Man Caves, Game Rooms
Sony Crystal LED MicroLED Technologies Represent the Evolution of Flat-Panels
View more on Home Theater
Take Our Latest Quizzes
How Well Do You Understand Ethernet Cables and Connectors?
Quiz: Is Your Company Performance Above or Below Average?
How Much Do You Know About Cell Phone Signal Boosters?
How Efficient Is Your Service Department? Take the Quiz
5G and the Need for Cellphone Signal Boosters—Do You Know Enough?