IpDatatel, Resolution Products Rebrand as Alula, Offer End-to-End Security, IoT Platform for Pros
Resolution Products and IpDatatel merge to form Alula, offering the new Connect+ security and home-automation hub, along with dual-path IP and cellular communicators and its own SHaaS (smart home as a service) platform.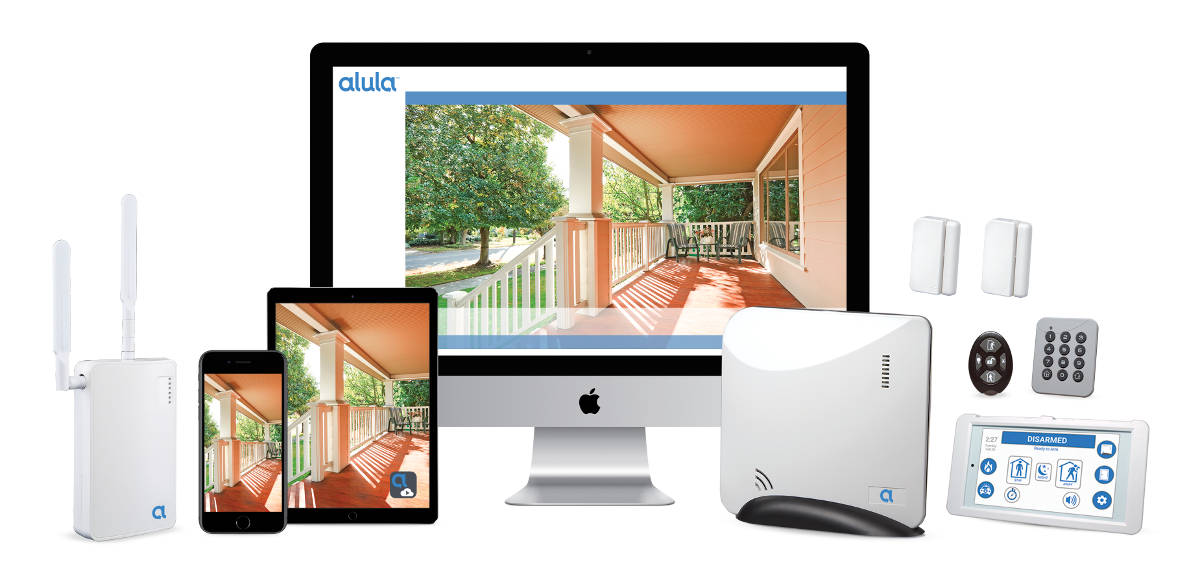 Jason Knott
·
March 14, 2018
Security manufacturers and long-time collaborators ipDatatel and Resolution Products have officially merged to form Alula, offering a complete security and home-automation platform designed to help integrators compete in the growing DIY marketplace.
The end-to-end solution includes everything from the hub and sensors, to the IP and cellular communicators, to the SHaaS (smart home as a service) engine that manages security and IoT activity.
The two companies have been working together for many years bringing IpDatatel's dual-band IP and cellular SecureSmart Network communicator to Resolution's Helix smart security panel. The merger results in the newly named Alula Connect+ hub, an easy-to-install pro-only solution with automation, security and video surveillance to help integrators compete against consumer-oriented systems sold at retail.
"The dealers that evolve with the changes in the marketplace and embrace the technology and opportunity are going to thrive."
— Brian McLaughlin, Alula
Security dealers can use Alula as the go-to alarm and automation system for their traditional security business. Or they can embrace new DIY business models and offer Alula as a self-installed solution to reach a broader market. Alula's modular configuration makes it practical for everything from two-room townhouses to large mansions and small retail stores.
"Building Alula for independent dealers meant taking the merger of Resolution Products and ipDatatel beyond industry-leading sensors, panels, communicators, network and software," says newly appointed Alula CEO Brian McLaughlin. "Creating Alula meant challenging ourselves to build a competitive advantage for independent dealer businesses. For Alula, making security simplified means making independent security professionals more productive and profitable."
McLaughlin, whose background is in the Software as a Service (SaaS) space, believes the company is positioned well to help independent integrators against the growing DIY security space.
"I think the good integrators are willing to change. The strong will survive. With any type of change, some companies will resist and they'll survive for a while, but eventually probably fail. The dealers that evolve with the changes in the marketplace and embrace the technology and opportunity are going to thrive," he says.
McLaughlin believes both the professional installation market and the DIY security market will grow simply because there are so many homes currently not being services with security.
SAVE THE DATE, APRIL 5
ISC 2018 Preview Webinar: Trends, Technologies & New Business Models in Security and IoT
"Some consumers are going to want professional installation, some are going to want to do it themselves through a managed service, and others are going to want full control of everything. As the market grows and viable options come to bear, we're going to see a lot of different alternatives."
"We are excited about the new company, Alula, and are confident the melding of these two companies will be a force multiplier to continue to drive innovation," says Michael Morton, chief revenue officer, EMC Security. "In an industry filled with disruption we recognize the importance of choosing partners that embrace continual innovation. Both ipDatatel and Resolution Products have impressed us over the years with their ability to listen to the market and develop products that meet the desires of consumers."
Alula Name Has Meaning
He says the merger made sense culturally with a customer-service focus, noting there is less than a 5 percent overlap in employee functions. On the technology side, the merger puts the combined Twin Cities-based engineering team on the same roadmap to create products to expand opportunities for dealers.
"A lot of times when you have a merger, there's going to be layoffs. We didn't have any."
— Brian McLaughlin, Alula
"A lot of times when you have a merger, there's going to be layoffs. We didn't have any. These companies fit together almost perfectly. Now it's just about making sure that we can drive forward and gain some scale," says McLaughlin. By scale he means ramping up to "significant volume" levels.
There is also some significance to the new company name. The word "alula" is actually the part of a bird's wing that enables flight.
"So if you want to take that definition a layer deeper, you could say we're all about giving dealers a fighting chance to allow them to fly in the market," says McLaughlin, who admits the palindrome name is "not very masculine."
"We want to be different. The name is different. I love it," he says.
---
We're Looking for Your BEST Projects
Don't miss your chance to enter to win a 2019 BEST Projects Award. We'll be announcing winners at a special Gala event at CEDIA EXPO. We can't wait to see what you've been up to this year! Enter your projects now.
---
About the Author
---
Jason Knott is Chief Content Officer for Emerald Expositions Connected Brands. Jason has covered low-voltage electronics as an editor since 1990, serving as editor and publisher of Security Sales & Integration. He joined CE Pro in 2000 and serves as Editor-in-Chief of that brand. He served as chairman of the Security Industry Association's Education Committee from 2000-2004 and sat on the board of that association from 1998-2002. He is also a former board member of the Alarm Industry Research and Educational Foundation. He has been a member of the CEDIA Business Working Group since 2010. Jason graduated from the University of Southern California. Have a suggestion or a topic you want to read more about? Email Jason at jason.knott@emeraldexpo.com
Follow Jason on social media:

Jason also participates in these groups:
LinkedIn · Google+
Control & Automation
Biophilia: Nature Sounds vs. White Noise for Productivity and Wellness
Dish Rolls Out New Direct-to-Consumer Smart Home Service
New GE-Brand Z-Wave Smart Light Switches Available in Five Styles
Interlogix and Inflotrolix Team Up to Offer New Water Leak Detection System
Making Landscape Lighting a Profitable Revenue Source
View more on Control & Automation
Take Our Latest Quiz
How Well Do You Understand Ethernet Cables and Connectors?
Bose