Introducing Luxul's Domotz Pro Remote Management System
Avoid costly truck rolls just to reboot unresponsive devices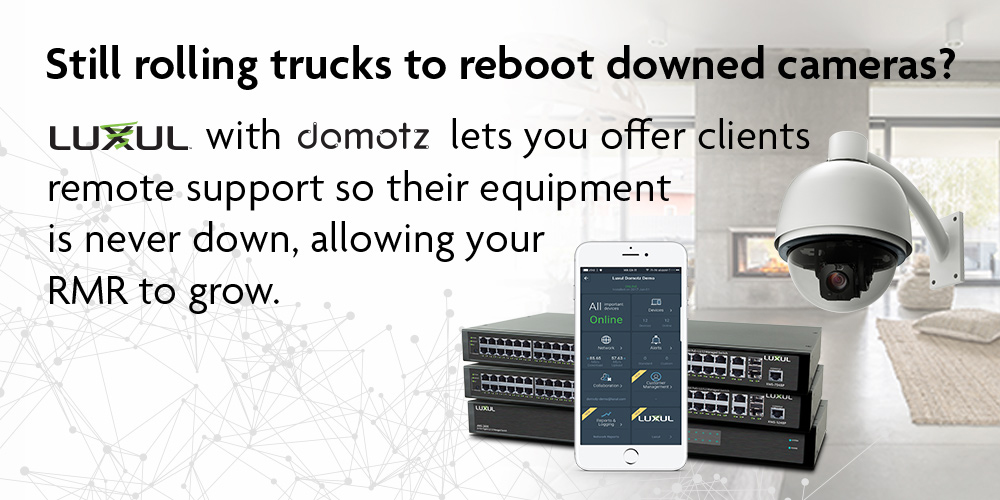 More about Luxul
Luxul is the leading innovator of simple-to-deploy professional grade IP networking solutions for use by custom installation professionals. Designed for use in both...

Luxul Company Info
March 14, 2018
The network is the foundation on which modern entertainment, security, control, and automation systems are built. Luxul helps you make that foundation even more solid with built-in remote management in our Epic Routers or the Domotz Pro Remote Management System—the network monitoring and remote tech support system designed for professional installers.
Remote Access
Domotz automatically scans available services for one-click remote access, no VPN or other router configuration necessary. The software supports remote desktop so you can connect to computers via secure encrypted connection. Remotely access device consoles and access the web pages for devices in one click with no router or firewall configuration. Manage lighting systems, control systems, IP cameras, routers, and anything else that supports web access.
Remote Power Management
Power devices on and off or reboot them remotely. With Power over Ethernet (PoE) functionality, you can control the power to individual ports on Luxul managed switches. Schedule auto Wake-on-Lan to wake devices at a pre-defined time; wake devices on demand via the Wake-on-Lan button. Domotz Pro supports Luxul's IP-enabled power distribution units.
Alerts
With automatic email and push notification alerts, you'll know right away if your customer's internet goes down. The system can send alerts when an important device goes offline so you can resolve issues immediately—often before your customer even knows there's a problem. New devices joining the network can trigger an alert, letting you know about intruders or potential network security threats.
Network Diagnostics
Perform speed tests on demand and automatically for network performance reports over time. Perform a route analysis to identify where internet issues are originating and get history of the network's online/offline status changes. For supported network managed switches, get information about status of port and upload/download traffic.
Increase RMR
With the Domotz Pro Remote Management System you're able to offer your customers convenient support at a low monthly cost to you. Increase your recurring monthly revenue and grow your business by adding remote management as a monthly service for your clients.
Luxul Domotz Pro isn't just a system to monitor networks and devices and generate alerts when there are issues. Domotz Pro empowers you with a feature-rich, easy-to-use and cost-effective platform on which to base your services.

---
We're Looking for Your BEST Projects
Don't miss your chance to enter to win a 2019 BEST Projects Award. We'll be announcing winners at a special Gala event at CEDIA EXPO. We can't wait to see what you've been up to this year! Enter your projects now.
---