Interlogix UltraSync Adds Cameras, Voice, Doorbell Cam
Interlogix stays focused on integration channel at CES 2018 with UltraSync SmartHome system, adding Amazon Alexa, 1080p camera, cellular module and doorbell camera.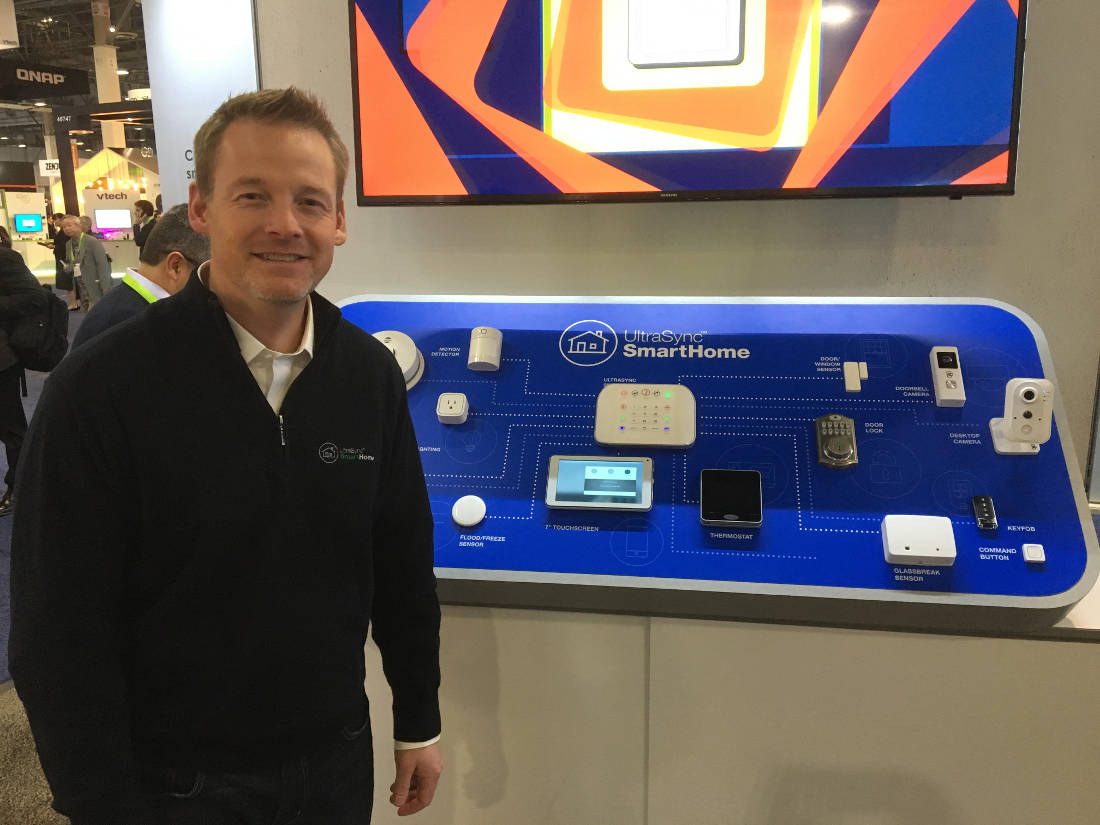 Jason Knott
·
January 25, 2018
With all the attention DIY home automation and security systems received at CES 2018, it was refreshing to see Interlogix at the show with its dealer-focused product line and message. Backed by the strength of its parent company United Technologies Corp. (UTC) (NYSE:UTX), Interlogix is digging deeper into its engineering resources to unveil new features and components for its UltraSync SmartHome system. Among the new features announced at CES 2018 were hands-free voice control, second-generation high-definition cameras, an LTE cellular module and a soon-to-be-released doorbell camera.
UltraSync is now compatible with Amazon's Alexa-enabled Echo digital assistant to allow users to make verbal commands to the security system, including locking doors (not unlocking), trigger "good night" scenes, turn on ceiling fans, turn on/off lights, and more.
"We continue to think tht one app will ultimately win out in the market versus asking the client to constantly open individual apps for different functions."
— Warren Hill, Interlogix
"The award-winning UltraSync system continues to make managing home automation and security easier and more convenient," says Michael Chiavacci, general manager, Interlogix, North America. "Now, using only their voice and an Alexa-enabled device, homeowners can control lights, thermostats and many other Z-Wave-enabled appliances that have been programmed into the system."
Warren Hill, product marketing leader for the Security, Safety and Smart Home Products, explained at CES how Interlogix remains focused on integrators because of their ability to combine multiple, complex smart home functions into a single interface.
"We want to give users one app. We continue to think tht one app will ultimately win out in the market versus asking the client to constantly open individual apps for different functions," says Hill.
Interlogix Doorbell Camera Coming Soon
He noted that integrators can take advantage of the new camera installation wizard in UltraSync for simple setup of the second-generation cameras. Both the indoor desktop and outdoor bullet models feature high-definition resolution. The cameras provide live video and have onboard memory cards for easy access to recorded video. The new units complement the existing UltraSync indoor/outdoor mini-wedge camera. The wizard enables installation as the hub's Wi-Fi router identifies the camera and connects automatically to UltraSync.
Interlogix also previewed its UltraSync doorbell camera at CES. Available this spring, the camera features a built-in speaker and microphone providing homeowners with the ability to use their UltraSync mobile app to hear and speak with visitors at the door without leaving the couch or from anywhere in the world. The exclusive UltraSync app is available for iOS and Android devices.
The UltraSync Smart Home system can also be controlled via an optional 7-inch touchscreen or a voice-guided menu on the self-contained hub. Additionally, the UltraSync hub is now available with an optional LTE cellular module, which can serve as a backup for homeowners using IP technology or as an alternative to Wi-Fi.
Lastly, the latest version of the UltraSync mobile application features 10 different quick reference videos right in the app that help homeowners learn more about system operations and setup in a convenient and intuitive way. The help videos are also available on the Interlogix website.
About the Author
---
Jason has covered low-voltage electronics as an editor since 1990. He joined EH Publishing in 2000, and before that served as publisher and editor of Security Sales, a leading magazine for the security industry. He served as chairman of the Security Industry Association's Education Committee from 2000-2004 and sat on the board of that association from 1998-2002. He is also a former board member of the Alarm Industry Research and Educational Foundation. He is currently a member of the CEDIA Education Action Team for Electronic Systems Business. Jason graduated from the University of Southern California. Have a suggestion or a topic you want to read more about? Email Jason at jknott@ehpub.com
Follow Jason on social media:

Jason also participates in these groups:
LinkedIn · Google+
Control & Automation
Roku's Cheapest Streamers Ever - 4K Roku Premiere and Premiere+ with Voice Remote Start at $39
Integrate Crestron with SmartThings, Including ZigBee, Z-Wave: Free Github Code
Amazon's New Alexa Guard: Huge Implications for Sound Recognition in Security; ADT Stock up 7%
Control4 C4Yourself Day Redux Coming October 18
ABB Launches ABB-free@home Smart Home Control Platform
View more on Control & Automation
Take Our Latest Quizzes
How Well Do You Understand Ethernet Cables and Connectors?
Quiz: Is Your Company Performance Above or Below Average?
How Much Do You Know About Cell Phone Signal Boosters?
How Efficient Is Your Service Department? Take the Quiz
5G and the Need for Cellphone Signal Boosters—Do You Know Enough?