Insteon Wireless Thermostat Controls Temperatures Remotely
Insteon Wireless Thermostat works with duct dampers, coordinates with sensors to prevent AC from escaping, triggers ceiling fans to circulate conditioned air, integrates with line voltage systems and more.
Rachel Cericola
·
March 23, 2015
Last year, Insteon announced support for the Nest Thermostat. However, for those of you not wanting to mix and match, the company does have its own thermostat, simply known as the Insteon Wireless Thermostat.
The Insteon Wireless Thermostat doesn't have learning features like the Nest, but it does go beyond the typical thermostat. It works with duct dampers to control the flow of air on a room-by-room basis (with an IO Module), can coordinate with sensors to prevent AC from escaping through open windows and doors, and will trigger ceiling fans to circulate conditioned air. It also can integrate with line voltage systems using Micro Modules and vintage millivolt heaters with an IO Module.
Of course, the Insteon Wireless Thermostat is also a wireless thermostat (imagine that?), which means that it connects to home's existing Wi-Fi network and temperatures can be controlled from across the room on the couch, across the house under the covers, or across the world on a beach. Just know that to get those remote capabilities, the Insteon Hub ($39.99) will have to be in place.
The thermostat also works with the entire Insteon lineup, as well as up to two additional Insteon thermostats. Adding in the other thermostats will allow users to keep tabs on the hottest room in the house, the coldest, the least occupied, or even the darkest. Other features include the option to use as a stand-alone temperature and/or humidity controller and battery power with an optional power supply. This product can also be used in conjunction with a remote temperature sensor to monitor fish tanks, pools, and more.
Designed to work with most heating and cooling systems (with the exception of heat pumps and sophisticated triple-stage systems), the Insteon Wireless Thermostat is selling now, priced at $79.99.
---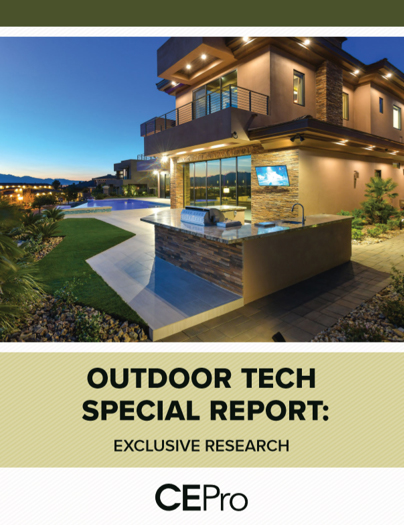 Find Out Why 63% of Integrators Expect Outdoor Business to Grow - CE Pro Download
The outdoor technology market is growing – both the demand from customers and the array of products available. According to our recent CE Pro survey, integrators are taking advantage of this opportunity to grow their businesses. Get your copy of the survey today.
---
About the Author
---
Rachel Cericola is a longtime contributor to CE Pro. Have a suggestion or a topic you want to read more about? Email Rachel at write2rachel@gmail.com
Follow Rachel on social media:

Rachel also participates in these groups:
LinkedIn · Google+