Inside Ultimate Sports Bar Theater
Theater Advice recreates sports bar vibe in a basement, overcoming a 23-foot wall that "buckled so much it looked like a giant wave pool."
Lisa Montgomery
·
November 15, 2011
To recreate the impact and viewing enjoyment of a commercial sports bar, the owner of this renovated game room choose to have three 70-inch Sharp (LC70LE732) mounted on the front wall of his 23-by-20-foot room.
"One large 130-inch TV was another option," says David Huse of Theater Advice in Frisco, Texas. "But the three TVs seemed more authentic."
Each TV rang up at $3,000, which helped keep the budget in line, too. "TVs of this size are usually much more then $3K, closer to $8,000 each" says Huse. While the budget-friendly TVs have "great brightness and movement control," says Huse, they lack ISF calibration modes and deep levels of color correction.
Selecting an affordable, good-performing 70-inch flat-panel TV was the easy part; mounting them was another story. Any wall that stretches 23 feet is never going to be completely flat, says Huse. "This one buckled so much it looked like a giant wave pool."
To get the TVs to lay flush with the wavy surface, Huse carefully shimmed each one by using pieces of rolled cardboard. Behind each TV, Huse attached a Control4 HC-200 Room Controller. This component allows each A/V source to be wired via Category 5 cabling directly to each TV. "This is a much less expensive way to allow each TV to display something different than using a matrix switcher," says Huse. "The owner probably saved $8,000 by using the Room Controllers instead of a matrix switch."
The Room Controllers are also able to receive signals from a Control4 HC-300 processor, which is critical to the whole operation of the theater. The HC-300, whose software was configured and programmed by Huse, allows the homeowner to touch one button labeled ESPN on his iPad (loaded with a Control4 app) to turn each of the three TVs to a different, preset ESPN channel. Engaging either the Satellite button or the DVD button activates the center TV only. The TV on the right is dedicated to the Xbox video game console. Wireless Sennheiser headphones let the kids hear their game without bothering dad.
Other equipment, which is tucked in a hand-built, pullout rack at the bar, includes an Onkyo 809 A/V receiver, Xbox, Sony Blu-ray player, and three DirecTV satellite boxes. Including the equipment, materials, construction and labor, the job came in at $56,000. Approximately $17,000 of the project went toward the construction of the bar, also handled by Huse, which features a refrigerator, Kegerator, microwave oven, ice maker and trash bin.
---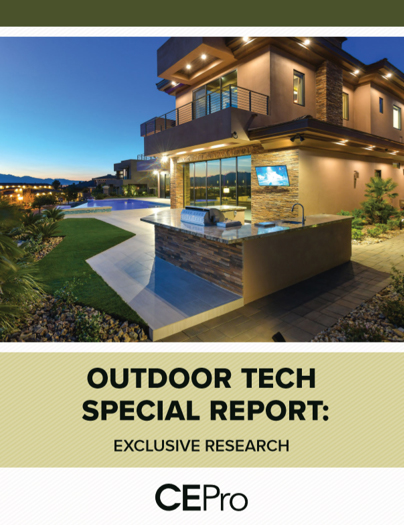 Find Out Why 63% of Integrators Expect Outdoor Business to Grow - CE Pro Download
The outdoor technology market is growing – both the demand from customers and the array of products available. According to our recent CE Pro survey, integrators are taking advantage of this opportunity to grow their businesses. Get your copy of the survey today.
---
About the Author
---
Lisa Montgomery has been a member of the CE Pro and Electronic House editorial teams for nearly 20 years; most of that time as the Editor of Electronic House. With a knack for explaining complex high-tech topics in terms that average consumers can understand, her style of writing resonates with people who are interested in adding electronic systems to their homes, but are unsure of the steps involved and the solutions available. From basic lighting control systems to full-blown automation systems, Lisa understands the home electronics market well, and is able to point consumers in the right direction on their quest for a smarter, more convenient, efficient and enjoyable home. Over the years, she has developed close relationships with key manufacturers and seasoned custom electronics professionals, giving her a keen sense of what home technologies are hot now and what is on the horizon. She shares this wisdom regularly through feature stories, product roundups, case studies technology spotlights and comprehensive guides and books. Have a suggestion or a topic you want to read more about? Email Lisa at lisa.montgomery@emeraldexpo.com
Follow Lisa on social media:

Lisa also participates in these groups:
LinkedIn · Google+