Inside America's Greenest Home
America's greenest home, a 5,600-square-foot, net-zero home, isn't short on high-tech goodies. Automation and control provide entertainment, help boost energy efficiency and keep useful technologies hidden.
February 15, 2013
At first glance it might not look like a luxury home. But this modern-barn design of connected buildings and wings is so much more.
The 5,600-square-foot home called Tah.Mah.Lah in Portola Valley, Calif., was built to be the greenest home in America. And we're talking green from the reclaimed wood and stone used in its construction to waste water that feeds the native, drought-tolerant landscaping to energy-efficient windows.
It's also a net-zero house, which means it produces all of its own energy via a geothermal (ground source) heating system and 120 solar panels, which is enough to power the house and charge five electric vehicles (EVs).
Just because this house is super-green doesn't mean it isn't also super high-tech and luxurious. In fact, it's chock-full of cool home technologies. There are 24 zones of audio and a Control4 home control system that governs the audio/video, ventilation, security and energy-saving LED lighting. There are TVs that rise out of the floor on motorized lifts, occupancy sensors that turn off lighting automatically, and apps galore for iPad-based operation of anything that's tied to the control system.
The electronic systems in this house don't detract from its green creed, though. In fact, it's just the opposite: Technologies actually enable it to be even more eco-friendly and energy-efficient. Technology also helped it to achieve a Platinum LEED (Leadership in Energy and Environmental Design) rating, the highest possible for a home, and set a record score for California's Build It Green program.
Leveraging Technology
Homeowners Paul Holland and Linda Yates embraced the use of technology in their big green home from the start. He's a venture capitalist with Foundation Capital, investing in clean-tech startups. She's a longtime environmentalist and management consultant who grew up on the hillside where their new house sits and recognizes how technology can help conserve our natural resources. The self-styled eco geeks' home design stressed an integration across all five areas of sustainable and regenerative building: energy, materials, waste, water and habitat. In other words, materials used on a roof could impact energy usage by making the house warmer or cooler. "We wanted to go through each of those things and maximize efficiency. Then leverage technology to either boost efficiency or manage the efficiency," says Yates.
Equipment
Control: Control4
Solar: SunPower, Tigo
LED Lighting: Xicato
Audio: Control4, Sonos
Speakers: SpeakerCraft
TVs: Samsung
TV Lifts: Nexus21
In-Floor Heating: Uponor
Efficient Windows: SeriousWindows
Weather Station: WeatherHawk
Remote Monitoring: Panamax, Digital Logger
Equipment Rack: Middle Atlantic
Yates had her own aha moment in the design phase. Energy consultants looked at the house design and realized a whole basement wasn't needed and would drive up the family's energy use, so it was eliminated. Start with an efficient design, and you can be more energy-efficient when using it. "Efficiency first and alternative energy second was a big aha for me," she says. "In the end, energy trumps everything."
That's where cyberManor of Los Gatos, Calif., came in, installing the systems that tied much of the green technologies in this home together, while enabling simple operation and monitoring of those systems.
Automation Enhances Efficiency
A home such as this with so many different systems could not run efficiently without a control system tying them together and providing a common user interface for monitoring and managing them. "What we've been striving toward is the Control4 system doing as much as possible when it comes to the control of audio/video, pool and water," says Gordon van Zuiden, founder of cyberManor. And it had to be nearly invisible. There are no wall controls in any room except for the Control4 six-button keypads, each center-mounted on a cedar plank. Thermostats are located in a closet, further eliminating wall clutter. And everything is controlled from six iPads used throughout the house.
"The system is so intuitive that our young children and guests can pick up an iPad and use all the features of the system without a list of lengthy instructions or training," says Yates. The wall-mounted keypads let the homeowners set scenes for the energy-saving Xicato LED lighting used throughout the house, in addition to calling up music and recirculating hot water where needed.
Also, says Yates, "We have a button that allows us to turn off the whole front of the house as people are moving to the back to get ready for bed. It seems like a small thing, but it means we actually turn lights off more than we might if we had to go around to each room."
Occupancy sensors throughout the home also turn lights off after 10 minutes of room vacancy. And the Control4 system operates motorized MechoShades in the master suite, girls' room and guest house. Four D'Mand hot water recirculators deliver warm water to sinks without waiting and wasting cool water, which is voided back into the water tank for reheating. The Control4 system also controls heat recovery ventilators (HRVs) that bring fresh air into the home. The HRVs come on at different times, depending on the time of year and how much ventilation may be needed. Hot water is produced by heat pumps tied to the underground geothermal heating system, which in turn uses pumps powered by the solar array.
Conserving and repurposing water is huge, especially in dry areas like California. So the house recycles graywater from sinks and showers and blackwater from toilets to irrigate the landscaping; a 50,000-gallon cistern collects rainwater for re-use as well. These systems aren't all tied to the Control4 system, but Holland and Yates can peek in on cistern levels via a web portal on their iPads.
Efficient Entertainment, Too
Being so green doesn't preclude having some audio and video fun. There's no big home theater in this dwelling, but there's a 5.1-channel surround-sound system in the library, featuring a 55-inch Samsung LED-backlit TV, SpeakerCraft bookshelf front-channel speakers and in-wall SpeakerCraft speakers for the surrounds.
In both the master bedroom and the children's room, flat-panel TVs rise from underground vaults on motorized lifts when the TV is turned on from an iPad. SpeakerCraft CSS6 Three speakers are wall-mounted throughout the house for whole-house audio enjoyment of Pandora streaming and other music from a Sonos system. Even the entertainment in this house is energy-efficient. The LED-backlit TVs use less electricity than other TVs, and a Digital Logger device shuts down multiroom amplifiers during the day when no one is home and connects to the Control4 system using a driver from Extra Vegetables. A Blue- Bolt power conditioner from Panamax can remotely reboot rack components as needed.
Energy monitoring of the A/V equipment has also been discussed. During the planning phase of the house, Holland and Yates had a plug load study done to reduce the power used by electronic systems as much as possible. Yates says they are now leaning toward Powerhouse Dynamics' eMonitor system, which provides a web-based dashboard to display the power production of a solar array and energy use of the whole home and individual circuits, by month, day, hour or minute.
Do Automated Efficiencies Help?
Automated control and lighting systems don't provide the majority of energy savings in Tah.Mah.Lah. Systems like highly efficient SeriousWindows that allow sunlight to warm the house and save on heat do much more. So does positioning the house to take advantage of breezes and eliminate any air conditioning. But have automated and integrated electronics systems in this very green home helped it achieve other efficiencies? Absolutely, says Yates. "Making it easy and automatic for people to be energy-efficient is key. With the control system, you can do more than just turn [devices] on and off. You can dim, you can manage plugs, you can manage multiple rooms at the same time, you can manage not just the house but the landscape from anywhere.
"But a control system alone does not make a house greener, she adds. "It is the icing on the cake. If the cake isn't well-designed and thoughtfully built right, with the right intent in the first place, all the control systems in the world won't make it greener."
---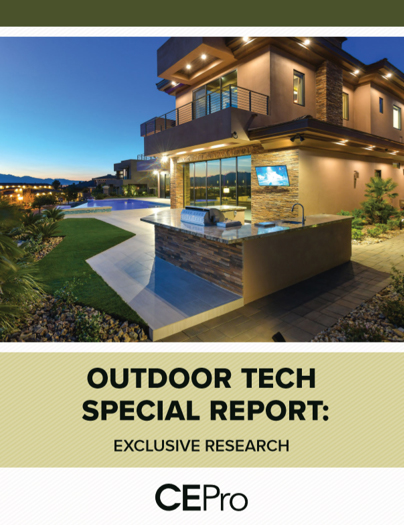 Find Out Why 63% of Integrators Expect Outdoor Business to Grow - CE Pro Download
The outdoor technology market is growing – both the demand from customers and the array of products available. According to our recent CE Pro survey, integrators are taking advantage of this opportunity to grow their businesses. Get your copy of the survey today.
---