Important Kitchen and Bath Design Influences on Home Technology
Understanding trends in kitchen and bath design can provide greater insight to the home technologies that people want.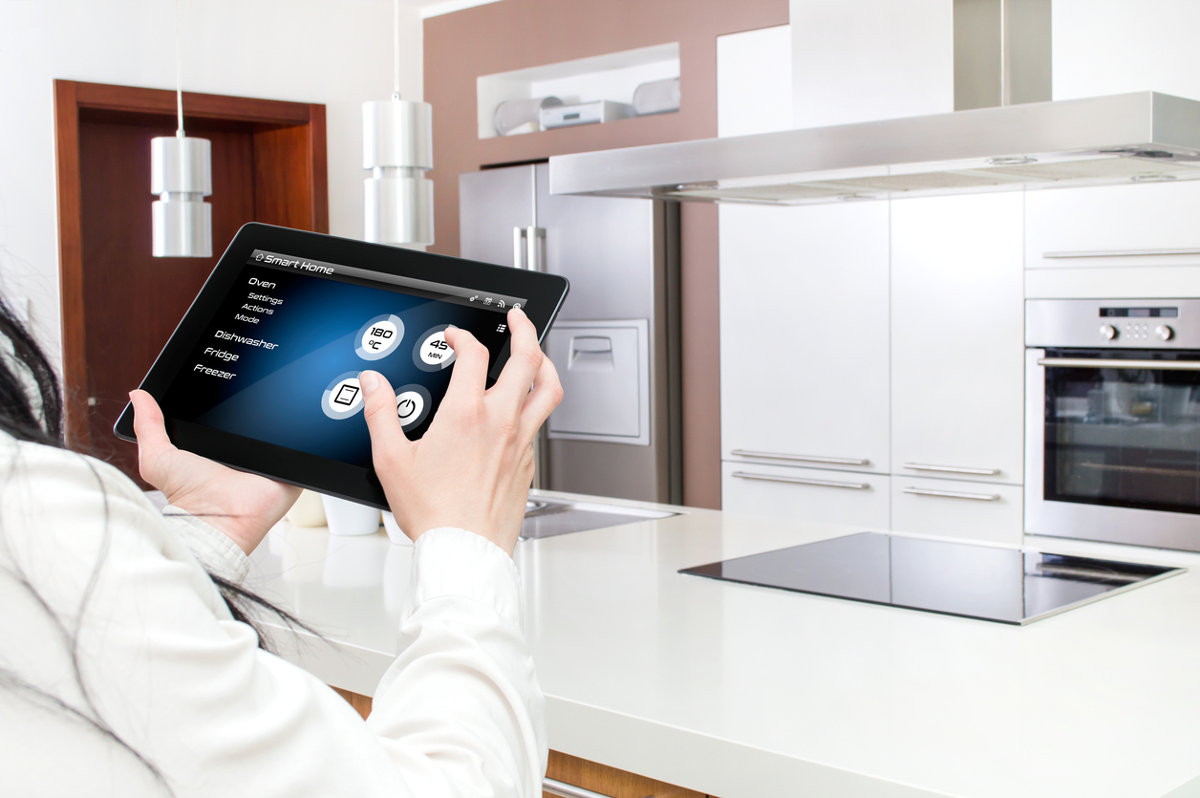 Lisa Montgomery
·
July 23, 2018
There once was a time when technology and design rarely intersected. Electronic products evoked a high-tech feel that was often considered a complete departure from a home's overall design scheme. Those times have changed, as home systems integrators and interior designers are no longer adversaries but partners on projects. Electronic systems and furnishings fuse together gracefully.
Today, design and tech work hand-in-hand to achieve the same goal: a home environment that's comfortable, efficient and enjoyable.
For this reason, it's important to keep abreast of design trends. You'll be able to work more effectively with designers and homeowners if you know what's hot now and where things are headed. One of the best places to gather inspiration is the annual Salone del Mobile, an international design show held in Milan.
This year's show also featured the biennial kitchen show, EuroCucina, and the International Bathroom Exhibition—Salone Internazionale del Bagno, as well as EuroCucina, FTK a special exhibit just for technology in the kitchen.
The following are some of the key findings as reported by Kitchen & Bath Business magazine. Granted, they are what's trending in Europe, but it's likely that many will eventually hit the American market.
Space-Saving in the Bathroom
The bathroom has become much more than a utilitarian space, and people are looking for ways to make it somewhere in which to spend quality time. For many consumers, this means getting rid of the clutter and increasing elbow room.
Space-saving amenities, therefore, are making a splash in bathrooms. You'll see slimmer cabinet doors and fixtures and features that promote health and wellbeing.
How this impacts you: Speakers, TVs, keypads with super-slim profiles befit this design approach. Lighting systems evoke a peaceful and serene environment.
Connectivity in the Kitchen
Today's cooking area is connecting in more ways than one. The physical space continues to join with the spaces around it, inviting more guests to congregate in the main prep area. At the same time, appliances are evolving into smart devices able to be monitored, controlled and automated for efficiency and convenience.
Style-wise, the kitchen has started to morph into a space that resembles a living room, evident through an upswing in open cabinetry. Many manufacturers are starting to introduce more open shelving—both under and above—as well as glass and translucent doors.
There's been a departure from white to warmer tones, so keep this in mind when offering devices like digital assistants, remotes, and touch panels.
Kitchen islands are getting bigger, which means more opportunity to sell motorized lifts that stow and show TVs, countertop appliances, and cooking utensils.
How this impacts you: People are designing their kitchens to look more like living rooms, so offer technology that also makes the room function more like a living room: high-quality speakers and TVs. Offer LED lighting solutions for the open shelving, promoting it as a way to improve both the aesthetics and functionality.
Capitalize on Kitchen and Bath Trends
The kitchen and bath continue to be the primary areas of the home that people remodel and apply a large portion of their home building budget. Add the fact that designs are departing from utilitarian concepts to schemes that support a multitude of functions and activities, and there's never been a better time to develop special tech packages for these two spaces.
Entertainment, wellness, and convenience are driving consumers to adopt fresh kitchen and bath designs; technology is a natural complement.
---
2019 State of the Industry Special Report - CE Pro Download
The custom electronics industry saw a healthy 8 percent growth rate in 2018, down slightly from the blazing 11 percent growth in 2017 but still admiringly strong. Our 2019 State of the Industry indicates that readers expect to see even more growth in 2019. Get your copy today.
---
About the Author
---
Lisa Montgomery has been a member of the CE Pro and Electronic House editorial teams for nearly 20 years; most of that time as the Editor of Electronic House. With a knack for explaining complex high-tech topics in terms that average consumers can understand, her style of writing resonates with people who are interested in adding electronic systems to their homes, but are unsure of the steps involved and the solutions available. From basic lighting control systems to full-blown automation systems, Lisa understands the home electronics market well, and is able to point consumers in the right direction on their quest for a smarter, more convenient, efficient and enjoyable home. Over the years, she has developed close relationships with key manufacturers and seasoned custom electronics professionals, giving her a keen sense of what home technologies are hot now and what is on the horizon. She shares this wisdom regularly through feature stories, product roundups, case studies technology spotlights and comprehensive guides and books. Have a suggestion or a topic you want to read more about? Email Lisa at lisa.montgomery@emeraldexpo.com
Follow Lisa on social media:

Lisa also participates in these groups:
LinkedIn · Google+
Networking & Cables
Cat5, Cat6, and Cat6a: Is it Time to Start Future-Proofing?
Product Briefs: HTA Calculator; Onkyo, Pioneer Firmware; KanexPro, DTV GameControl; Luxul Firmware
Power vs. Data Rate: Is There a Compromise?
Interview: Vanco President Discusses A/V-over-IP Adoption, HDMI 2.1, More
$70 EnGenius Smart Mesh Router Provides Budget-Friendly Wi-Fi Reliability
View more on Networking & Cables
Take Our Latest Quiz
How Well Do You Understand Ethernet Cables and Connectors?
Bose