iControl, uControl Merger: Implications for Cable, ZigBee, Automation
EXCLUSIVE INTERVIEW: iControl and uControl are merging to provide ZigBee-enabled security and home automation solutions to cable providers. Implications for Z-Wave, ADT and set-top boxes?
Julie Jacobson
·
November 4, 2010
iControl and uControl – two Web-enabled home automation providers – are merging. The resulting company, going by the name of iControl (not weControl or iControlu), is expected to power the new security and remote home management service from Xfinity (formerly Comcast).
The move is a big win for ZigBee, the low-power mesh-networking protocol preferred by cable providers. uControl's system uses ZigBee to communicate with security sensors, lights and other electronic devices.
iControl, on the other hand, uses Z-Wave, a competing technology from Zensys, which is now owned by Sigma Designs.
There is speculation that the two automation firms merged in order to win the Xfinity business. For its part, Xfinity has yet to name a technology vendor, but the company features iControl systems on its Web site and previously showcased security systems from GE.
GE security products have been removed from the site.
(Correction: GE Security products, specifically the GE Simon XT self-contained security system and wireless keypad, are still shown as part of the Comcast offering.)
iControl vs. uControl
iControl provides security and automation for the recently launched ADT Pulse program from security giant ADT.
Seven-year-old iControl, based in Palo Alto, Calif., has generally focused on the security and utility markets. Austin, Texas-based uControl started out focusing on security, but shifted its focus to cable MSOs a year or two ago.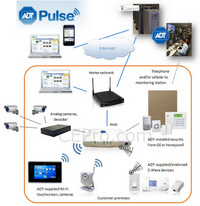 ADT's implementation of iControl www.cepro.com/adtpulsehome
It is widely known that iControl and uControl have been in bake-offs in a number of cable locales.
In an interview with CE Pro, iControl founder Reza Raji said, "They [uControl] have been competing in that space for over two years. It made sense to join forces rather than to continue competing for the next few years."
Both iControl and uControl products provide similar functionality, including home security with professional monitoring, along with DIY-friendly integration with surveillance cameras, lighting controls, thermostats and other Z-Wave or ZigBee devices. Both enable remote home management via iPhone and other connected Web- and cell-enabled devices.
Raji says that the merger agreement occurred fairly quickly and that the two companies are working to figure out synergies in their respective lines.
Apparently, although Xfinity has been featuring iControl on its home security Web site, the cable provider has been cozy with uControl.
iControl's product is more fully baked than uControl's, but the latter has an edge with the cable companies.
"uControl has done a good job targeting the cable industry," says Raji. "They are focused on their needs."
Meanwhile, iControl is heavily invested in security providers like ADT, as well as telcos and utilities.
ZigBee and the Cable MSOs
Raji believes that the cable providers appreciate ZigBee over Z-Wave because it is more of an "open standard" (IEEE 802.15.4). While Z-Wave is a fairly open platform with far more compatible devices on the market, it is nevertheless owned by a single chip-producing company, Sigma.
Furthermore, ZigBee is the technology behind the RF4CE standard, which is meant to supplant IR control for CE devices including cable boxes.

uControl touchpanel (Click to enlarge.).
Recently, uControl formed OpenSMA with ZigBee partner Ember, borrowing a term used by the cable industry: Security, Monitoring and Automation (SMA). While the organization currently comprises just a handful of companies – mostly uControl partners – it may become the go-to group for the cable industry.
Interestingly, CentraLite is one of only two CE device manufacturers in OpenSMA. The company makes ZigBee-enabled wireless lighting controls. Radio Thermostat, maker of ZigBee and other communicating thermostats, is also a member. Notably absent is Control4, possibly Ember's biggest ZigBee customer and a significant competitor of iControl and now uControl.
Another is SMC Networks, which announced earlier this year the new Ruby home management system powered by uControl. The system could possibly eliminate traditional security panels – like the GE and Honeywell systems being used by ADT – and use instead security network based on ZigBee. SMC appears to be uControl's first notable customer.
Although ZigBee (and Z-Wave) security sensors do exist, they are rarely used because of their relatively high price and power requirements. Batteries in traditional security sensors can last for several years.
SMC, provider of customer premises equipment (CPE) says it is the only approved vendor to 12 of the top 14 MSOs in North America, including Comcast.
Meanwhile, Z-Wave owner Sigma Designs is a substantial provider of A/V chipsets to settop box manufacturers, including MSOs. The company has demonstrated Z-Wave-embedded settop boxes at several trade events and is hoping service providers will bite.
CE Pro will continue to post updates on this breaking news story.
[UPDATE] The value of the deal is not being disclosed, but Texas-based UControl will become a subsidiary of iControl and the name of the merged company will remain iControl Networks. The two CEOs, Paul Dawes and Jim Johnson, will remain as co-CEOs. John Doerr of Kleiner Perkins will remain on the board. IControl has raised $44 million in venture capital so far, compared to about $24 million for UControl. The combined company will have about 100 employees, with roughly two thirds coming from the iControl side. via TechCrunch
RELATED
Get Ready for $99 Security, Home Automation from Comcast/Xfinity
iControl, uControl Merger: Implications for Cable, ZigBee, Home Automation
Ember enables uControl's Next Generation ZigBee Home Security System (press release)
uControl, SMC Announce Home Security, Monitoring and Automation (SMA) Partnership (Press Release)
Architecture of ADT Pulse: What it Can & Can't Do
One Month into ADT Pulse: Demand is High, Prices Mainstream
Why a Houston Homeowner Paid $12,000 for ADT Pulse System
ADT to Launch iControl Remote Management Service to the Masses
Sigma's Acquisition of Zensys: Z-Wave in Settop Boxes?
———————————————-



Follow us on Twitter!
@juliejacobson
@ce_pro
---
Secure Your Free Pass to CEDIA EXPO 2019
Register before Sept. 2 to gain free access to the opening keynote, product training & education series as well as the show floor including Innovation Alley and much more. Don't miss your chance. Sign up today.
---
About the Author
---
Julie Jacobson is founding editor of CE Pro, the leading media brand for the home-technology channel. She has covered the smart-home industry since 1994, long before there was much of an Internet, let alone an Internet of things. Currently she studies, speaks, writes and rabble-rouses in the areas of home automation, security, networked A/V, wellness-related technology, biophilic design, and the business of home technology. Julie majored in Economics at the University of Michigan, spent a year abroad at Cambridge University, and earned an MBA from the University of Texas at Austin. She is a recipient of the annual CTA TechHome Leadership Award, and a CEDIA Fellows honoree. A washed-up Ultimate Frisbee player, Julie currently resides in San Antonio, Texas and sometimes St. Paul, Minn. Follow on Twitter: @juliejacobson Email Julie at julie.jacobson@emeraldexpo.com
Follow Julie on social media:
Twitter · LinkedIn · Google+
Julie also participates in these groups:
LinkedIn · Google+