How to Make 3D Work
What do you give up when you put a receiver into 3D mode? Industry experts Jim Burns and Pat Bradley discuss the 3D ecosystem.
Julie Jacobson
·
July 15, 2011
Stop rolling your eyes and saying, "My customers don't want 3D." Eventually they will want to watch The Big Game or The Big Movie or their 3D videos from the family vacation. And if they don't have a 3D system that works … huge bummer.
This Wed., July 20, two of the industry's top HDTV trainers – Jim Burns and Pat Bradley – will present tips on how to build a 3D-ready ecosystem, from the source to the glasses.
They'll explain how to do this without compromising today's 2D entertainment.
Burns, principal of the high-end projector manufacturer Display Development, says, "Many receivers say they have 3D pass-through, but the question is: What do you get in that mode?"
He explains, "all the fancy video stuff gets out of the way." So, for example, users probably won't get an on-screen display, "kind of like what happened with analog/digital."
REGISTER: How to Make 3D Work, July 20
Burns bemoans a lack of compatibility among products from disparate manufacturers, as well as uncertainty in 3D standards. For that reason, he recommends integrators "mock up a workable video chain in the shop" before installing it at a customer's home.
"If you have a 3D system that works now, you know it's good."
It isn't just receivers, displays, cables and other devices that make up a 3D ecosystem. Don't forget that the viewing environment is a major component in its own right: "The viewing area changes for 3D versus 2D, so does the projector brightness. You're back to stringent light requirements for the room," Bradley says.
He will spend most of his time during the July 20 Webinar on calibrating a display for 3D without compromising the set's 2D capabilities.
The free Webinar is Wed., July 20. Register here for 3D for Integrators: How to make it Work.
The event is sponsored by IOGEAR, which is rolling out a line of 3D-enabled switchers later this year.
Got Questions about 3D? Submit them .(JavaScript must be enabled to view this email address).
Is this a typo or is Pat really demanding cash for participating?

---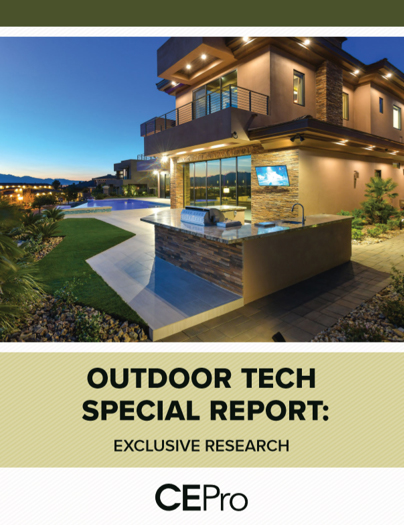 Find Out Why 63% of Integrators Expect Outdoor Business to Grow - CE Pro Download
The outdoor technology market is growing – both the demand from customers and the array of products available. According to our recent CE Pro survey, integrators are taking advantage of this opportunity to grow their businesses. Get your copy of the survey today.
---
About the Author
---
Julie Jacobson is founding editor of CE Pro, the leading media brand for the home-technology channel. She has covered the smart-home industry since 1994, long before there was much of an Internet, let alone an Internet of things. Currently she studies, speaks, writes and rabble-rouses in the areas of home automation, security, networked A/V, wellness-related technology, biophilic design, and the business of home technology. Julie majored in Economics at the University of Michigan, spent a year abroad at Cambridge University, and earned an MBA from the University of Texas at Austin. She is a recipient of the annual CTA TechHome Leadership Award, and a CEDIA Fellows honoree. A washed-up Ultimate Frisbee player, Julie currently resides in San Antonio, Texas and sometimes St. Paul, Minn. Follow on Twitter: @juliejacobson Email Julie at julie.jacobson@emeraldexpo.com
Follow Julie on social media:
Twitter · LinkedIn · Google+
Julie also participates in these groups:
LinkedIn · Google+
News
Alarm.com's New 'Sensor Walk Test' Eliminates Laborious Security Verification Calls
Sony Announces 2019 MASTER Series TV Pricing and Availability
How LG Aims to Broaden Integrators' World
RTI Touchpanel Remotes Mount in Walls, Reside on Tables
CEDIA Global HQ Opens: Take a Video Tour
View more News
Take Our Latest Quiz
How Well Do You Understand Ethernet Cables and Connectors?
Bose