How to Capitalize on Home Health Market
Aging population and financially burdened healthcare system to drive market.
CE Pro Editors ·
February 21, 2011
The nation's ability to rein in future healthcare costs, which hospital executives fear could reach unsustainable levels within a decade, may depend in part on emerging technologies that are taking patient engagement to a higher level, especially in the home.
The population is aging and it's far cheaper and more comfortable to let seniors age at home rather than move to an institution or extended care facility. To prepare CE pros for the onslaught of this new business opportunity, Home Health Tech education will be offered as part of the all-inclusive training at EHX: The CE Pro Event, March 17-19, 2011, in Orlando, Florida.
"The home healthcare market is set to explode," says Julie Jacobson, editor-at-large, CE Pro. "We've hailed the coming of home health technology for several years now, but we really believe CE pros will embrace the market in 2011 and beyond. That's when we reach a critical point in terms of the aging population, financially burdened healthcare system, and emergence of exciting technologies for seniors and their caretakers."
The following sessions will be held at EHX:
How to Get Your Foot in the Door with Home Health Tech: Profit Producing Solutions That Make Financial Sense
Thursday, March 17, 2011
11:00 AM to 12:00 PM
While many off-the-shelf home health tech products can serve this population well, it takes a focused business plan to succeed and be profitable in the aging-at-home marketplace. Until now, integrators have shied away from jumping into the home health tech market for several reasons including fear of liability and the inability to make a convincing case for selling pricy systems to consumers. But it doesn't have to be that way. In this highly informative session, CE Pro offers 10 entry-level home health tech solutions to get you jumpstarted in this up and coming new market space.
When Grandpa Wants the Cadillac: GrandCare Systems: The Aging Tsunami is Headed our Way - Don't miss the boat!
Thursday, March 17, 2011
1:00pm to 2:00pm
GrandCare is a "Smart" Socialization, Activity of Daily Living, Medication Management & TeleHealth Monitoring System designed to assure caregivers that all is well with a loved one, while giving the loved one independence, freedom and familial connection. Caregivers can be alerted if something seems amiss (meds were not accessed, unusual home activity or abnormal vitals). The loved one can enjoy two-way interactive web chat, trivia and card games, as well as incoming family communications (pictures, messages, emails, videos, music, calendar appts, etc.) right on their interactive TouchPad, with no previous computer experience required. For more info, please visit: http://www.grandcare.com
Home Health Technology Solutions for Custom Integrators: An Overview of Aging at Home Products and Services Worth Exploring
Friday, March 18, 2011
12:00PM to 1:00PM
Learn about the newest Home Health Tech products and services from manufacturers and service providers who are eager to talk with you and explain the benefits and business opportunities that can help you gain a foothold in this burgeoning new technology area.
For more information and to register for EHX: The CE Pro Event, visit ehxweb.com. Early Bird Discounts available through February 28, 2011. For information on exhibiting, contact Deborah Smith at 508-663-1500 x306 or dsmith@ehpub.com.
---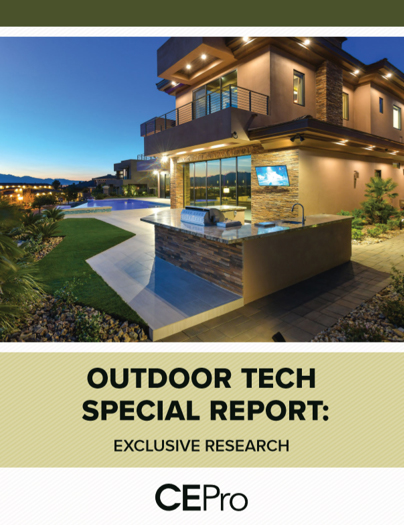 Find Out Why 63% of Integrators Expect Outdoor Business to Grow - CE Pro Download
The outdoor technology market is growing – both the demand from customers and the array of products available. According to our recent CE Pro survey, integrators are taking advantage of this opportunity to grow their businesses. Get your copy of the survey today.
---