Honeywell 2019: Next-Gen Security & Home Automation is One Platform for Wired, Wireless, DIY, Pro
Arriving in 2019, new Honeywell melds Vista, Lynx, Lyric into single platform with user-replaceable batteries, cellular modules, home-automation radios, and a back-end system that enables remote monitoring and diagnostics by security pros.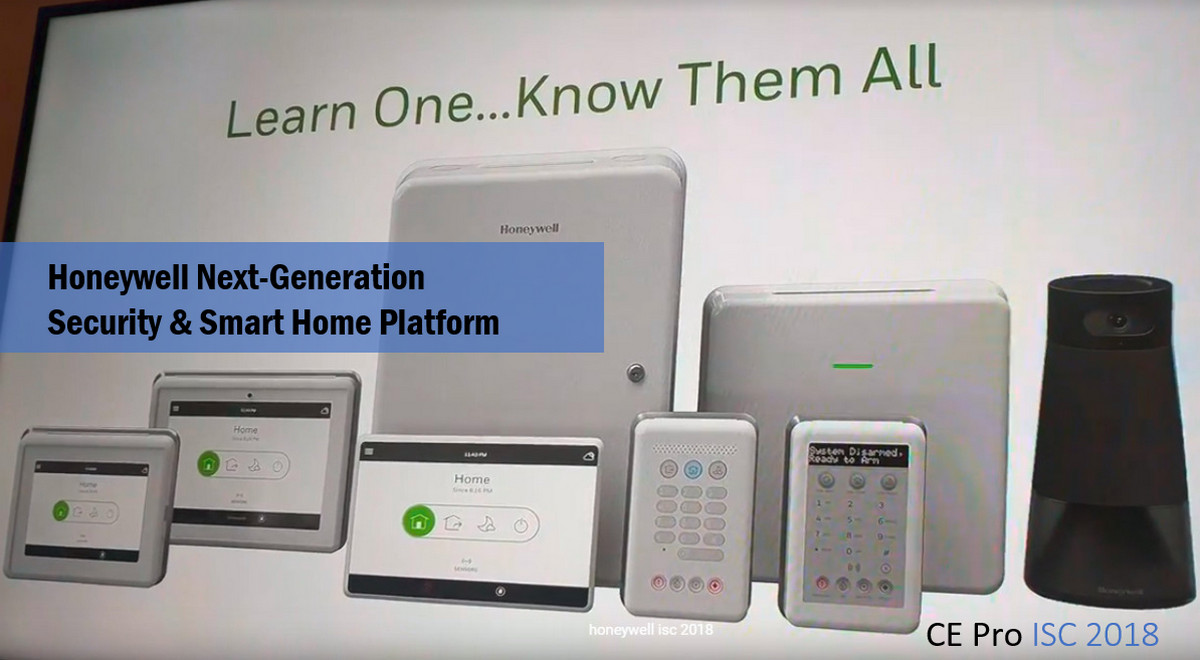 Julie Jacobson
·
May 1, 2018
Honeywell made a big announcement at ISC West 2018 – its "Next Generation Residential Platform" – that seemed to go largely unnoticed, probably because the display was static and the message of Honeywell's "New Security and Smart Home Platform" was a little too subtle.
If only Honeywell had screamed: The best of Vista, Lynx and Lyric security and home automation – all in one unified platform! Same Total Connect Service for all! Same user interfaces! Same peripherals! Same options! Wired or wireless! Interchangeable batteries and radios! Fewer SKUs on truck! One dashboard to remotely monitor and manage all customers, regardless of controller!
That might have done the trick.
Expected to launch in 2019, the new portfolio is meant to meld Honeywell's mish-mash of current platforms – Vista, Lynx and Lyric – which were all developed in different eras for different customer types.
The theme of the next-gen collection is "Learn One … Know Them All."
A video at ISC promoting the next-gen solution showed Honeywell's most modular architecture ever, featuring wireless and wired (hybrid) alarm panels with user-replaceable cellular cards, batteries, and radios (Wi-Fi, Z-Wave, ZigBee, for starters).
The new systems will all work with Honeywell's Total Connect SHaaS (smart home as a service), and they will all look pretty much alike to the dealer – same peripherals, same configuration schemes, same back-end tools and dashboards for the installation company.
The security hubs shown at ISC included traditional headless systems enclosed in plastic cabinets, as well as touchscreen-based all-in-ones, and a DIY tower modeled after the company's direct-to-consumer Smart Security System launched on Indiegogo last year.
Addressing the Ecosystem Mish-Mash
"The Lyric system seems to have all the features I want except that it doesn't do wired sensors or smoke detectors. I like wired."
— Post-ISC Tweet, and common refrain among Honeywell dealers
Honeywell's new converged platform should answer one key question from annoyed security dealers: "How come all the cool new features go to wireless, DIY-type products, while legacy hardwired solutions seem to get left behind?"
It's the same issue that plagues most tech industries, when vendors leap-frog legacy systems with new solutions for broader markets. Not only do the legacy systems miss out on the modern-day amenities, but dealers now have to learn completely new ecosystems and carry a separate sets of peripherals to support different environments.
When Honeywell launched its Lyric line of wireless security and home-automation systems in 2015, traditional dealers begged Honeywell to offer the same modern apps and sleek designs for legacy systems, especially hardwired.
VIEW MORE HONEYWELL 'NEXT-GEN' IMAGES IN SLIDESHOW
Three years later, after ISC West, a dealer posted on Twitter: "The Lyric system seems to have all the features I want except that it doesn't do wired sensors or smoke detectors. I like wired. Basically just need a 'lyric panel' to replace the vista panel and I would be happy."
Later, the dealer tweeted: "Just bummed that all the new features have been on the wireless systems the past several years. Honeywell should move to a unified platform. Same app for all the systems."
That's what Honeywell is doing with this new initiative.
On top of that, Honeywell will be offering a remote health and diagnostics platform, allowing dealers to monitor the performance of client systems through a single dashboard.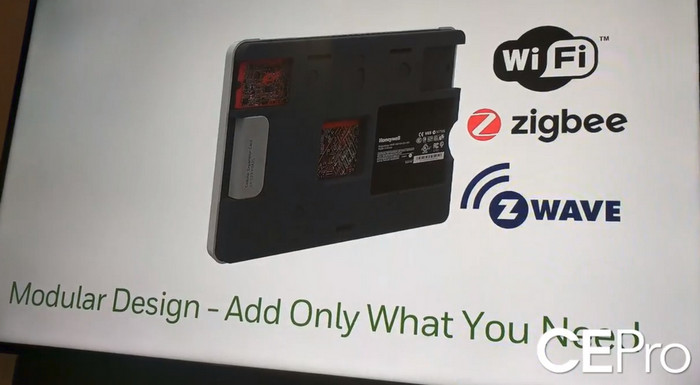 The promo video shows a dashboard with tabs for sensors, keyfobs, keypads, users, reporting tests, diagnostics, event logs, activity logs and more.
Here are a few highlights showcased at ISC and in the video above.
Next-gen hubs/panels – Learn One, Learn Them All
Wireless panel in cabinet

Wired/wireless hybrid panel in cabinet

All-in-one touchscreen

New "Camera Tower" all-in-one security and automation system modeled after Honeywell's DIY direct-to-consumer product
Features
Bluetooth system disarming "for the first time ever" from Honeywell.

Amazon Alexa native, built into habs/panels.
Interactive services, with self-monitoring and/or professional monitoring available through Honeywell Total Connect.

Wireless battery powered motion viewers like adc

Indoor/outdoor siren strobe – a first for Honeywell

User-replaceable cellular radios

User-replaceable batteries

User-replaceable communications/control radios – Wi-Fi, Z-Wave, ZigBee
---
We're Looking for Your BEST Projects
Don't miss your chance to enter to win a 2019 BEST Projects Award. We'll be announcing winners at a special Gala event at CEDIA EXPO. We can't wait to see what you've been up to this year! Enter your projects now.
---
About the Author
---
Julie Jacobson is founding editor of CE Pro, the leading media brand for the home-technology channel. She has covered the smart-home industry since 1994, long before there was much of an Internet, let alone an Internet of things. Currently she studies, speaks, writes and rabble-rouses in the areas of home automation, security, networked A/V, wellness-related technology, biophilic design, and the business of home technology. Julie majored in Economics at the University of Michigan, spent a year abroad at Cambridge University, and earned an MBA from the University of Texas at Austin. She is a recipient of the annual CTA TechHome Leadership Award, and a CEDIA Fellows honoree. A washed-up Ultimate Frisbee player, Julie currently resides in San Antonio, Texas and sometimes St. Paul, Minn. Follow on Twitter: @juliejacobson Email Julie at julie.jacobson@emeraldexpo.com
Follow Julie on social media:
Twitter · LinkedIn · Google+
Julie also participates in these groups:
LinkedIn · Google+
Control & Automation
Biophilia: Nature Sounds vs. White Noise for Productivity and Wellness
Dish Rolls Out New Direct-to-Consumer Smart Home Service
New GE-Brand Z-Wave Smart Light Switches Available in Five Styles
Interlogix and Inflotrolix Team Up to Offer New Water Leak Detection System
Making Landscape Lighting a Profitable Revenue Source
View more on Control & Automation
Take Our Latest Quiz
How Well Do You Understand Ethernet Cables and Connectors?
Bose