#TBT: Home Theater Overcomes Low Ceiling
In this edition of Throwback Thursday, CE Pro goes back to 2010 when an installer faced complicated projector placement due to 7-foot-high ceiling.
Arlen Schweiger
·
January 22, 2015
CE Pro is going back to 2010 for Throwback Thursday when we contemplated, where do you hang a projector when the ceiling is just seven feet high?
Who wants to get out of their comfy theater chair and bump their head on a projector? Especially a five-figure projector with some pretty sharp corners.
The challenge in turning this unfinished basement, with a mere 7-foot-high ceiling, into a high-performance home theater hinged largely on projector placement. To complicate matters, the homeowner selected a Runco model whose throw distance from the back wall - the next obvious placement option - wouldn't jive with the room's 17-foot length and plans for a 110-inch screen, according to Ross Anderson, the project manager for Electronics Design Group (EDG) of Piscataway, N.J.
"The main challenge of this room was its unconventional size," Anderson says. "This complicated the projector placement and the audio engineering process. No projector could be fastened to the ceiling, due to the extremely low height. So a floor-mounted cabinet was selected as the most effective option."
But thanks to some interior designer intervention, as well as a new Runco model featuring a greater throw distance, rear-wall placement was finally an option. No floor cabinet was required, the potential for head injuries was eliminated, and the upgraded projector produced a better HD picture.
Labor Pains
Here's a breakdown of the project by step:
Homeowner interviews: 18 hours
Design and engineering: 19 hours
Proposal, system documentation prep: 8 hours
Pre-wire/rough-in: 12 hours
Trim-out: 8 hours
Shop time for racking, testing: 22 hours
Programming: 20 hours
Final installation, calibration: 88 hours
Client instruction: 2 hours
Interior design, architecture: 10 hours
EDG constructed a separate enclosure to house the projector, a Runco VX-22d, on the back wall. This served to enhance the theater's clean and contemporary look.
EDG installed a sophisticated and high-powered audio solution featuring seven Genelec AIW25 speakers and RAM2 AIW25 amplifiers, plus a Genelec HTS3b subwoofer and Lexicon MC-8 BAL processor. Four ceiling panels and 17 acoustic diffusor panels from RPG help deliver smooth audio coverage, which EDG calibrated and programmed using a Nady DSM-1 digital SPL meter.
The seating arrangement isn't as sophisticated, but Anderson notes that because of the low ceiling, tiered rows were not considered. Instead, the owners created multiple sight lines to the screen - using pod-shaped gamer seats in front. Earth tones throughout provide the finishing touches and allow the vivid HD colors to stand out even more.
---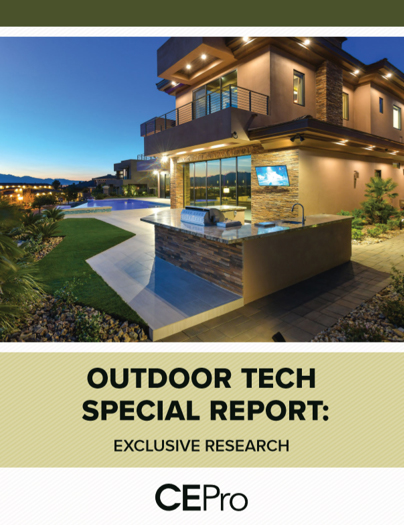 Find Out Why 63% of Integrators Expect Outdoor Business to Grow - CE Pro Download
The outdoor technology market is growing – both the demand from customers and the array of products available. According to our recent CE Pro survey, integrators are taking advantage of this opportunity to grow their businesses. Get your copy of the survey today.
---
Click here to see more photos" />
About the Author
---
Arlen Schweiger is managing editor of CE Pro, Commercial Integrator and Security Sales & Integration magazines. Arlen contributes installation features, business profiles, manufacturer news and product reviews. Have a suggestion or a topic you want to read more about? Email Arlen at arlen.schweiger@emeraldexpo.com
Follow Arlen on social media:
Twitter
Arlen also participates in these groups:
LinkedIn · Google+