Green Life Smart Life Home Meshes High-Tech, LEED
A builder, inspector and homeowners unite for the Green Life Smart Life LEED Gold project in Rhode Island.
Jason Knott
·
December 22, 2008
Can a house loaded with technology really be considered green? Yes, according to the tech-savvy group responsible for designing and building the new Green Life Smart Life custom home in Narragansett, R.I.
The construction crew includes a pair of enlightened homeowners, combined with a willing builder and a LEED (Leadership in Energy and Environmental Design) inspector. Located on a one-acre parcel, the 4,300-square-foot home sits in a pristine community overlooking gorgeous Narragansett Bay, broke ground this summer and is still in the framing stage.
When it is completed by July 2009, it will be the first LEED-H Gold home in the state.
But unlike many other green homes, this one will be loaded with electronics.
"We live a lifestyle where we need to be connected. Entertainment is a piece of that," says homeowner Kim Lancaster, who is president of a public relations firm serving multiple clients in the consumer electronics space. Her husband Joe Hageman is an executive with a manufacturer.
"We want distributed audio. We want to be able to see pictures throughout the house. We want video throughout the house. Those technologies reflect our lifestyle. We want to be green and high tech," adds Lancaster.
Among the green aspects to the home are:
Over 80 percent of the construction waste will be diverted from local landfills by using recycled and salvaged construction materials
Water consumption will be reduced through drought tolerant, native landscaping; harvest and collect rainwater from the roof for site irrigation; high efficiency plumbing fixtures and fittings
Hurricane-proof windows from Pella and green lumber from National Lumber.
Up to 40 percent less energy will be used than a traditional home through solar hot water and radiant floor heat
Smart management of climate control will maintain healthier ventilation and Indoor Air Quality (IAQ)
But it's the extensive use of technology that makes this unlike other green homes.
The house will include lighting control that has sensors, scenes, global limits and dimmable CFLs. It will also have energy-conscious security, solar panels, Energy Star appliances, CCTV, CO detection, and a four-zone multiroom audio/video system from NuVo Technologies. On the display side, there will be four big-screen TVs.
The total phantom power and current draw power is unknown at this point because the technology design is not yet completed. According to Lancaster, every piece of technology is individually rated in the LEED inspection process. This allows you to offset one that might use more energy with a "greener" system.
Lancaster and Hageman did most of the homework investigating green electronics for builder Bob Leonard of Merchant Construction. The project marks the first green home for builder Leonard, who builds between eight and 12 homes per year.
He says it's been a learning process so far, but he will actually use fewer products, and create less waste, than he would building a traditional home.
Rob Sherwood of Conservation Services Group is doing the LEED (under the U.S. Green Building Council's guidelines) and Energy Star inspections. He says the first green home can be tedious for builders, but it gets much easier after that as it becomes "cookie cutter in terms of construction materials, inspection paperwork, etc."
The project is being support by the Consumer Electronics Association (CEA). Member companies will be using the home for to showcase product for educational purposes.
There is a live blog with daily updates and photos on the home at http://www.greenlifesmartlife.com.
---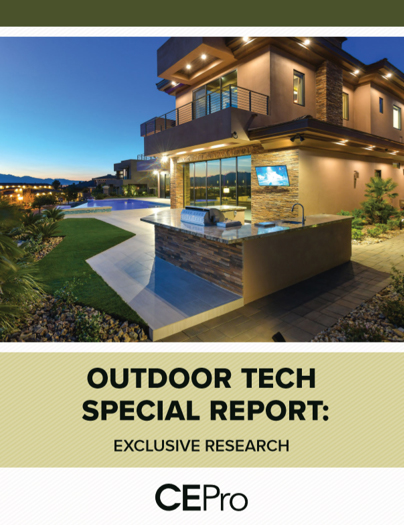 Find Out Why 63% of Integrators Expect Outdoor Business to Grow - CE Pro Download
The outdoor technology market is growing – both the demand from customers and the array of products available. According to our recent CE Pro survey, integrators are taking advantage of this opportunity to grow their businesses. Get your copy of the survey today.
---
About the Author
---
Jason Knott is Chief Content Officer for Emerald Expositions Connected Brands. Jason has covered low-voltage electronics as an editor since 1990, serving as editor and publisher of Security Sales & Integration. He joined CE Pro in 2000 and serves as Editor-in-Chief of that brand. He served as chairman of the Security Industry Association's Education Committee from 2000-2004 and sat on the board of that association from 1998-2002. He is also a former board member of the Alarm Industry Research and Educational Foundation. He has been a member of the CEDIA Business Working Group since 2010. Jason graduated from the University of Southern California. Have a suggestion or a topic you want to read more about? Email Jason at jason.knott@emeraldexpo.com
Follow Jason on social media:

Jason also participates in these groups:
LinkedIn · Google+