Google Launches 'Continued Conversation' Feature for Google Home Devices
Originally announced at Google I/O in May, the company's latest Home update includes the ability to hold a conversation with Google Assistant voice control.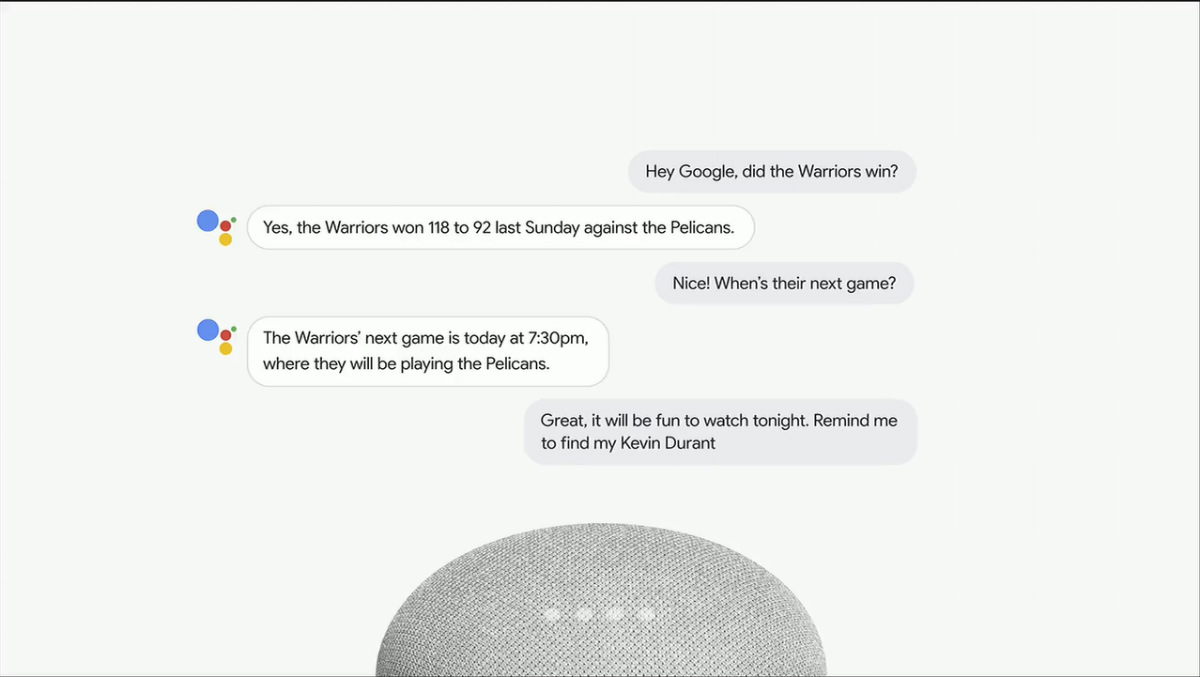 Andrew Nichols
·
June 21, 2018
Integrators deploying Google Assistant devices for their clients will now be able to make the voice control interface a lot more intuitive. Google has officially launched its "continued conversation" feature for Google Home, Home Mini, and Home Max, allowing users to ask a question, get an answer, and then ask a related question in a natural way.
For example, users can now ask Google Assistant, "How old is Barack Obama?" Google Assistant will reply with something like, "Barack Obama is 56 years old." Users can then immediately ask another question, such as, "How tall is he?" and receive an answer without having to wait much longer.
The latest update also allows users to ask a question, and then quickly shift to another task, like asking Google Assistant to remind them to take out the trash in 10 minutes right after asking about the weather.
This new functionality may be an opening for Google to gain some ground on Amazon and its Alexa voice assistant, which currently offers a similar function called "follow-up mode," and is currently the top voice assistant according to the 2018 CE Pro 100 Brand Analysis.
Continued Conversations are U.S. Only
Google has limited the "continued conversation" feature to the U.S. for now, and the tech giant has not provided an official timetable for when it will be available in more countries. Additionally, the feature is designed to be opt-in only, meaning integrators will need to step their interested clients through Google Home's settings menu in order to enable it via:
Settings > Preferences > Continued conversations> Toggle On
One potential drawback to the system is how long its mic waits for additional commands. If a Google Home hears a request to start up Google Assistant and fulfills a request, it will then wait an additional 8 seconds for another request.
Related: 8 Reasons Why Chromecast Products Are Worth Installing
That 8-second "open mic" functionality could lead to false positives, where a dealer's client asks a question and has no follow up question, but the mic still hears everything in the room for another 8 seconds. Fortunately, any Google Home device will keep its "I'm listening" LEDs lit for the duration.
Still, the benefits for smart home integrators should outweigh the negatives. After all, it's a lot easier to teach a customer to say, "OK, Google. Turn off the living room and kitchen lights," than it is to get them in the habit of saying, "OK, Google. Turn off the living room lights and turn off the kitchen lights," since that's entirely unnatural.
---
Save $100 When You Enter the CEPro BEST Product Awards Before May 24
Every year our editors recognize the most advanced products in the professional installation market. Wouldn't you like to tell your customers that your products are among this exclusive group? Enter the CEPro BEST Product Awards and give your sales team something to shout about. Early bird pricing ends May 24.
---
About the Author
---
Andrew is a journalist and educator living in the Providence area. He was previously the Editor-in-Chief of a gaming and tech website, and the Managing Editor of his university newspaper, The Torch. He received his Bachelors in Writing and Masters in Teaching from the University of Massachusetts Dartmouth. Have a suggestion or a topic you want to read more about? Email Andrew at andrew.nichols@emeraldexpo.com
Follow Andrew on social media:

Andrew also participates in these groups:
LinkedIn · Google+
Control & Automation
Savant Shows HomeKit-Compatible Smart Circuit Breakers, Circadian Lighting
Product Briefs: Doorbird, Snom; Guardian Protection Services Changes Name; AudioResearch
Sonnen ecoLinx to Anchor New Illinois Sustainable Community
Control4 Unveils New Smart Home OS 3 Platform
Crestron Partners with Domotz for Remote Management
View more on Control & Automation
Take Our Latest Quiz
How Well Do You Understand Ethernet Cables and Connectors?
Bose