Gigantic Elan Project: 700 Lighting Loads, 150 Shades, 25 Cameras
This 200,000-square-foot villa in China utilizes Mandarin-language Elan interface to control massive amounts of tech.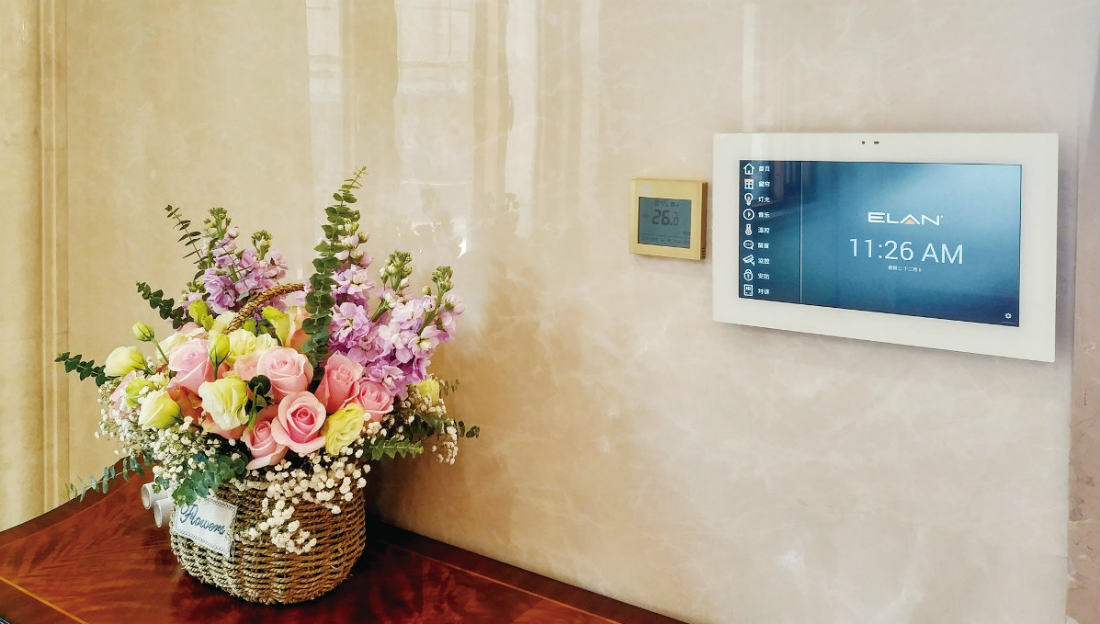 Lisa Montgomery
·
December 12, 2018
When you combine 200,000 square feet of living space with 700 lighting loads, 150 motorized shades, 110 HVAC zones, 25 surveillance cameras, 12 zones of audio, and eight zones of security, a control system is not only helpful—it's essential. When the residence is located in Guangzhou City, Guangdong Province, China, having an interface that speaks the language is another critical component.
To tie the massive amounts of tech together under a single Mandarin-speaking control system, the home systems distribution and integration team at DVACO Group chose an Elan gSC10 system.
DVACO provide the owner of the villa with plenty of control options, including 18 Elan 12-inch in-wall touchscreens, five Elan remotes and the Elan app on several mobile devices. There are also 120 lighting keypads for quick and easy access to several preconfigured scenes.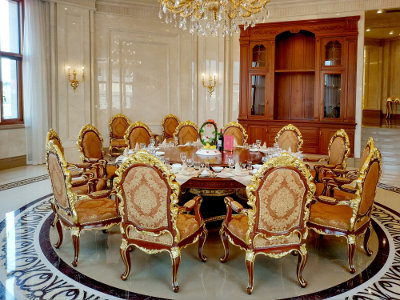 As for the entertainment portion of the system, DVACO added multi-room audio with five Niles Auriel audio controllers/amplifiers and speakers, plus five Fusion Research Ovation Solo media servers to deliver streaming audio sources to all 12 zones.
Related: San Francisco Giants Pitcher Matt Cain Keeps Safe, Has a Blast with Elan Home Automation
"Our client wanted each room to have a dedicated Elan interface so there is always a touchscreen nearby that can change lighting or climate, and also function as an intercom to provide communication to every room," says DVACO Group representative Anita Liu.
"One of his favorite features is the Sleep button, which was specially added to the bedroom touchscreen. When pressed it issues a command to close all the shades and turn off all the lights and music with a single tap. It even turns off the touchscreen itself, leaving only a single Night LED illuminated so any late-night trips to the bathroom or elsewhere are simple, without a bright light staying on all night," says Liu.
"Because everything is in the same system, the owner can do whatever he wants from a single app," adds Liu.
"It's simple to make changes to lighting, or to check surveillance footage, or adjust the climate settings, so the owner is very pleased with it. He is never more than a few buttons away from his ideal home environment."
---
2019 State of the Industry Special Report - CE Pro Download
The custom electronics industry saw a healthy 8 percent growth rate in 2018, down slightly from the blazing 11 percent growth in 2017 but still admiringly strong. Our 2019 State of the Industry indicates that readers expect to see even more growth in 2019. Get your copy today.
---
About the Author
---
Lisa Montgomery has been a member of the CE Pro and Electronic House editorial teams for nearly 20 years; most of that time as the Editor of Electronic House. With a knack for explaining complex high-tech topics in terms that average consumers can understand, her style of writing resonates with people who are interested in adding electronic systems to their homes, but are unsure of the steps involved and the solutions available. From basic lighting control systems to full-blown automation systems, Lisa understands the home electronics market well, and is able to point consumers in the right direction on their quest for a smarter, more convenient, efficient and enjoyable home. Over the years, she has developed close relationships with key manufacturers and seasoned custom electronics professionals, giving her a keen sense of what home technologies are hot now and what is on the horizon. She shares this wisdom regularly through feature stories, product roundups, case studies technology spotlights and comprehensive guides and books. Have a suggestion or a topic you want to read more about? Email Lisa at lmontgomery@ehpub.com
Follow Lisa on social media:

Lisa also participates in these groups:
LinkedIn · Google+
Control & Automation
Here's Savant's Real Two-Way IP Control of Apple TV via Siri
Product Briefs: Josh.ai Integrates with Savant;Dow Electronics; Elite Anniversary; Crestron Security
Crestron's For-Real Two-Way IP Control of Apple TV: TSR-310 as Siri Remote
Savant Shows Home Automation OSD through Apple TV
Metra Home Theater IR Kit Extends Control Signals
View more on Control & Automation
Take Our Latest Quiz
How Well Do You Understand Ethernet Cables and Connectors?
Bose