Architects Embrace $300 Outlets from TRUFIG
Integrators say new aesthetic flush-mount design helps differentiate them with architects and interior designers. More than 75 integrators using the system so far.
Jason Knott
·
May 14, 2010
Higher Cost Is 'Refreshing'
Dealers say the new procedure does add time to the project. According to Evan Struhl of Cutting Edge Systems in Westford, Mass., "At each phase of the construction, a variety of subcontractors needs to coordinate their work to complete the installation of every wall plate or device. From the electrician to the wallboard hanging to the plastering to painting, each step needs to be managed and checked to ensure proper fit and finish. Utilizing TRUFIG in any project will significantly increase the amount of time required to manage the cooperation between the varied disciplines on the job site. It is a critical point to come to terms with because that is one of the most the valuable and differentiated services that we provide."
Meanwhile, there is also additional time for the drywall contractor, according to John Palser of EchoTech in Omaha, Neb. EchoTech is in the midst of two TRUFIG installations so far. Palser estimates the system will add 10 percent to 15 percent to the total job cost, and about 20 minutes of taping/plastering time per panel. Mitchell says the biggest pushback is coming from the other building trades, not from the architects or designers.
That's on top of the hefty product cost, which starts at $300 for a single-gang outlet and can run up to $3,000 for a complicated touchscreen.
Jason Sloan, vice president of sales at TRUFIG, says the extra costs are eliminated on the back end. "In the past, dealers were accused of 'messing up' the aesthetics. Interior designers would spend lots of money on fabric, faux paint and special wallplates and bezels to hide the electronics. With TRUFIG, they don't have to do that anymore," says Rob Roland, general manager at TRUFIG.

Sloan says higher cost is the only obstacle TRUFIG dealers will face from architects and designers, but the strength of design will help overcome that objection. "Once they see it, they are awestruck," he adds. "It's just a matter of convincing the architects and interior designers that it's worth paying for."
If price is a concern, Palser recommends to clients to use TRUFIG only in main living areas that are exposed. "We identify where furniture will be placed and use standard devices behind those areas and in less traveled areas of the house," he says.
"It is refreshingly expensive," says Robert Saglio of RS Audio Video Design in Carolina, R.I. "It's not for every customer. Like any luxury goods, it is a necessity only for a few people. Some architects get it, some don't. The ones who 'get it' are the ones I want to do business with."
Architects Seem Convinced
According to Roland, the designs appear to have found a "sweet spot" within the architectural/design community. "It's become viral," he says, noting that architects and designers are increasingly referring their colleagues to see TRUFIG.
Struhl agrees. "Last month, we exhibited TRUFIG at the Residential Design and Construction Show in Boston and had an overwhelmingly good response. It's ironic that the same attributes that help TRUFIG make distractions in a wall disappear also make it hard to bring out the value to anyone who has not seen or touched the product. Once you do see it close up though, it becomes clear that this is a great idea. I was struck at the show by how many people visited our booth and later returned with their associates to show them and to take a second peek."
You can count Mitchell of RS Audio Video Design is also a TRUFIG convert. "It is the single most exciting new product I have seen in a long time," he says with no hint of overstatement in his voice. "Once they see it, the architects are blown away by it."
To help dealers show off TRUFIG to the architectural community, Dana Innovations has a small demo kit for dealers that shows traditional wallplates vs. TRUFIG. The visual difference is so apparent that Sloan recommends integrators simply present the demo to architects and designers and remain silent.

TRUFIG demo kit
"They are generally awestruck and quiet for a few moments. The integrator doesn't have to 'sell' it… it sells itself visually," says Sloan.
TRUFIG is targeting to have about 150 integrators nationwide selling the product with geographic protection. Integrators must come to the TRUFIG headquarters for training. So far, about 75 companies have been through the training. Meanwhile, the company is working with several manufacturers, including Lutron and Crestron, to "TRUFIG" their products.

Crestron and Lutron get TRUFIG'ed

TRUFIG chief Ari Supran shows before and after TRUFIG
---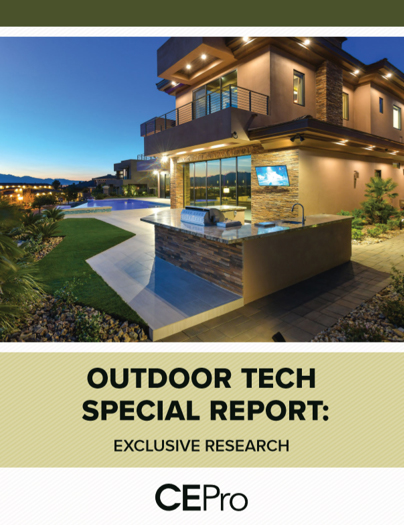 Find Out Why 63% of Integrators Expect Outdoor Business to Grow - CE Pro Download
The outdoor technology market is growing – both the demand from customers and the array of products available. According to our recent CE Pro survey, integrators are taking advantage of this opportunity to grow their businesses. Get your copy of the survey today.
---
About the Author
---
Jason Knott is Chief Content Officer for Emerald Expositions Connected Brands. Jason has covered low-voltage electronics as an editor since 1990, serving as editor and publisher of Security Sales & Integration. He joined CE Pro in 2000 and serves as Editor-in-Chief of that brand. He served as chairman of the Security Industry Association's Education Committee from 2000-2004 and sat on the board of that association from 1998-2002. He is also a former board member of the Alarm Industry Research and Educational Foundation. He has been a member of the CEDIA Business Working Group since 2010. Jason graduated from the University of Southern California. Have a suggestion or a topic you want to read more about? Email Jason at jason.knott@emeraldexpo.com
Follow Jason on social media:

Jason also participates in these groups:
LinkedIn · Google+