Focal Expands Evo Speaker Line with $120K Grande Utopia EM, $65K Stella Utopia EM
The new $120,000 Focal Grande Utopia EM Evo and $65,000 Stella Utopia EM Evo loudspeakers feature Tuned Mass Damping (TMD) and Neutral Inductance Circuit (NIC) technologies.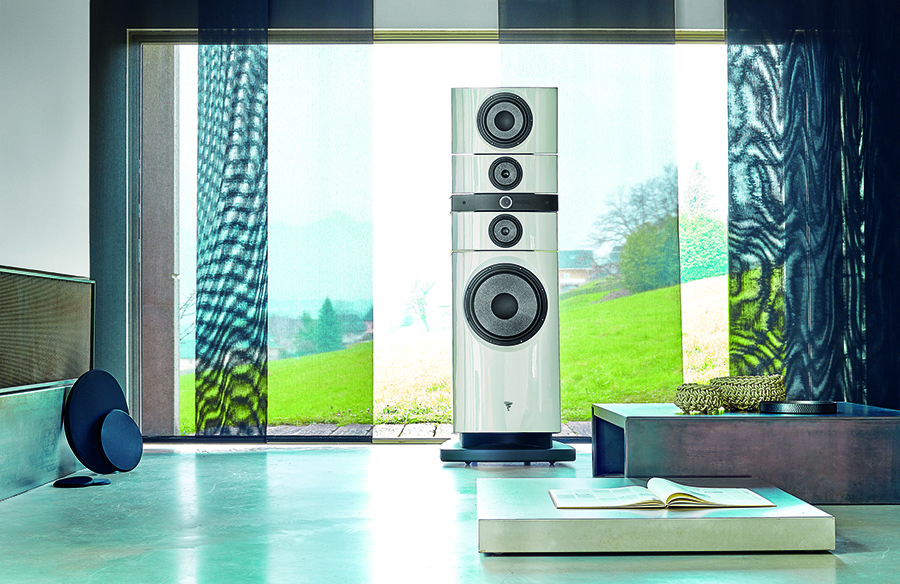 Robert Archer
·
July 11, 2018
The recently announced $120,000 Focal Grande Utopia EM Evo and $65,000 Stella Utopia EM Evo loudspeakers are the latest additions to the company's Utopia III Evo line of products.
Available through its American distributor Audio Plus Services, the Utopia III Evo series was first introduced back in 2008. The new speakers are designed to complement the rest of Focal's line thanks to a few features, including Tuned Mass Damping (TMD) suspension and its Neutral Inductance Circuit (NIC) technologies.
The speakers also include Focal's Machined Reinforcement Rings (MRR) system around the speakers' drivers and redesigned crossover networks to help the speakers create "more accurate sound quality."
Focal Employs New Stabilization Tech
The new products incorporate the company's TMD suspension to help the speakers to produce a linear frequency response between 1kHz and 4kHz, while also reducing distortion.
Helping the speakers stabilize magnetic fields, Focal's NIC technology is said to minimize harmonic and intermodulation distortion.
The speakers include Focal's MRR design, which is a rigidity solution comprised of solid aluminum machined for placement between the front of the speaker and the speaker driver basket.
Related: Focal Puts 'Custom Installer' in New Line of CI-Fi In-Wall Speakers
A sandwich technology is used in the form of rings on the 6-inch and 11-inch speaker drivers of the Stella Utopia EM Evo, and on the 6-inch speaker drivers of the Grande Utopia EM Evo. The 13-inch Stella Utopia EM Evo woofer and the 15-inch woofer on the Grande Utopia EM Evo also employ segments of solid aluminum.
The crossover networks on the speakers feature new components, and a new design that helps the products to produce, "[a] bass register [that] is immaculate, with a new acoustic wadding for extremely restrained, controlled bass."
The Focal Grande Utopia EM Evo retails for a price of $120,000, and the company specifies the speaker to produce a sensitivity rating of 94dB, and a frequency response of 18Hz to 40kHz.
The Focal Stella Utopia EM Evo retails for a price of $65,000, and the company specifies the speaker to also be 94dB sensitive, and its frequency response to be 22Hz to 40kHz.
Focal offers the speakers in a choice of metallic blue, ash grey, British racing green, black lacquer, and carrara white finishes.
---
7 Clever Ways to Hide Home Technology - CE Pro Download
Most technology products are not that visually appealing. Black boxes and tangled wires do not add to the character of a high-end smart home project. Luckily, our integrator readers have a number of clever solutions so these components don't have to be visible in your next project.
---
About the Author
---
Bob is an audio enthusiast who has written about consumer electronics for various publications within Massachusetts before joining the staff of CE Pro in 2000. Bob is THX Level I certified, and he's also taken classes from the Imaging Science Foundation (ISF) and Home Acoustics Alliance (HAA). Bob also serves as the technology editor for CE Pro's sister publication Commercial Integrator. In addition, he's studied guitar and music theory at Sarrin Music Studios in Wakefield, Mass., and he also studies Kyokushin karate at 5 Dragons in Haverhill, Mass. Have a suggestion or a topic you want to read more about? Email Robert at rarcher@ehpub.com
Follow Robert on social media:
Twitter
Robert also participates in these groups:
LinkedIn · Google+
Speakers
SnapAV Acquires Volutone, Adding 7 Distributor Locations
Product Briefs: Atlona, Josh.ai; Luxul Self Healing; Naim adds AirPlay 2; PS Audio OS; SnapAV
Wounded U.S. Army Captain Nick Vogt Receives Custom ELAN Smart Home
Rockustics OneSub and DubSub Give Outdoor Audio a Bass Boost
Home-Technology Industry Braces for Tariff War: Are You Prepared?
View more on Speakers
Take Our Latest Quizzes
How Well Do You Understand Ethernet Cables and Connectors?
Quiz: Is Your Company Performance Above or Below Average?
How Much Do You Know About Cell Phone Signal Boosters?
How Efficient Is Your Service Department? Take the Quiz
5G and the Need for Cellphone Signal Boosters—Do You Know Enough?