Florida Integrator Works With Designer To Create Tech-Filled Beach Paradise
Integrators from Think Simple partnered with acclaimed interior designer Phoebe Howard to modernize one couple's beach home with new tech and tasteful cosmetics.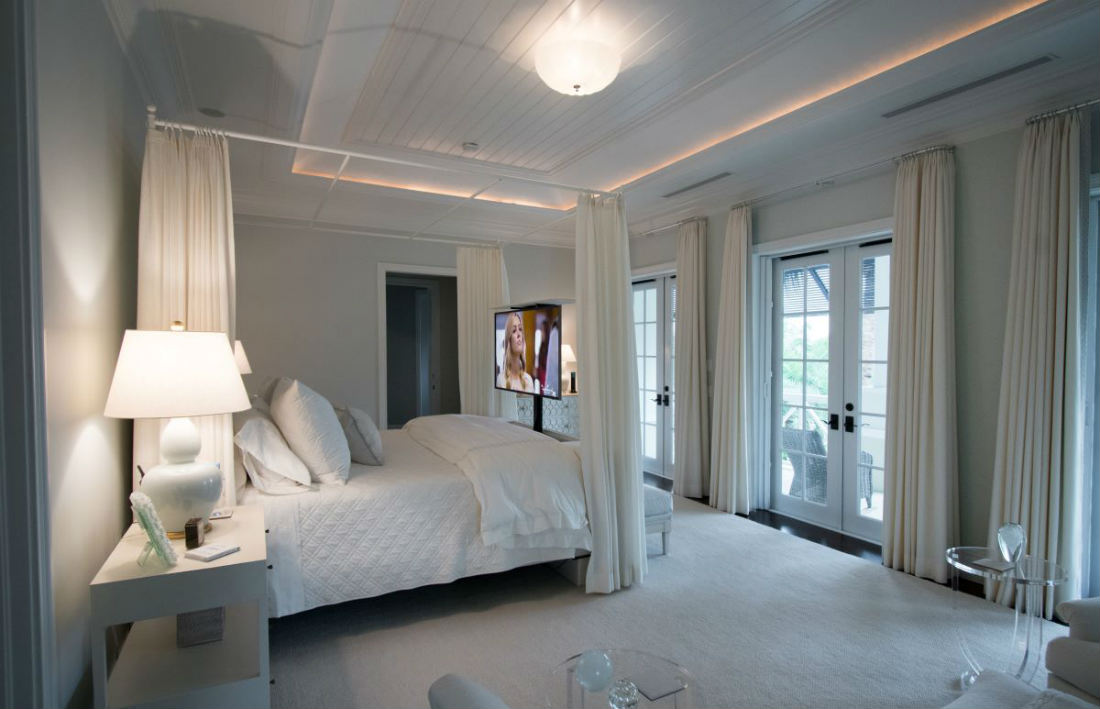 June 25, 2019
"How do you reverse engineer a smart home?" asked homeowner Jerry Johnston of Delray Beach, Fla. "Can you do it in an existing house that's already prewired?"
Jerry and his wife Karen had purchased an 8-year-old home in an exceptional location, about two blocks from Atlantic Avenue in Delray Beach, facing an inland waterway with its own deepwater boat dock across a quiet street.
The home was well built, but poorly set up. So the Johnstons hired Fort Lauderdale-based A/V integrator Think Simple together with nationally-known decorator Phoebe Howard to bring the house up to its potential.
"The changes they made are amazing," Jerry says. "The place was completely transformed."
Howard, author of The Joy of Decorating and a monthly column in Southern Living Magazine, changed what had been an ugly yellow and orange color scheme to beautiful pastels. She refinished the floors, changed out the countertops, and helped the couple pick furniture, paint, rugs and artwork.
Think Simple paired the cosmetic updates with a superb sound system, bringing beautiful music into every area of the home. They also worked with Howard to place nine TVs, so that the Johnstons could enjoy a movie or a ballgame without giving up their view of the outdoors.
Motorized TV Preserves View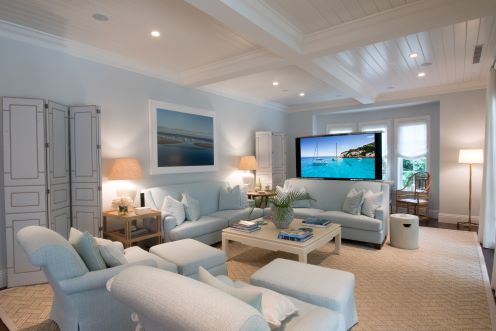 The most impressive room in the house is the family room, a comfortable space ideal for reading or a quiet conversation. But push a button on an iPad or remote and a Samsung 65-inch TV rises up from a cabinet just behind the love seat.
The idea of positioning the TV this way came from Howard. Before the remodeling, the TV had been mounted on the inside wall, so viewers would have their backs to the windows when they watched.
"Phoebe said that's all wrong, and so in working with Think Simple she found a way to reorient the room so it could be a media room, family room and party room combined," Jerry explains.
Think Simple also installed eight Sonance speakers in the ceiling, four of them dedicated to music, while the others serve as the middle and back speakers for Dolby surround sound. The Dolby system also includes two custom Leon speakers mounted on either side of the TV, plus a 1200-watt subwoofer hidden in the wall. The sub works with both the music and surround sound systems.
"We gave Leon the dimensions of the TV and the lift cabinet, and they built the speakers, foam covers and attachments to the mounting system to our specifications," explains Think Simple design engineer Geoffry Ranson.
Once the audio system was installed, the installation crew tuned it using Smaart audio analysis hardware and software from Rational Acoustics, optimizing the quality of the sound.
"We tested the sound system thoroughly during set up, and I can tell you from personal experience that no one could ever guess the volume or the sound quality that room is capable of," Ranson says. "The room can really rock."
Office Nerve Center Hides Rack
The nerve center for the house is in Jerry's office, which shares its back wall with the family room and has the inputs from the electric utility and Comcast cable coming in through its outside wall.
Open either of the built-in cabinets below the TV, you'll find a half-sized equipment rack filled with sound and video equipment.
"Think Simple used slide-out, turnaround racks, which are pretty cool," Jerry comments. "It's really easy to pull out the gear whenever it needs maintenance."
Into these racks Think Simple technicians installed a 15-zone Crestron Sonnex Multiroom Audio System, Crestron 3-Series control system, and a Marantz surround-sound receiver for the family room.
Read Next: Ultimate Makeover—Michigan Integrator Helps Home Gym Transform Into a Home Theater
They also installed a Wi-Fi network throughout the house, plus Crestron streaming media audio players, Apple TV devices, Comcast cable boxes and Nest thermostats in various rooms. Jerry and Karen control all these systems using their iPads, iPhones, or Crestron handheld remotes.
The technicians also installed a 65-inch Samsung TV in the bookshelves the previous owner had installed in this office.
"The only problem was, they were not strong enough to hold a TV safely," Ranson says. "We ended up installing an articulating TV mount directly into the wall behind the cabinet, and we positioned the TV so it looks like it's sitting on the shelf."
Whole-House Audio and Video at the Touch of a Button
As great as the family room is, the multi-room audio system makes listening to music a real pleasure in every area of the house, every day.
The audio system in the Johnston house is striking in its simplicity of use. All Jerry and Karen do to pipe their favorite music into any area or combination of areas is to touch an image of the music source on their iPhone or iPad, touch an image of the room or rooms they want to send it to, then slide the volume level up or down.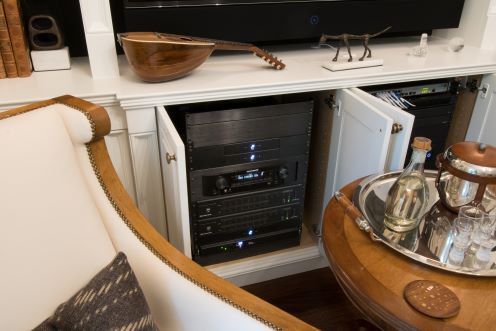 There are 15 audio zones, covering the entire house and its outdoor areas. Three Crestron Network Streaming Players offer access to XM radio and all major music streaming services, including Spotify, Apple Music, and others the Johnstons may choose. In addition, they can stream music to the sound system from their phones and computers.
For TV and movies, Think Simple installed a Comcast cable box and an Apple TV device on each of the home's nine televisions, giving the Johnstons access to all major online video services plus cable TV.
Like the family room, the master bedroom includes a lift for the TV, this time raising a 50-inch Samsung display out of a cabinet at the foot of the bed.
"We have a wonderful view of the water through our bedroom windows, and we did not want to block that with a TV," Jerry says.
The finished house is stunning, so much so that Howard featured it in her latest book, Coastal Blues: Mrs. Howard's Guide to Decorating with the Colors of the Sea and Sky. It's also been featured in a local decorating magazine, Haven.
In speaking of Think Simple, Johnston says, "I love these guys. I heard of them from a really good friend of mine, and I've recommended them to another friend, who is working on a luxury development in the Bahamas. I have nothing but good things to say about them."
---
We're Looking for Your BEST Projects
Don't miss your chance to enter to win a 2019 BEST Projects Award. We'll be announcing winners at a special Gala event at CEDIA EXPO. We can't wait to see what you've been up to this year! Enter your projects now.
---