FIBBR Ultra 8K Fiber Optic HDMI Cable Claims 56Gbps 8K HDR
At CES 2018, FIBBR unveils Ultra 8K, an ISF-certified fiber optic HDMI cable, claiming 56Gbps bandwidth up to 50 meters.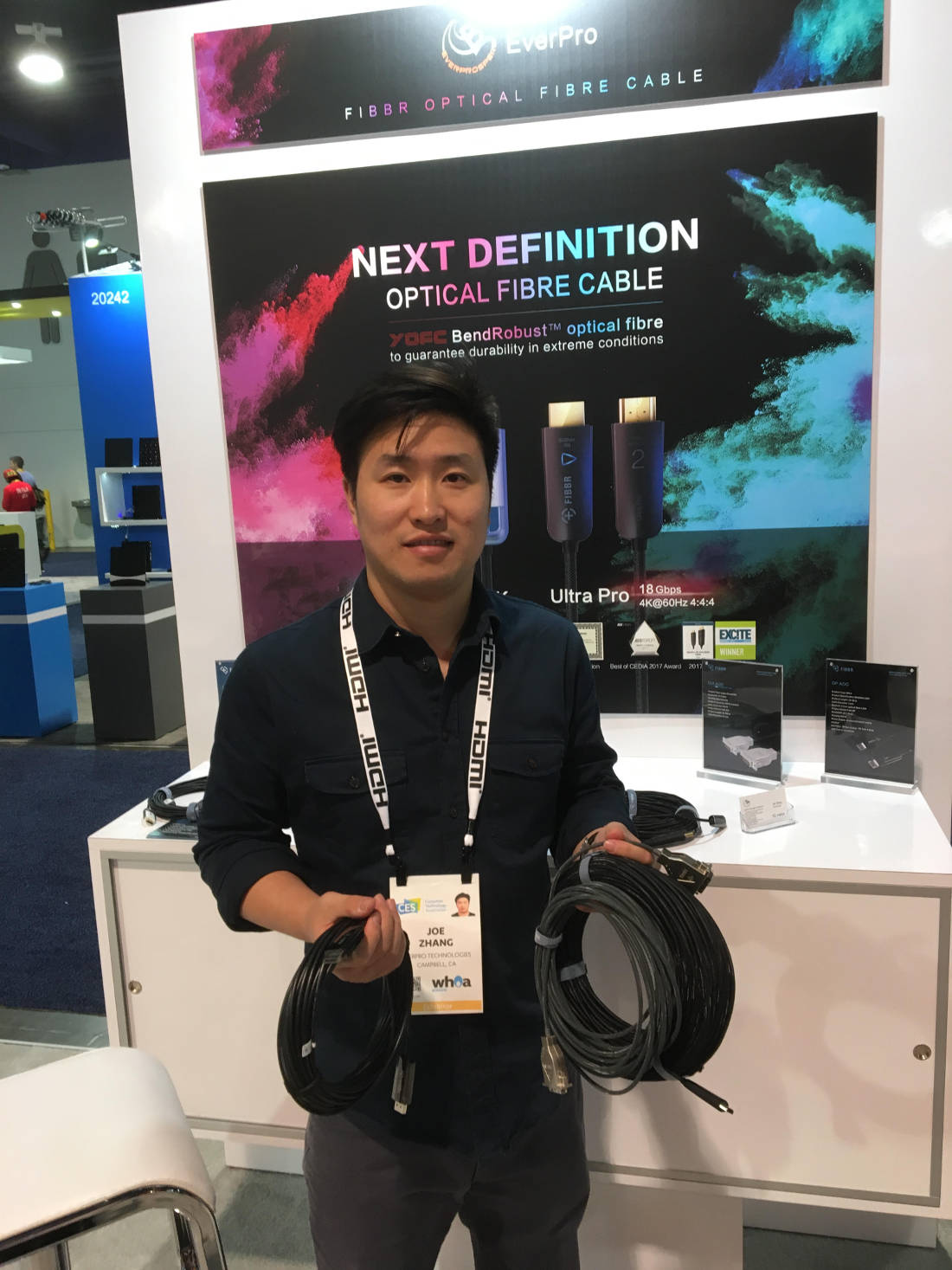 More about Fibbr
FIBBR is a brand that was introduced in the year 2013. Since then we have become the top R&D production integrated supplier throughout the optical fiber field. When we...

Fibbr Company Info
Jason Knott
·
January 17, 2018
CES 2018 marked the first time many manufacturers were able to showcase products designed to meet the new HDMI 2.1 specification. And that was the case for FIBBR, made by EverPro Technologies Co., which revealed its Ultra 8K fiber optic HDMI cable, which the company claims to be the world's first 56Gbps 8K-HDR Fiber Optic HDMI cable. The company says the cable is capable of transmitting HDR data in residential applications up to 50 meters.
The Ultra 8K is made with high-quality glass fibers, available exclusively from YOFC, the world's largest fiber producer.
"FIBBR is thrilled to lead the category with the introduction of the industry's first 56Gbps fiber optic HDMI cable," says Joe Zhang, product manager for FIBBR. "CES is always an exciting venue to showcase industry-defining technology, and the Ultra 8K is no exception. Our kiosk in the HDMI Forum booth will show not only the Ultra 8K but also our award-winning Ultra Pro v2.0 series certified by the Imaging Science Foundation (ISF) for 18Gbps. While the standards and hardware continue to evolve, the market needs a reliable solution to move their high bandwidth data. FIBBR's fiber optic solutions are here for today and ready for tomorrow."
FIBBR's BendRobust technology allows the fiber to be bent 180-degrees, and assures flexibility and durability in extreme conditions with uninterrupted transmission of signals, according to the company.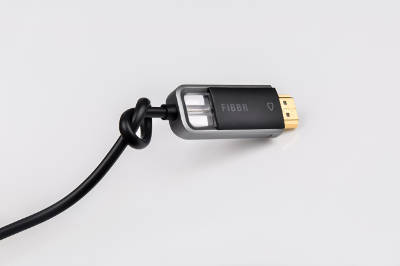 The company's fiber optic cables are slim and flexible, yet strong and extremely lightweight—60 percent lighter than traditional cabling. These key advantages are critical in protecting valuable connected hardware devices from potential harm caused by heavy cables putting undue stress on delicate connectors.
FIBBR's proprietary technology delivers the power direct from AC coupling, eliminating the need for external power on the receiving end while achieving simple plug and play. To enable a trouble-free installation, FIBBR uses a SmartLED indicator visible on the source connector—a blue light confirms proper connection and operation status, while no light indicates an improper connection.
Other features of the fiber optic HDMI cables are reliably high bandwidth, low signal attenuation, and high resistance to external electromagnetic interference—all necessary features for future, higher-definition developments.
---
2019 State of the Industry Special Report - CE Pro Download
The custom electronics industry saw a healthy 8 percent growth rate in 2018, down slightly from the blazing 11 percent growth in 2017 but still admiringly strong. Our 2019 State of the Industry indicates that readers expect to see even more growth in 2019. Get your copy today.
---
About the Author
---
Jason Knott is Chief Content Officer for Emerald Expositions Connected Brands. Jason has covered low-voltage electronics as an editor since 1990, serving as editor and publisher of Security Sales & Integration. He joined CE Pro in 2000 and serves as Editor-in-Chief of that brand. He served as chairman of the Security Industry Association's Education Committee from 2000-2004 and sat on the board of that association from 1998-2002. He is also a former board member of the Alarm Industry Research and Educational Foundation. He has been a member of the CEDIA Business Working Group since 2010. Jason graduated from the University of Southern California. Have a suggestion or a topic you want to read more about? Email Jason at jason.knott@emeraldexpo.com
Follow Jason on social media:

Jason also participates in these groups:
LinkedIn · Google+
Networking & Cables
Cat5, Cat6, and Cat6a: Is it Time to Start Future-Proofing?
Product Briefs: HTA Calculator; Onkyo, Pioneer Firmware; KanexPro, DTV GameControl; Luxul Firmware
Power vs. Data Rate: Is There a Compromise?
Interview: Vanco President Discusses A/V-over-IP Adoption, HDMI 2.1, More
$70 EnGenius Smart Mesh Router Provides Budget-Friendly Wi-Fi Reliability
View more on Networking & Cables
Take Our Latest Quiz
How Well Do You Understand Ethernet Cables and Connectors?
Bose