FIBBR Debuts Design-Friendly HDMI Solution at CEDIA Expo 2018
FIBBR's new Crystal fiber optic active HDMI cables can integrate almost invisibly and can carry 4K content at 18Gbps up to 165ft (50m).
CE Pro Editors ·
August 16, 2018
At CEDIA 2018, FIBBR will debut its new Crystal fiber optic active HDMI cable featuring a design-friendly transparent jacket for nearly invisible placement. FIBBR will also showcase its full line of lightweight, extremely flexible HDMI solutions made with glass fibers.
Crystal's design combines Data Display Channel (DDC) and Hot Plug Detection (HPD) signals in a single copper wire, using FIBBR's TransFuture technology, two microcontroller units manage the signals, ensuring fail-safe EDID and HDCP2.2 operation.
The system also includes a firmware update option to easily remedy compatibility issues.
Related: FIBBR Ultra 8K Fiber Optic HDMI Cable Claims 56Gbps 8K HDR
"Integrators now have an efficient solution to reliably pass high bandwidth content for installations where cables cannot be concealed," says Joe Zhang, FIBBR's product manager.
"Crystal's design significantly reduces its appearance, blending with décor, rather than detracting from it."
Crystal Supports 4K at 18Gbps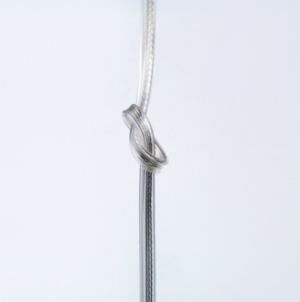 Like all HDMI models from FIBBR, Crystal features FIBBR's proprietary BendRobust technology, which allows the fiber to be bent 180-degrees for easy management of difficult placements.
Crystal, like all FIBBR models, is designed to meet the needs of today's data-rich entertainment, carrying uncompressed, native 4K content at 18Gbps up to 165ft (50m) without loss or interference.
FIBBR says that unlike other systems on the market, Crystal and all FIBBR HDMI models feature a true plug-and-play system—FIBBR's proprietary technology delivers the power direct from AC coupling, eliminating the need for external power on the receiving end.
Additionally, FIBBR Crystal cables are single-directional, so to ensure a trouble-free installation. The connectors are labeled Source and Display ends with a SmartLED indicator on the Source connector to help confirm proper connection and operation status.
The FIBBR Crystal cables (4K@60Hz 4:4:4) will be available September 2018. Visit FIBBR at CEDIA in Booth 1206 to learn more.
---
2019 State of the Industry Special Report - CE Pro Download
The custom electronics industry saw a healthy 8 percent growth rate in 2018, down slightly from the blazing 11 percent growth in 2017 but still admiringly strong. Our 2019 State of the Industry indicates that readers expect to see even more growth in 2019. Get your copy today.
---
Networking & Cables
Cat5, Cat6, and Cat6a: Is it Time to Start Future-Proofing?
Product Briefs: HTA Calculator; Onkyo, Pioneer Firmware; KanexPro, DTV GameControl; Luxul Firmware
Power vs. Data Rate: Is There a Compromise?
Interview: Vanco President Discusses A/V-over-IP Adoption, HDMI 2.1, More
$70 EnGenius Smart Mesh Router Provides Budget-Friendly Wi-Fi Reliability
View more on Networking & Cables
Take Our Latest Quiz
How Well Do You Understand Ethernet Cables and Connectors?
Bose