Envive Adds TheaterStation Multi-Zone Media Management
Servers, clients should be safe from DRM issues. Envive plans iPhone interface.
Tom LeBlanc
·
September 25, 2009
Following the legal battles involving RealDVD and Kaleidescape, Envive has re-launched its media servers to avoid the legal fray.
During CEDIA Expo 2009 the maker of TheaterStation media servers launched its Multi-Zone Digital Media Management System and TSClient Mini.
Envive CEO Chris Bortner — even though "I'm not a lawyer" — says he dashed many legal concerns from CE pros during CEDIA Expo by explaining the differences between TheaterStation and Kaleidescape.
"The difference between us and Kaleidescape is that our system is open," Bortner says, referring to the fact that the Envive product does not require (or allow) DVDs to be copied directly onto the server. Instead, the device can accept content that is stored on other devices in the home, including PCs and NAS drives.
"Envive doesn't enable the playing or copying of access- or copy-protected media out of the box," Bortner says.
He adds that Envive's TheaterStation is "about interacting" with media, "not storing" it.
"Our focus is on playing back content. So, if customers get content onto a hard [drive] and copy it onto TheaterStation, our job is to play it. How they get content onto a hard-drive is the customer's business."
Bortner points out that Kaleidescape's legal issues are tied to its Content Scramble System (CSS) license agreement with DVD Copy Control Association. "We don't need a CSS license, so we didn't sign it."
TSClient Mini, Online Content and iPhones
Although Bortner doesn't mind talking to CE pros about DRM issues, he prefers to talk about Envive's product developments.
During CEDIA Expo, Envive announced availability of the TheaterStation Multi-Zone Digital Media Management System, which enables 14TB-centralized storage of digital content while offering multi-zone access. It allows users to transfer, store, sort and watch music, films, home movies and online content.
Envive also introduced the TSClient Mini and 1U and 2U rack mount network storage solutions for TheaterStation. The clients are small devices with "a DVD drive in there for loading non-protected DVD content and for CE content," Bortner says in this CE Pro video.
The storage is available in rack-mount units for larger installations or less expensive tower units.
Storage can be expanded by adding hard drives and by adding client units to access media in other rooms. The TheaterStation Digital Media Management System enables the user to retrieve, create or capture cover art and metadata for media in his library.
A big product development priority for Envive, Bortner says, is allowing users to purchase Internet-based content directly through TheaterStation. "We're working with a number of high-definition content providers to provide that for dealers and the customers," Bortner says.
Envive's next major announcement, however, is likely to be the release of an iPhone control interface for TheaterStation. Bortner expects that to happen by the end of September.
Related: 7 DVD Ripping Servers
---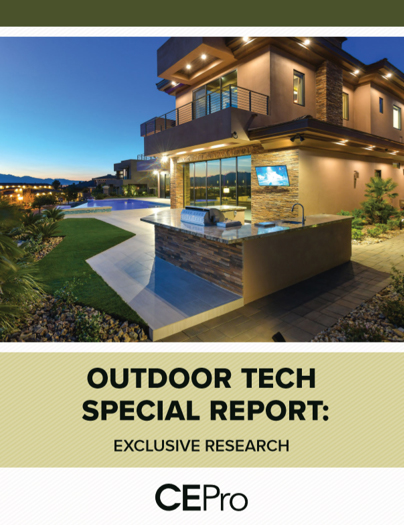 Find Out Why 63% of Integrators Expect Outdoor Business to Grow - CE Pro Download
The outdoor technology market is growing – both the demand from customers and the array of products available. According to our recent CE Pro survey, integrators are taking advantage of this opportunity to grow their businesses. Get your copy of the survey today.
---
About the Author
---
Tom has been covering consumer electronics for six years. Before that, he wrote for the sports department of the Boston Herald. Migrating to magazines, he was a staff editor for a golf publication and an outdoor sports publication. Now, as senior writer/technology editor of CE Pro magazine since 2003, he dabbles in all departments and offers expertise in marketing. Have a suggestion or a topic you want to read more about? Email Tom at tom.leblanc@emeraldexpo.com
Follow Tom on social media:
Twitter
Tom also participates in these groups:
LinkedIn · Google+
News
What Integrators Can Learn From Best Buy
McIntosh Unveils $5,000 Digital-Ready, Future-Proof Preamplifier
Hands On: CasaTunes Deftly Integrates Sonos
Marantz, Denon Each Roll Out Pair of New A/V Receivers
ProSource: 'Strange' Market, 5G Glee, RMR Ambivalence, Marc Fisher Wins
View more News
Take Our Latest Quiz
How Well Do You Understand Ethernet Cables and Connectors?
Bose