Earthquake's Supernova MKIV - Series of Powered Subwoofers
Earthquake's Supernova MKIV Series of powered subwoofers is a value and performance driven line of subwoofers. Its brilliant design overcomes the limitations known from conventional closed and ported designs that prevent radical excursion, deep response and high decibel.
More about Earthquake Sound
Earthquake Sound designs, manufactures, and markets high performance home audio systems including subwoofers, amplifiers, tower speakers, in-walls, in-ceilings, and even...

Earthquake Sound Company Info
Product Details:
Manufactured by: Earthquake Sound
Brand:

Supernova


Model:

MKIV Series


MSRP: MKIV10 MSRP: $799.00/piece
MKIV12 MSRP: $899.00/piece

Product Specs:
450-Watt Class "A/B" power amplifier
SLAPS technology increases dB level and saves energy
Low level (RCA) inputs and High level input
0 - 180° phase shift
12dB/Octave variable filter from 40 - 180Hz
Auto Signal detection for on or off
Dual firing powered subwoofer with SLAPS passive
Rounded edge cabinet
Product URL:
http://earthquakesound.co...
CE Pro Editors ·
November 21, 2014
The built in 450-Watt "A/B" amplifier has a multitude of user friendly features like the auto signal detection switch, 0 - 180° phase switch, 12dB/octave variable filter and more. The active and patented SLAPS-M passive drivers used in the MKIV are designed for accurate reproduction of bass and sub-bass frequencies while maintaining low power consumption. The Supernova MKIV has advanced technologies that deliver an amazing combination of high performance and efficiency.
Come see the MKIV Series in action at CES 2015, Booth: 20600 – South Hall 1
---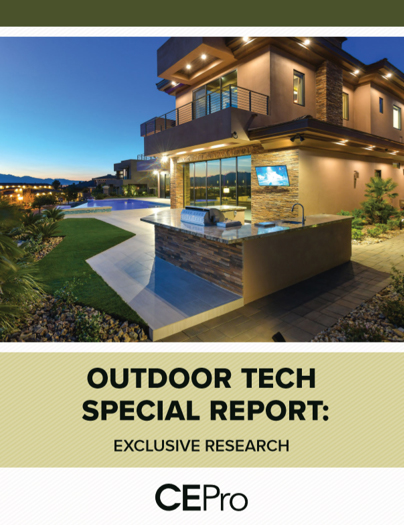 Find Out Why 63% of Integrators Expect Outdoor Business to Grow - CE Pro Download
The outdoor technology market is growing – both the demand from customers and the array of products available. According to our recent CE Pro survey, integrators are taking advantage of this opportunity to grow their businesses. Get your copy of the survey today.
---