Eagle Sentry Finds Business in Foreclosed Homes
Las Vegas integrator works with Realtors and builders to finish homes that may be prewired or partially equipped with home technology.
Julie Jacobson
·
December 7, 2009
Las Vegas-based Eagle Sentry is finding some good business opportunities in this economic downturn.
CEO Greg Simmons, who shared his business woes in March 2009, says individuals are snapping up foreclosed homes for a song … with money to spare for goodies.
"They're getting these houses at a steal, and they're paying in cash," Simmons says. "We've got a customer right now that just moved in and doesn't know what the electronics do. It's a huge business right now."
He tells of a $7 million home that's on the market in Vegas right now. "It's roughed out completely but nothing is trimmed."
Sentry works with home builders and Realtors to explain what it will take to finish any given job. Simmons explains, "The Realtor might say, 'By the way it will cost another $500,000 to trim it out. It will really make the house look and sound good.'"
He says the Realtors and/or builders can negotiate with the potential buyer to include the electronics in the sale.
Sentry markets heavily to households in high-end neighborhoods, with the message that new homeowners can make an existing system "work" with a relatively small investment.
In its marketing pieces Sentry uses the Crestron and Lutron brands so that potential customers will associate Sentry's services with products they may have inherited.
The company works with high-end Realtors, doing audits of homes for sale. "We'll do a free electronics consultation, even in advance so they know how to sell it."

Electronic House Expo Spring 2010: The New Opportunities Show, March 25-27, 2010, Orlando, Fla.
Smart Energy | Commercial | Home Health Tech | Recurring Revenue | Digital Content | Retrofit
FREE CEDIA training with New Opportunities Pass
Register by Dec. 31, 2009 and save $50.
http://www.ehxweb.com
---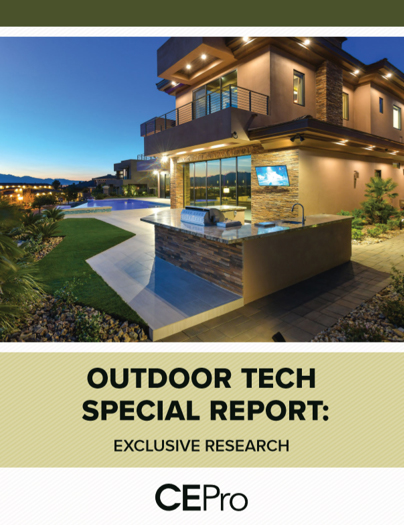 Find Out Why 63% of Integrators Expect Outdoor Business to Grow - CE Pro Download
The outdoor technology market is growing – both the demand from customers and the array of products available. According to our recent CE Pro survey, integrators are taking advantage of this opportunity to grow their businesses. Get your copy of the survey today.
---
About the Author
---
Julie Jacobson is founding editor of CE Pro, the leading media brand for the home-technology channel. She has covered the smart-home industry since 1994, long before there was much of an Internet, let alone an Internet of things. Currently she studies, speaks, writes and rabble-rouses in the areas of home automation, security, networked A/V, wellness-related technology, biophilic design, and the business of home technology. Julie majored in Economics at the University of Michigan, spent a year abroad at Cambridge University, and earned an MBA from the University of Texas at Austin. She is a recipient of the annual CTA TechHome Leadership Award, and a CEDIA Fellows honoree. A washed-up Ultimate Frisbee player, Julie currently resides in San Antonio, Texas and sometimes St. Paul, Minn. Follow on Twitter: @juliejacobson Email Julie at julie.jacobson@emeraldexpo.com
Follow Julie on social media:
Twitter · LinkedIn · Google+
Julie also participates in these groups:
LinkedIn · Google+
News
Alarm.com's New 'Sensor Walk Test' Eliminates Laborious Security Verification Calls
Sony Announces 2019 MASTER Series TV Pricing and Availability
How LG Aims to Broaden Integrators' World
RTI Touchpanel Remotes Mount in Walls, Reside on Tables
CEDIA Global HQ Opens: Take a Video Tour
View more News
Take Our Latest Quiz
How Well Do You Understand Ethernet Cables and Connectors?
Bose