DirecTV Whole-Home DVR Goes Live
Manage playlist list from any room, stream to 15 TVs, and record two shows while watching two others.
Stephen Hopkins ·
May 19, 2010
The DVR wars have been pretty fierce lately. Comcast has been targeting AT&T, DISH has been going after DirecTV on price, and DirecTV's ads have been taking shots at just about everyone.
DirecTV now has one more feather to place in its hat with the full release of Whole-Home DVR.
The Whole-Home DVR allows programs from an HD DVR to be streamed to other non-DVR HD receivers throughout the home. Up to 15 TVs, including the display the HD DVR is connected to, can take place in the streaming fun.
The best part is no new hardware is required. The slightly worse news is the service will tack $3/month onto your monthly bill, but I don't foresee any natural disasters or magnetic poles shifting over that minor fee.
Not to miss a chance to get a few jabs in, the DirecTV Whole-Home DVR site takes shots at DISH Network's Sling-enabled DVRs and cable company DVRs' capacity and connectivity. I just wish someone would start throwing some punches TiVo's way. Maybe then they would bring some more appealing features to their TiVo Premiere.
Other features DirecTV makes note of include:
Manage your DVR playlist from any room
Record two shows while watching two others
Set separate parental controls for each TV
Watch the YouTube video below for more on Whole-Home DVR.
---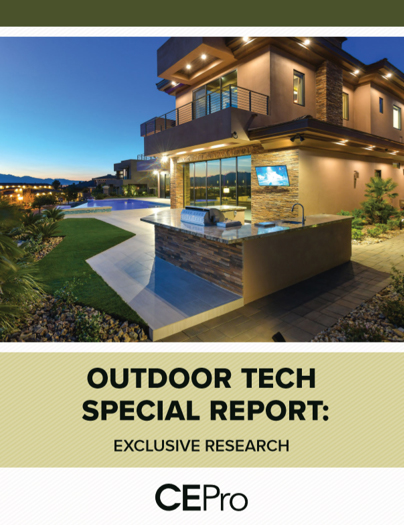 Find Out Why 63% of Integrators Expect Outdoor Business to Grow - CE Pro Download
The outdoor technology market is growing – both the demand from customers and the array of products available. According to our recent CE Pro survey, integrators are taking advantage of this opportunity to grow their businesses. Get your copy of the survey today.
---